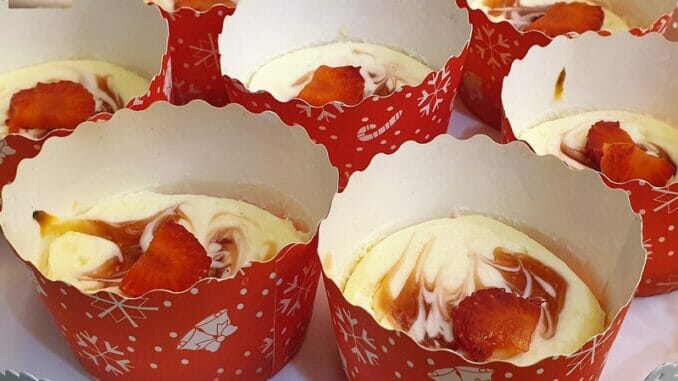 We love making these Mini Cheesecakes as our party desserts. We prefer making them this way rather than in a cake mould as they look cute and are not messy to serve. They taste delicious and are rather easy to make even though they look difficult. The Mini Cheesecakes can be made with or without a topping. The cakes can be served warm, at room temp. or chilled.
Yield: 18 to 20 Cupcakes
Prep. Time: 30 Mins.
Baking Time: 18 to 20 minutes
Ingredients:
[ Standard Measure: 1 cup = 250 ml ]
Cream Cheese – 400 gms
Eggs (at room temp.) – 2
Milk Cream – 200 ml
Powdered Sugar – ¾ cup
Lime Juice – 1 tbsp.
Cherry Preserve or other – 9 tsp. (optional)
Vanilla Essence – 1 tsp
For the Crust:

Digestive Biscuits – 150 gms
Butter (melted, at room temp) – 60 gms
Step 1: Take the biscuits in a zip-lock bag and crush them with a rolling pin till powdered.
Step 2: Transfer the powdered biscuits to a bowl and add the melted butter and mix well. Put 1 heaped tsp. of it into each cupcake liner / paper mould. Use the back of a spoon or a shot glass and press / level the biscuit mixture to form the crust.
Step 3: Take the cream cheese and powdered sugar in a bowl and whisk using an electric beater till creamy.
Step 4: Next add the eggs one at a time and continue whisking for a few seconds each time, till creamy (don't over whisk)
Step 5: Now, add the milk cream and whisk for a few seconds. Finally, add the lime juice and essence and whisk for 30 seconds.
Step 6: Set your oven to pre-heat at 180° C.
Step 7: Use a scoop and fill each paper liner / mould upto ¾ with the batter till you have filled all moulds.
Step 8: Put ½ a tsp. of the preserve on the top of each mould and twirl lightly with a toothpick to make the design as shown in the picture (optional).
Step 9: Bake in the pre-heated oven at 180° C for 18 to 20 minutes or until browned lightly on the top. Then switch off the oven and let the moulds rest in the oven for another 10 minutes without opening the oven door.
Step 10: Take out of the oven and refrigerate. You could garnish the Mini Cheesecakes with a piece of fruit before serving.