The Quick Prawn Masala Fried is as its name suggests very quick, uses a few basic ingredients and is still a great starter or a side. It can also be served as nibbles with your alcoholic drinks. Just remember the fresher the prawns the greater the taste.
Serves: 1 to 2 Persons
Prep. Time: 10 Mins.
Cooking Time: 5 Mins
Ingredients:
Prawns (medium sized, peeled & deveined) – 12 to 15
Kashmiri Red Chilly Powder – 1 tsp.
Black Pepper Powder – ¼ tsp.
Turmeric Powder – ¼ tsp.
Curry Leaves – 10
Ginger-Garlic Paste – ¼ tsp.
Coconut Oil – 1 ½ tbsp..
Salt – ¼ tsp.
Step 1:     Take the cleaned prawns in a bowl and apply salt. Leave aside for 10 minutes.
Step 2:     Later, drain and add the ginger-garlic paste, red chilly, pepper and turmeric powders and mix well. Marinate for 15 minutes.
Step 3:     Heat the oil on a tawa / griddle. Place the prawns evenly and fry the prawns on high heat for 2 minutes on one side. Then turn over and fry for another minute.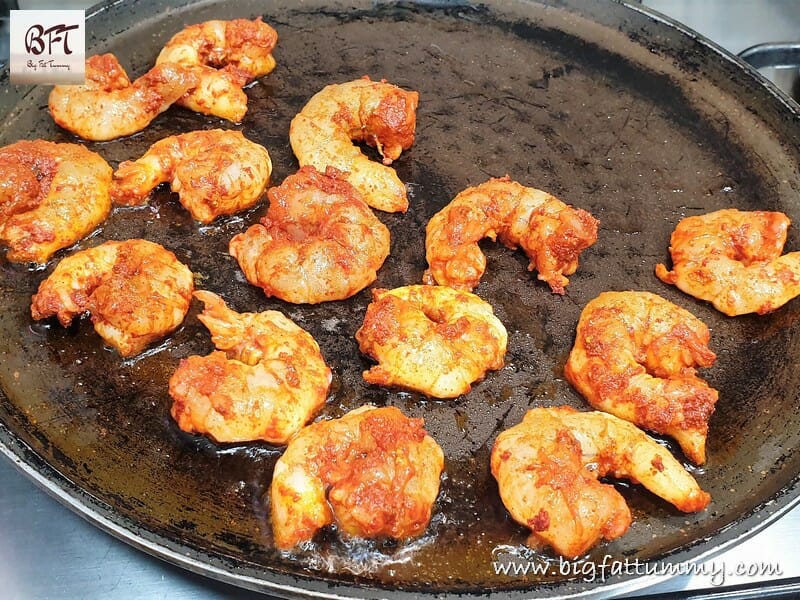 Step 4:     Add the curry leaves and fry the prawns for another minute on high heat. Switch off the heat and transfer immediately to a plate. Serve hot.