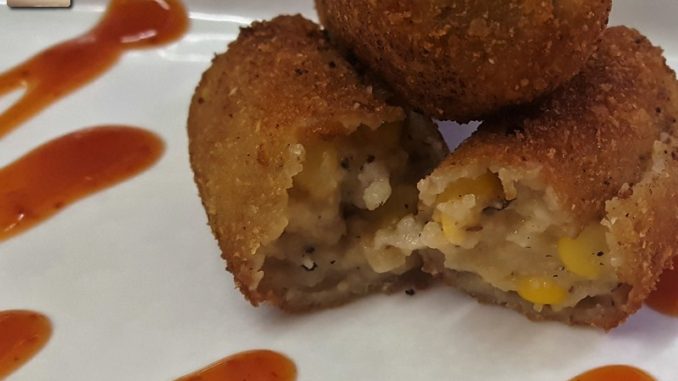 When I posted the recipe for the non-vegetarian version of this dish, I got a few fervent requests from my vegetarian Facebook fans, to post the recipe for the vegetarian version. This one's for you guys. Try out the Cheesy Corn Croquettes as soon as you can. These can be served as starters for your parties.
Servings: 12 pieces
Prep. Time: 30 Mins.
Cooking Time: 10 Mins.
Ingredients:
Potatoes (boiled and peeled) – 2 medium (300gms.)
Corn Kernels (fresh or frozen) – 1 cup (150)
Chilly Flakes – ½ tsp.
Italian Seasoning (mixed herbs) – ½ tsp.
Black Pepper Powder – ½ tsp.
Butter – 1 tbsp.
Cheese (grated) – 6 tbsp.
Breadcrumbs – 1 cup
Maida(APF) – ½ cup
Sugar –½ tsp.
Salt– 1 ½ tsp.
Oil – to deep fry
Step 1: Grate the potatoes.
Step 2: Boil the corn in a pan with 1 cup water, ½ tsp. salt and ½ tsp. sugar for 10 to 12 minutes till the corn is tender. Drain well and add to the grated potatoes.
Step 3: Season with ¾ tsp. salt, chilly flakes, Italian herb seasoning and ¼ tsp. pepper powder. Add the butter and mix all the ingredients well. If the mixture is sticky, add a tablespoon of breadcrumbs to the mixture and mix. Add a little more if required.
Step 4: Divide the mixture into 12 equal portions. Make a ball of each portion and flatten it. Add some grated cheese and shape it in cylinder shaped croquettes. Repeat for all the portions and keep aside.
Step 5: Whisk the maida and ¼ tsp. salt with ½ cup water till smooth. Mix ¼ tsp. pepper powder with the breadcrumbs and place on a flat plate.
Step 6: Dip each croquette in the maida batter (use a spoon and coat it well). Transfer to the breadcrumbs and roll to coat well. Dust off any extra breadcrumbs. Shape again if required and place on a plate. Cover the plate with cling film and refrigerate for 30 minutes. (or more, until you want to fry them)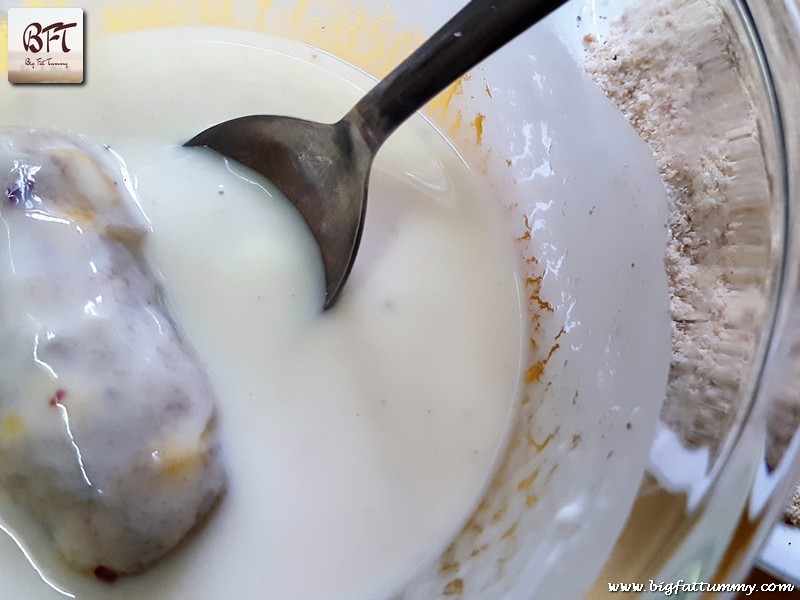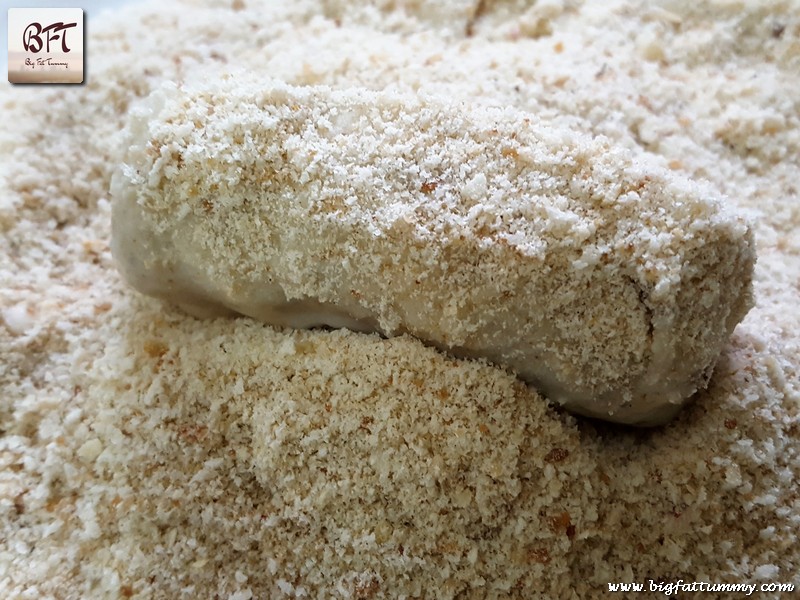 Step 7: Deep fry on medium heat, 3 to 4 pieces at a time, until light brown and crisp.
Serve warm with or without a dip of your choice.