Pumpkin has zero cholesterol, is low on calories and is a rich source of nutrients. The potassium in it can help lower blood pressure. The addition of pepper and jaggery not only enhances the taste but also aids digestion. Serve your pepper pumpkin with rice or chappatis.
Serves : 3 persons
Prep. Time : 10 Mins.
Cooking Time : 12 to 15 Mins. (active)
Ingredients:
Red Pumpkin (peeled and chopped) – 200 gms.
Onion (finely chopped) – 1
Green Chillies (deseeded and slit) – 2
Black Pepper(coarsely ground) – ½ tsp.
Garam Masala – ¼ tsp.
Freshly Grated Coconut – 1 tbsp.
Jaggery – 1 tsp.
Oil – 1 tsp.
Salt – ½ tsp. or to taste
Step 1: Apply ½ tsp salt to the pumpkin and leave aside.
Step 2: Heat oil in a pan. Sauté the onion till translucent.
Step 3: Add all the remaining ingredients except the coconut. Cover and cook for 10 minutes or till tender.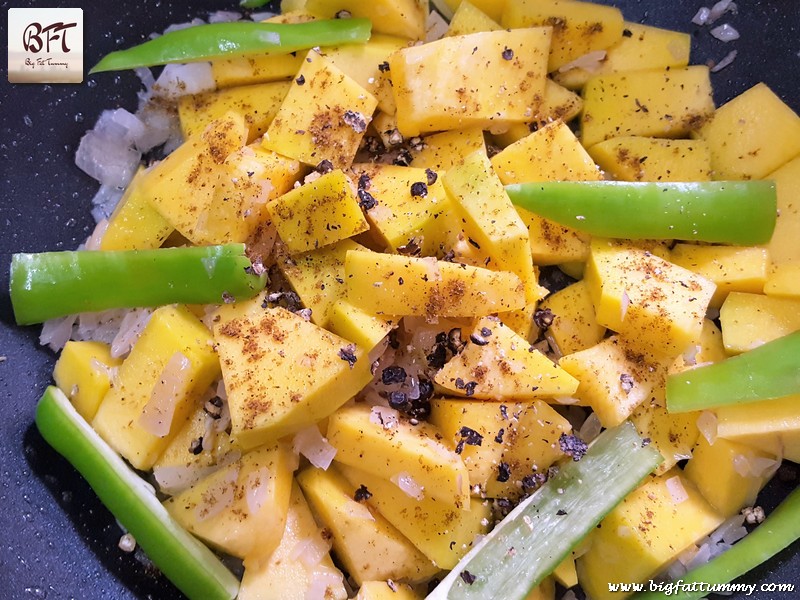 Step 4: Add the coconut, mix and leave for two minutes covered. Switch off the heat and leave covered for another five minutes.
Your sweet and peppery vegetable is ready.