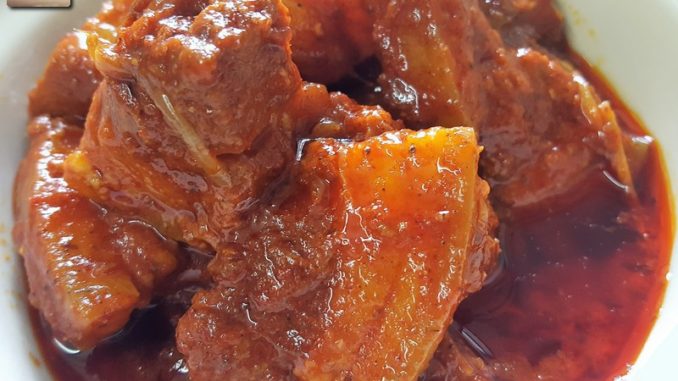 Pork Vindaloo / Vindalho is a festival special, cooked by Christians in India. The dish is derived from Portuguese influence and is cooked in different styles by Indian Christians of different origins or locations. To really enhance the taste of the vindaloo / vindalho, I recommend that you prepare it at least 2 days before you plan to serve it.
Serves: 8 to 10 persons
Prep. Time: 30 Mins. + 12 hours to overnight (marination)
Cooking Time: 15 Mins. (active) + 45 Mins. (passive)
Ingredients:
Pork (boneless with fat & Skin – cut into 2 inch pieces) – 1 kg.
Onions (sliced) – 2 medium
Garlic (julienned) – 12 cloves
Ginger (julienned) – 2 inch
Tamarind – 1 lime sized ball (soaked in ¼ cup warm water)
Sugar – 1 tsp.
Sea Salt – 1 tbsp. + 1 tsp.
Oil – 2 tbsp.
For the Vindaloo Masala:
Kashmiri Red Chillies (deseeded) – 15
Bedgi Chillies (whole) – 5
Cumin Seeds – 1 tsp.
Turmeric Powder – 1 tsp.
Cloves – 10
Cinnamon – 1 inch
Pepper Corns – ½ tsp.
Mustard Seeds – 1 tsp.
Garlic – 15 cloves
Ginger (chopped) – 3 inch piece
Palm Vinegar – 200 ml
 Step 1:     Wash the pork and squeeze dry. Apply 1 tbsp. sea salt and leave in the refrigerator for 30 minutes.
Step 2:     Grind all the ingredients for the masala to a smooth paste. Apply the ground masala and sugar to the pork and leave to marinate in the refrigerator for 12 hours or overnight.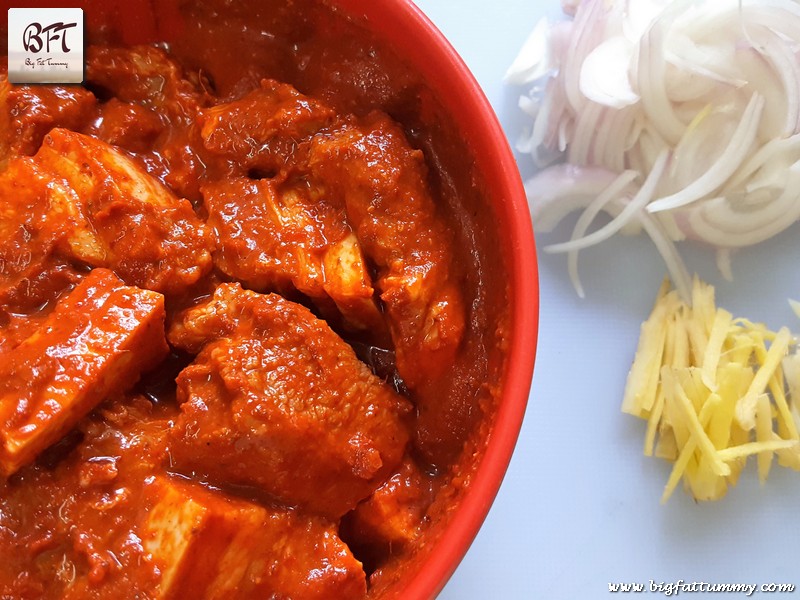 Step 3:     Heat oil in a vessel appropriate to cook the pork. Add the onion, ginger and garlic and sauté till light brown on medium heat.
Step 4:     Add the pork and mix. Cook on low heat for 10 minutes, stirring occasionally. Add 1 cup warm water, 1 tsp. salt and cook covered on low heat for 30 minutes. Stir 4 to 5 times in between.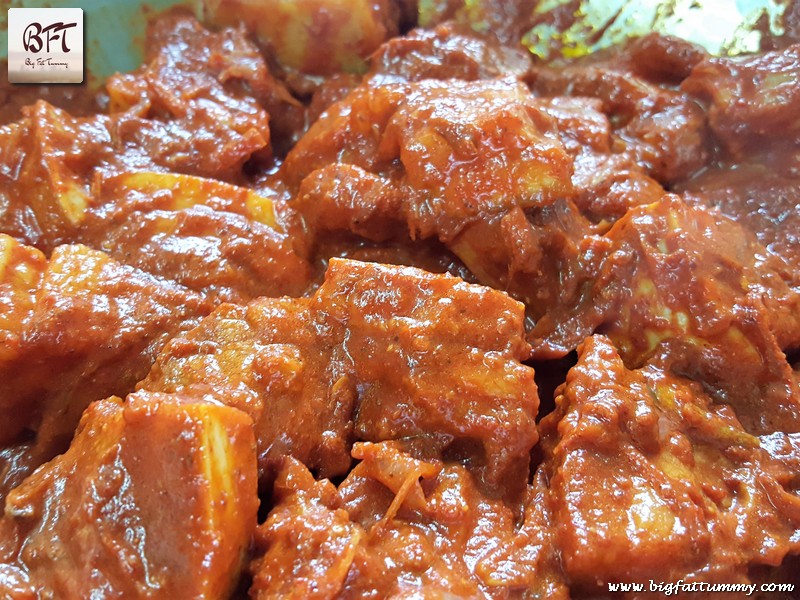 Step 5:     Add the tamarind water and bring to a boil. Lower the heat and cook covered on low heat for a further 15 minutes till the meat is cooked. At the end you will see the oil floating. Do not discard it.
Serve with pulao or sannas.