This is not a dish for everyone. It is for the fish aficionado. The flavor of the fish head is somewhat overpowering and eating it is to some extent requires an acquired taste. This is also the bony part of the fish and eating it requires expertise. My boys will not eat a single piece of the fish from the king fish head & tail curry, but they relish the curry as it is tangy and spicy.
Serves: 4 Persons
Prep. Time: 15 Mins. + 30 Mins. (marination)
Cooking Time: 5 Mins. (active) + 15 Mins. (passive)
Ingredients:
Kingfish

Head of a 4 kg. King Fish (cut into pieces) – 1 (500 to 600 gms.)
Tail Pieces – 4

For the Masala Paste:

Dry Red Chillies (bedgi) – 8
Corriander Seeds – ¼ tsp.
Cumin Seeds – ¼ tsp.
Turmeric Powder – ¼ tsp.

Onion (finely chopped) – 1 medium
Garlic (chopped) – 8 cloves
Green Chillies (slit) – 2
Tamarind – 1 lime sized ball (soaked in 50 ml warm water)
Kokum [Garcinia Indica] – 5 to 6 petals
Dry Raw Mango – 2 slivers
Oil – 1 tbsp.
Sea Salt – 1 tbsp. + ½ tsp.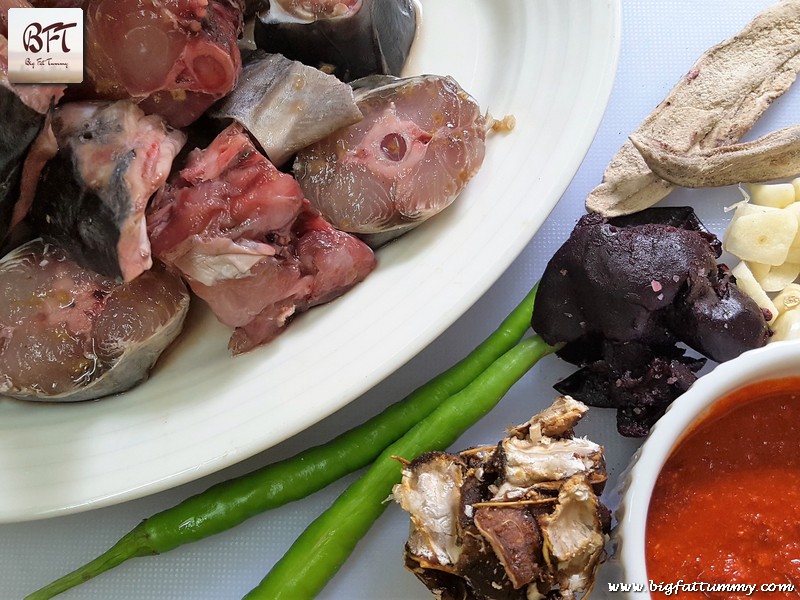 Step 1: Clean / wash the tail pieces and traces of blood / blood vessels from the head portion. Apply 1 tbsp. salt to the cleaned fish and leave aside for 30 minutes.
Step 2: Grind the ingredients for the masala paste to a fine paste.
Step 3: Heat oil in a pan and add the chopped onion and sauté till light golden on medium heat. Add the spice paste and sauté for a minute. Next add 250 ml warm water and let it come to a boil.
Step 4: Mash the soaked tamarind with your fingers and strain the pulp into the pan. Add the garlic, kokum and dry mango and let it cook for 5 to 6 minutes on medium heat.
Step 5: When the curry starts boiling, add the fish portions, ½ tsp. salt and green chillies. Let it cook for 5 to 6 minutes on medium heat uncovered. Swirl the pan in between. Do not stir with a spoon as the fish will disintegrate.