The Malbari Mutton Koorma has the distinct flavours unique to this region of the state of Kerala. Though the curry is similar to the Goan Xacuti, it is a lot milder because of the use of curds for the marinade and also because of the use of cashew nut paste as part of the masala.
Serves: 6 to 8 Persons
Prep. Time: 30 Mins. + Marination
Cooking Time: 50 to 55 Mins.
Ingredients:
[ Standard Measure – 1 cup = 250 ml ]
Mutton Pieces (on the bone) – 1 kg
Onions (finely chopped) – 4 medium
Tomatoes (finely chopped) – 3 medium
Potatoes (unpeeled, cut into big pieces) – 2 large
Curds – ¾ cup
Green Chilly (slit) – 2 to 3
Coconut (grated) – ½ cup
Ginger-Garlic Paste – 3 tbsp.
Lime – 1 big
Corriander Powder – 2 tbsp.
Turmeric Powder – 1 tsp.
Red Chilly Powder – 1 to 1 ½ tsp.
Cinnamon – 1 inch
Cardamom – 4
Cloves – 4 to 6
Black Pepper Corns – 5 to 6
Fennel Seeds – 1 tsp.
Poppy Seeds – 2 tbsp.
Cashew Nuts – 6
Bay Leaves – 2
Oil – 3 tbsp.
Salt – 1 ½ tsp. + 1 tsp.
Step 1: Wash the pieces of mutton and drain well. Squeeze to drain completely. Apply 1 ½ tsp. salt, 2 tbsp. ginger-garlic paste, turmeric and the juice of the lime. Add the curds and mix well. Leave to marinate for at least 2 hours.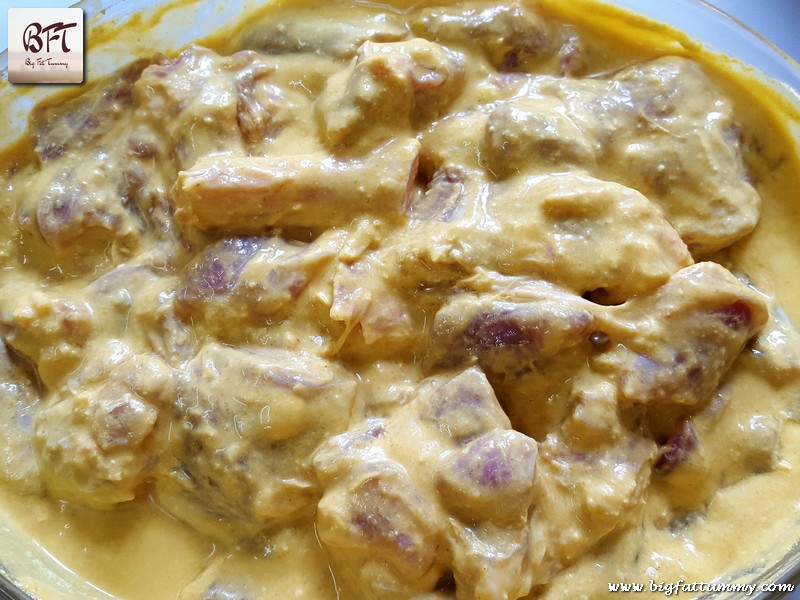 Step 2: Soak the poppy seeds and cashewnuts in ¼ cup warm water for 30 minutes. Later, drain the water and grind along with the coconut to a fine paste and leave aside.
Step 3: Heat the oil in a pressure cooker and sauté the cinnamon, cardamom, cloves, pepper corns, bay leaves and fennel seeds on medium heat for a few seconds. Then add the onions and sauté till light golden.
Step 4: Next add the chopped tomatoes and sauté till soft. Add 1 tbsp. of ginger-garlic paste and sauté for a minute on low heat. Then add the green chillies and sauté for another minute. Then add the marinated mutton, red chilly and corriander powders and sauté on medium heat for 8 to 10 minutes. Then add 1 tsp. salt and 1 ½ cups hot water and put on the lid of the pressure cooker. Pressure cook on high heat till the first whistle. Then lower the heat and cook for another 20 to 25 minutes.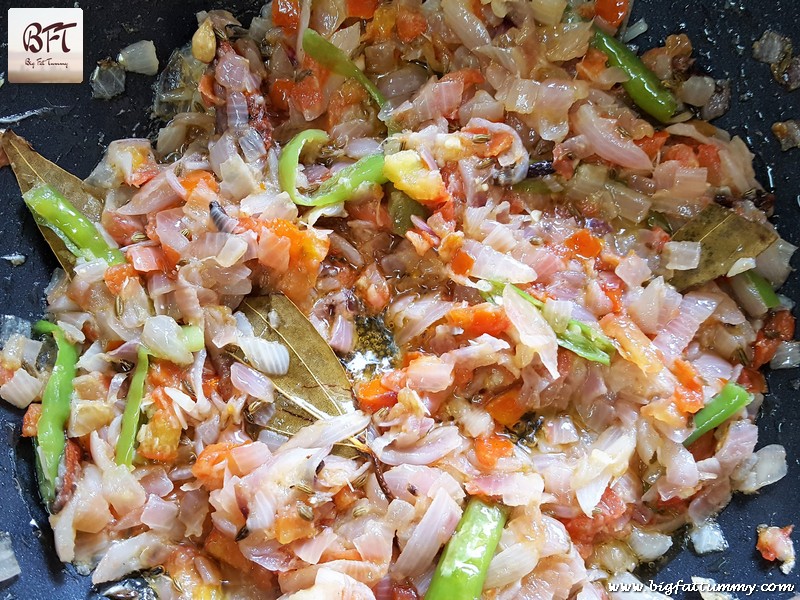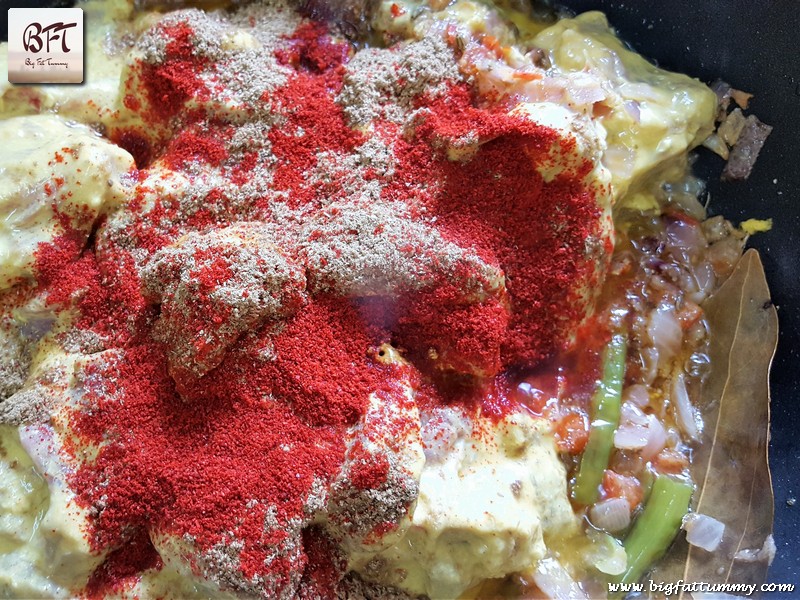 Step 5: Later switch off the heat release the pressure. Open the lid of the pressure cooker and add the potatoes, the ground paste and mix. Check for salt and add if needed. Add a little hot water if needed and put the lid back on. Pressure cook on high heat for one more whistle. Then switch off and let the pressure release naturally before opening the lid.