Dry Mackerel Kismoor is a mixture of shredded dry mackerels (also made with dry prawns) and fresh grated coconut. It uses a few spices and goes very well alongside the rice and Goan coconut curries. It was generally made when fresh fish was scarce but nowadays it is regularly served in the Goan fish thalis to add to the array. If you want make it as a salad, you can also try the Dry Mackerel Salad (see here).
Serves: 4 to 6 Persons
Prep. Time: 15 Mins. + soaking
Cooking Time: 15 Mins.
Ingredients:
[ Standard Measure: 1 cup = 250 ml ]
Dry Mackerels – 2 big
Onion (finely chopped) – 2 medium
Coconut (freshly grated) – 1 cup (lightly packed)
Light Green Chillies (finely chopped) – 2
Green Corriander Leaves (finely chopped) – 2 tbsp.
Kashmiri Red Chilly Powder – 1 tsp.
Turmeric Powder – ¼ tsp.
Tamarind –(soaked in ¼ cup hot water) – 1 small marble sized ball.
Coconut Oil – 2
Salt – ½ tsp. or to taste
Step 1: Chop off the heads and tails of the dry mackerels. Wash them and soak in sufficient water for an hour. After an hour, Take the mackerels and peel off their skin (optional – I do this to discard any residue sand).
Step 2: Heat a frying pan and add the 1 tbsp. coconut oil to it. Fry the mackerels on medium heat till well roasted and crisp. Transfer to a plate and let them cool a bit.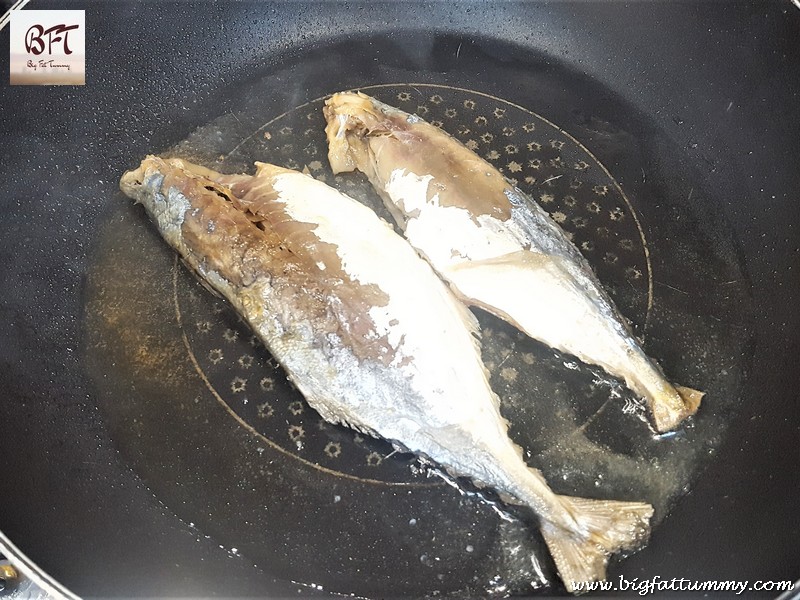 Step 3: When cooled, shred the mackerels, taking care to avoid the bones and keep aside. Discard the bones.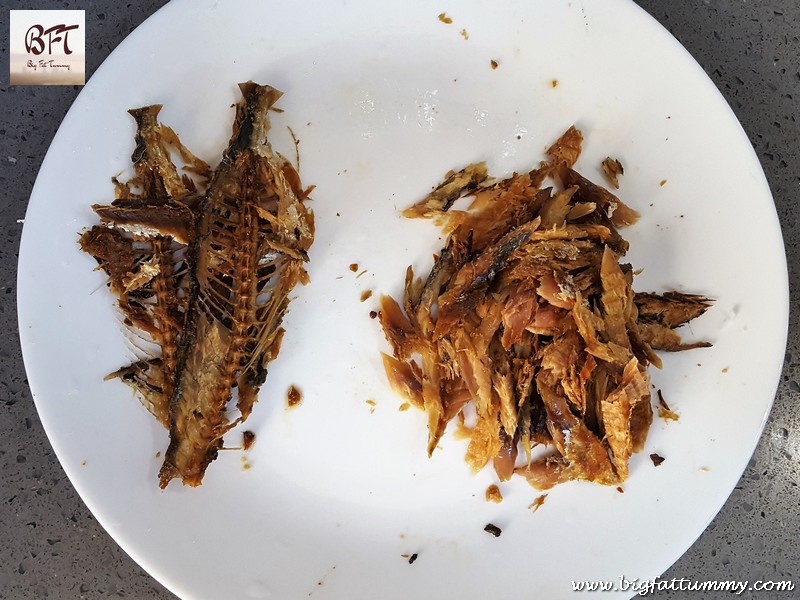 Step 4: Pulp and strain the tamarind to get the pulp and keep aside.
Step 5: Heat 1 tbsp. oil in the same pan that you used to roast the mackerels and roast the shredded mackerel pieces for 2 to 3 minutes on low heat and then switch off the heat and let them cool.
Step 6: Next, take the grated coconut in a bowl and add to it the onion, chillies, powdered masalas, 2 to 3 tbsp. of the tamarind pulp and ½ tsp. salt. Give all the ingredients a good mix. Check for sourness, heat and salt and adjust according to your taste. Add the green corriander.
Step 7: Add the shredded mackerel and mix well (just before you are going to serve it).