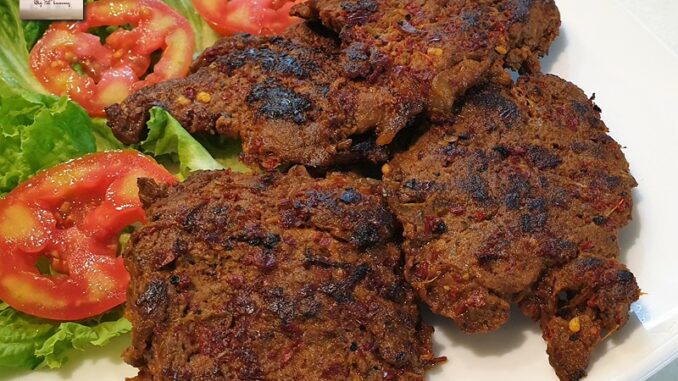 The Beef Masala Fried needs a good amount of marination time. Once marinated in the refrigerator, all you need to do is seer and cook. Then you can leave them aside and shallow fry the steaks when ready to serve. You can serve as a starter or as a complete meal with vegetables and potatoes or even use it to stuff bread to make picnic or tiffin meals.
Serves: A Family of Four
Prep. Time: 30 Mins + Marination
Cooking Time: 30 to 35 minutes
Ingredients:
Beef (undercut, sliced) – 500 gms
For the Marinade:

Kashmiri Chillies – 4
Bedgi Chillies (deseeded) – 4 (see note)
Cumin Seeds – ½ tsp.
Black Pepper Corns – 6
Cinnamon – 1 inch
Cloves – 4
Turmeric Powder – ¼ tsp.
Ginger – ¼ inch
Garlic – 8 cloves
Tamarind (soaked in ¼ cup hot water) – a small marble sized ball

Oil – 2 tbsp. + to shallow fry
Salt – 1 tsp. or to taste.
Step 1: Pulp and strain the tamarind. Grind all the ingredients listed for the marinade to a coarse paste with the tamarind pulp.
Step 2: Flatten the beef slices lightly using a beef mallet. Marinate the meat with the salt and the ground marinade for at least 4 to 5 hours or overnight.
Step 3: When ready to cook, heat 2 tbsp. oil in a pan and sear the meat on high heat till it releases its juices. Turn over, and cook covered on low heat for 20 to 25 minutes till done.
Step 4: Uncover the pan and dry almost all liquids on medium heat. Keep aside.
Step 5: Later, heat 1 tbsp. oil in another pan and fry the beef on high heat on each side for 1 ½ minutes on each side. Serve as you please.
Note:
Omit the Bedgi Chillies if you prefer less spicy.