The mildly spiced and creamy coconut milk Prawn & Drumstick Curry is a lip smacking curry. It is perfect to have with rice and you don't even need a vegetable side as the curry already has the yummy drumsticks.
Serves: A Family of Four
Prep. Time: 20 Mins.
Cooking Time: 35 Mins.
Ingredients:
[ Standard Measure – 1 cup = 250 ml.]
Drumsticks (peeled, cut into 3 inch pieces) – 6
Prawns (shelled, deveined) – ½ cup
Onion (finely chopped) – 2 small
Green Chillies (slit) – 2 to 3
For the Spiced Coconut Milk:

Coconut (grated) – 1 small ( 1 ½ cups )
Tamarind – 1 small marble sized ball
Jeera [Cumin] Seeds – ½ tsp.
Corriander Seeds – 2 tsp.
Garlic – 2 cloves
Kashmiri Chillies (deseeded) – 6 to 8
Turmeric – 1 tsp.

Oil – 1 tbsp.
Sugar – ½ tsp.
Salt – 1 ½ tsp.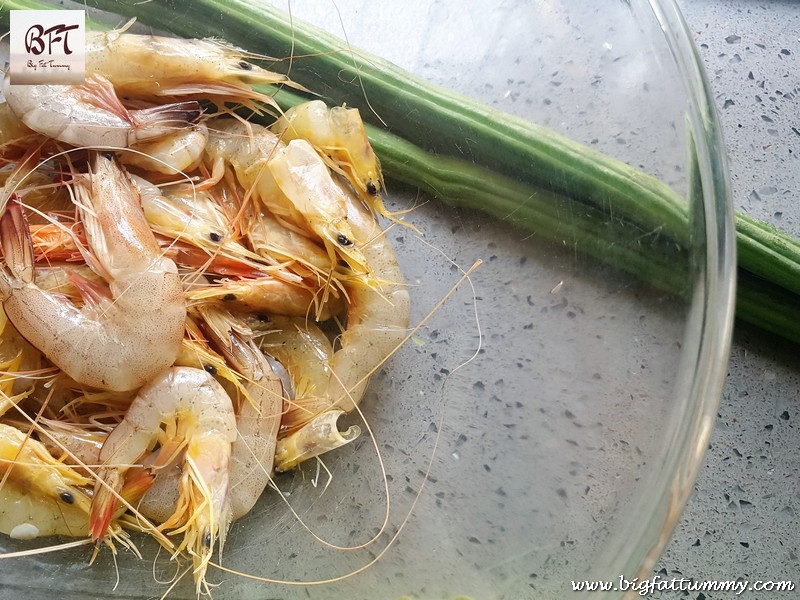 Step 1: Apply ¼ tsp. salt to the cleaned prawns and leave aside.
Step 2: Grind all the ingredients for the coconut milk to a fine paste with 2 to 2 ½ cups water. Extract the spiced coconut milk from the ground masala paste using a fine mesh sieve (see here for help on extraction process).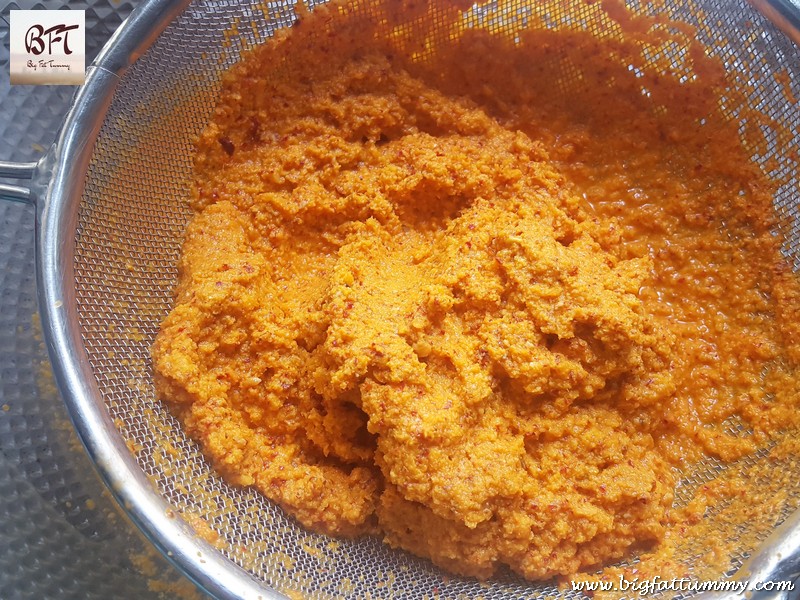 Step 3: Take a vessel add ¾ cup water and add the cleaned drumstick pieces, ¼ tsp. salt and half of the chopped onion and cook covered on low heat for 15 to 20 minutes till the drumsticks are cooked.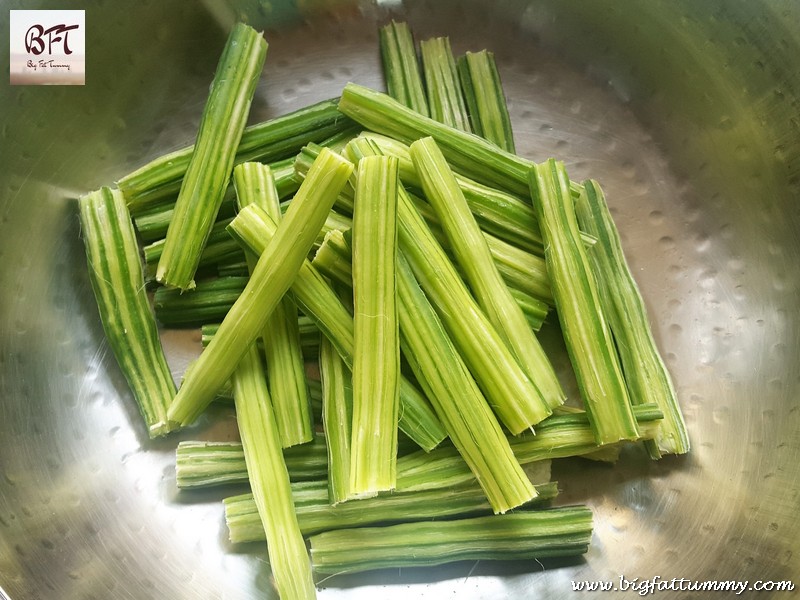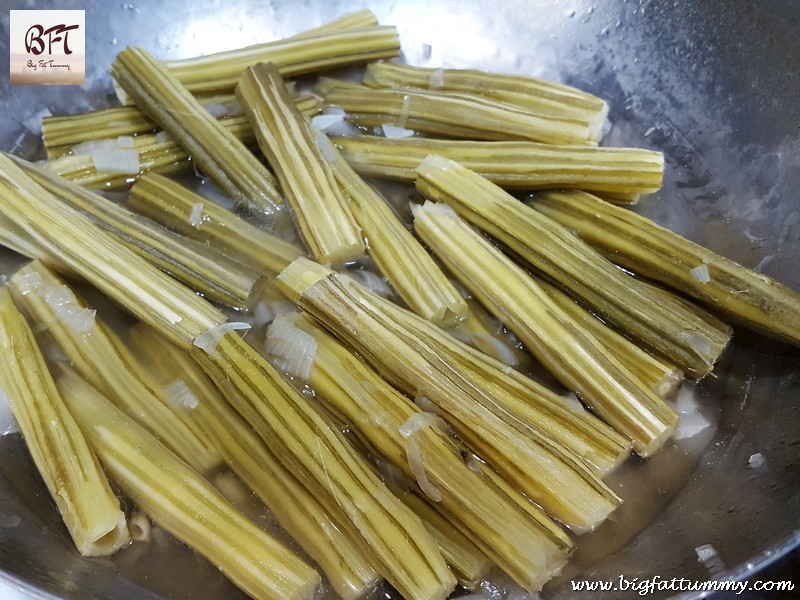 Step 4: Heat 1 tbsp. oil in a vessel and fry the remaining onion till soft on medium heat. Add the prawns and sauté for a minute. Add the cooked drumsticks. Then add the spiced coconut milk, sugar and 1 tsp. salt and cook on medium heat for 12 to 15 minutes.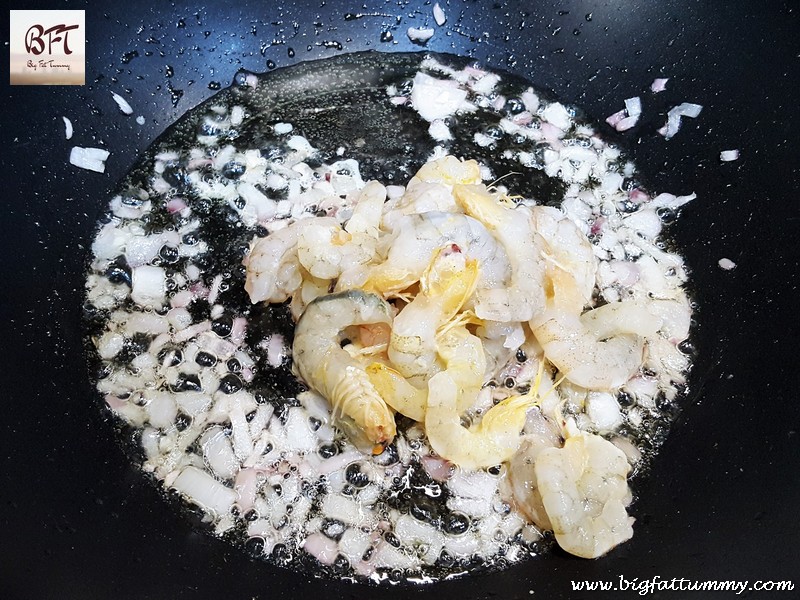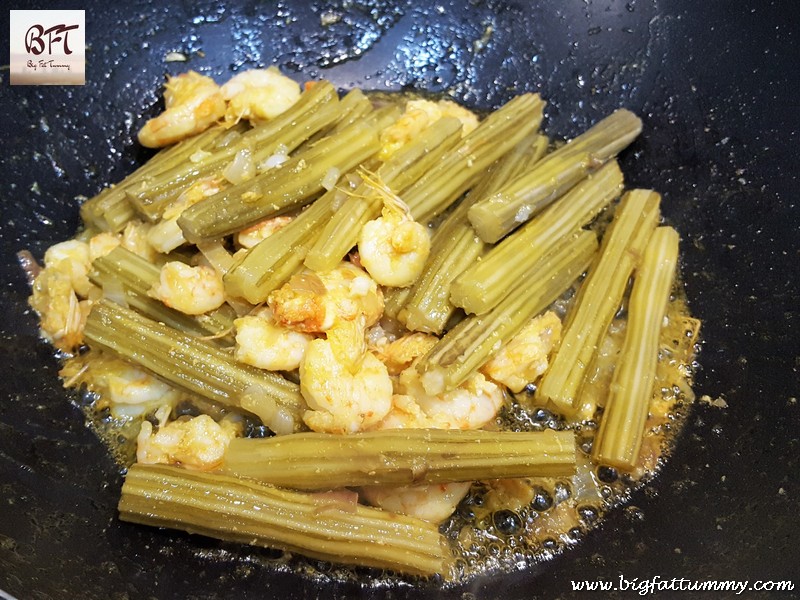 Step 5: Check for salt, add if required. Switch off the heat and garnish with the green chillies. Keep covered for 15 minutes before serving.