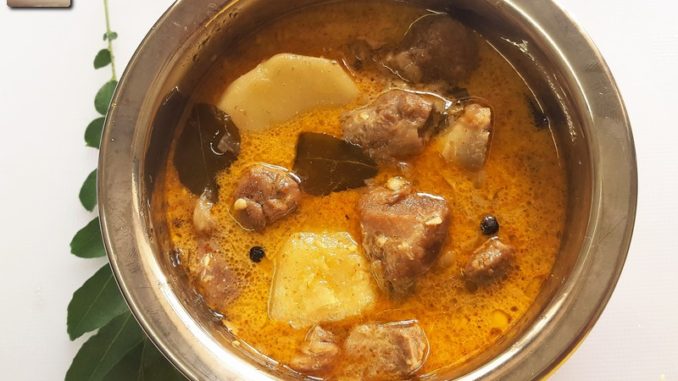 This is a Kerala style mutton broth. Even though you look at the number of spices listed below, the gravy turns out to be mild and the flavour of the mutton is retained. The Kerala Mutton Stew can be eaten with rice, Malabar parathas, appams, etc. My friend, Ms. Meryln Kuncolienkar, from my dear Madhouse Balcao, shared this recipe with me and I have left most of it like she had shared.
Serves: 6 Persons
Prep. Time: 25 Mins. + 30 Mins. (marination)
Cooking Time: 40 to 45 Mins.
Ingredients:
Mutton – 1 kg.
Onions (sliced) – 2 large
Potatoes (peeled & quartered) – 2 medium
Green Chillies (slit and deseeded) – 4
Garlic (finely chopped) – 20 to 24 cloves
Curry Leaves – 18 to 20
Black Peppercorns (coarsely powdered) – 1 tsp.
Corriander Powder – 1 tbsp.
Cloves (crushed Lightly) – 12
Cinnamon (crushed) – 2 inch
Cardamom (crushed lightly) – 4
Fennel Seeds (coarsely crushed) – ½ tsp.
Red Chilly Powder (Paprika) – 2 tsp.
Limes – 2 small
Coconut Milk (thick) – 250 ml.
Vinegar – 1 tbsp.
Oil – 2 tbsp.
Ghee – 2 tbsp.
Salt – 1 ½ tsp. or to taste
Step 1: Wash the mutton and drain well. Marinate with salt and lime juice for 30 minutes. After 30 minutes, drain the mutton, discard the liquid and pressure cook the meat with 1 tsp. pepper, corriander powder, vinegar, ½ the curry leaves and 1 ½ cups hot water. Cook on high heat till one whistle and then cook on low heat for another 15 to 20 minutes (the meat should be half cooked). Switch off the heat and allow to cool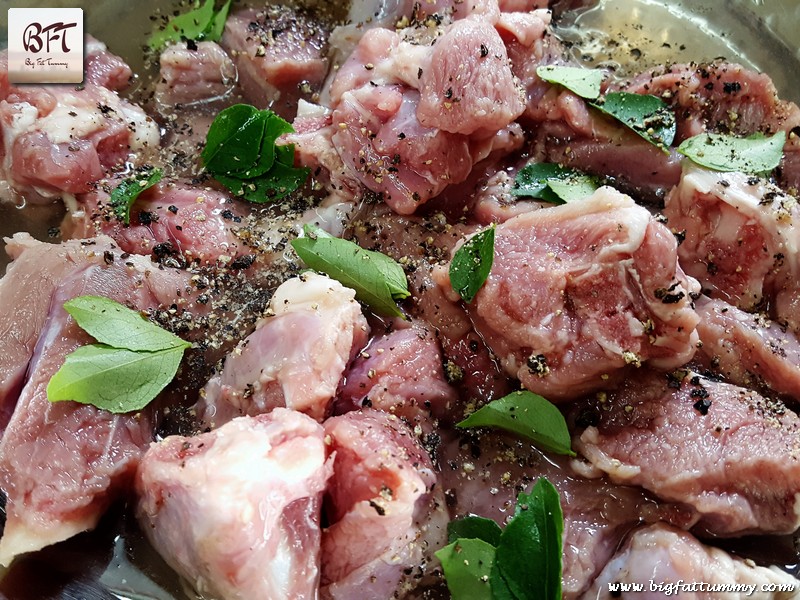 Step 2: Separate the meat from the liquid and keep aside. Also strain the liquid and keep aside. This is the stock.
Step 3: Heat the oil and ghee in a pan. Add the remaining curry leaves, chopped garlic, green chillies and sauté for a minute. Add the onion and sauté till translucent and then add the cloves, cinnamon, cardamom and fennel seeds. Add the half cooked mutton, potatoes and 300 ml. hot water and cook until the meat and potatoes are done.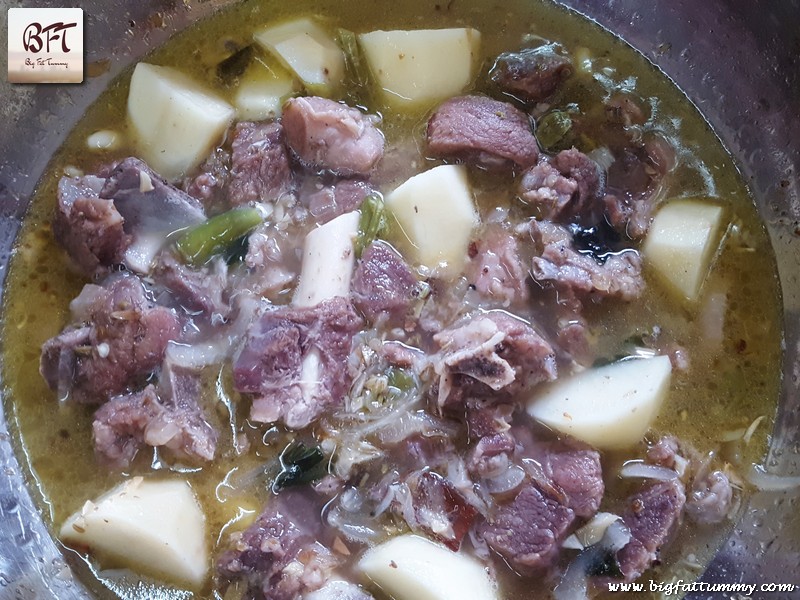 Step 4: Add the stock and red chilly powder. Check for salt and vinegar and add if needed. Boil for 5 to 6 minutes. Finally, add the thick coconut milk and switch off the heat. Leave covered for 15 minutes before serving.