I had bought some really fresh crabs and prawns and couldn't quite decide what to make for lunch that day. I just could not bear keeping one of the two in the freezer for later use. I knew they were yum by the looks of them. So I decided to use one of my curries to make a Crab & Prawn Ros Curry (Ros is coconut milk!). I patted myself 😆 and got some praise from hubby dear too. Because this curry turned out to be super yummilicious.
Serves: 6 Persons
Prep. Time: 30 Mins.
Cooking Time: 16 to 18 Mins.
Ingredients:
[ Standard Measure – 1 cup = 250 ml.]
Crabs – 5 to 6 small
Prawns – 5 large
Onion (finely chopped) – 1 medium
Green Chillies (Slit) – 2 to 3
For the Spiced Coconut Milk:

Coconut (grated) – 1 ½ cups
Tamarind – 1 marble sized ball
Jeera [Cumin] Seeds – ½ tsp.
Corriander Seeds – 2 tsp.
Garlic – 3 cloves
Kashmiri Chillies (deseeded) – 6 to 8
Turmeric – ½ tsp.

Oil (pref. coconut) – 1 tbsp.
Salt – 1 ½ tsp. or to taste
Step 1: Clean the crabs and separate into two pieces. Trim the prawn antennae. Remove the tail (keep the shell on). Devein the prawns (see pic). Wash, drain and leave aside.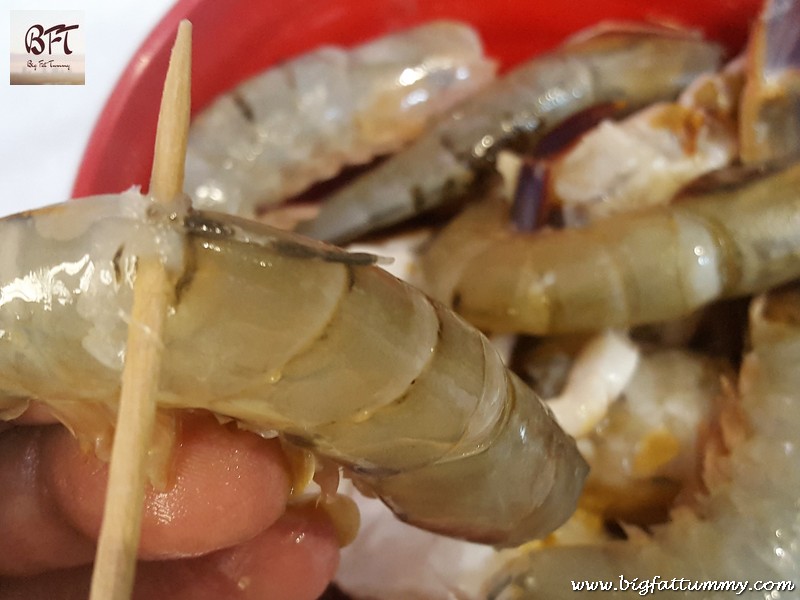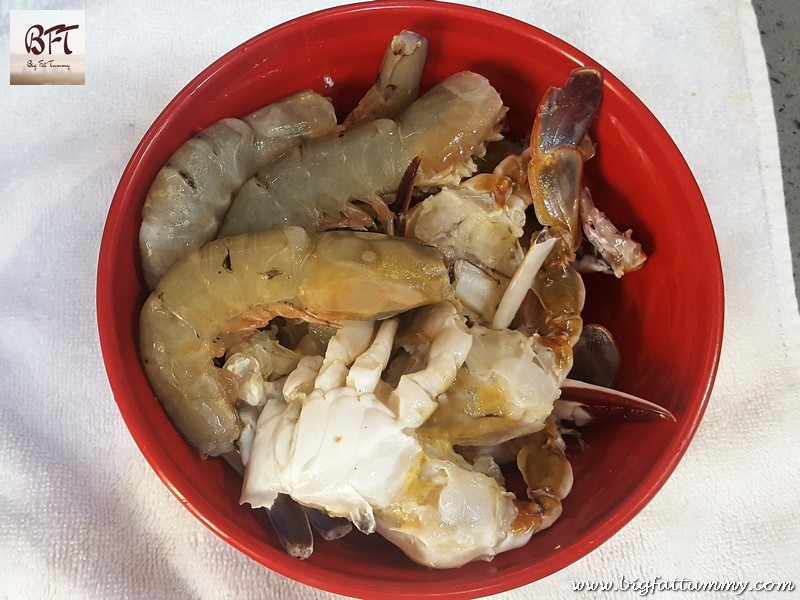 Step 2: Grind all the ingredients for the spiced coconut milk to a fine paste with 2 ½ cups water with an electric wet grinder (see note). Extract the spiced coconut milk from the ground masala paste using a fine mesh sieve.
Step 3: Heat 1 tbsp. oil in a vessel and fry the onion till soft on medium heat. Add 2 of the green chillies and sauté for a minute. Then add the spiced coconut milk, sugar and salt and bring it to a boil on medium heat.
Step 4: Once the curry starts boiling, add the crabs and prawns. Cook on medium heat for 8 to 10 minutes. Switch off the heat and garnish with the remaining green chilly. Keep covered for 15 minutes before serving.
Tips:
An electric stone grinder gives a creamier curry. If using an electric grinder to grind the ingredients for the spiced coconut milk, then add all the water at one go.
If using a mixer, extract the spiced coconut milk using the same batch of ingredients twice, with 1 ¼ cup and again with 1 ¼ cup water on each occasion.