Wheat Flour Chapatis are very good to serve with a variety of dry preparations. They can also be served plain as a snack at any time of the day. Making them is a bit tedious if kneading the flour by hand. It is also quite tiring to make them in hot weather if you do not have proper ventilation and air conditioning. But you could break up the process by kneading the dough and keeping it in an airtight container inside the refrigerator for upto 2 days. And then just keep the dough outside for some time when you want to make the chapatis. Also, I don't bother much about rolling them out into perfect circles, but one must roll them out uniformly for them to cook well. (For a Wheat Flour Tawa Paratha, click here)
Yield: 10 to 12
Prep. Time: 15 Mins. + Standing
Cooking Time: 30 Mins.
Ingredients:
[ Standard Measure : 1 cup = 250 ml ]
Atta [Wheat Flour] – 3 cups + some more
Ghee (melted) – as needed (optional, check notes)
Oil – 1 tbsp.
Salt – 1 ½ tsp.
Step 1:     Take the flour in a stand mixer bowl and add the salt and mix. Then attach the dough hook and add water a little by little (from 325 to 375 ml) and knead at a low speed till a soft, not too sticky dough is formed (you can knead by hand too).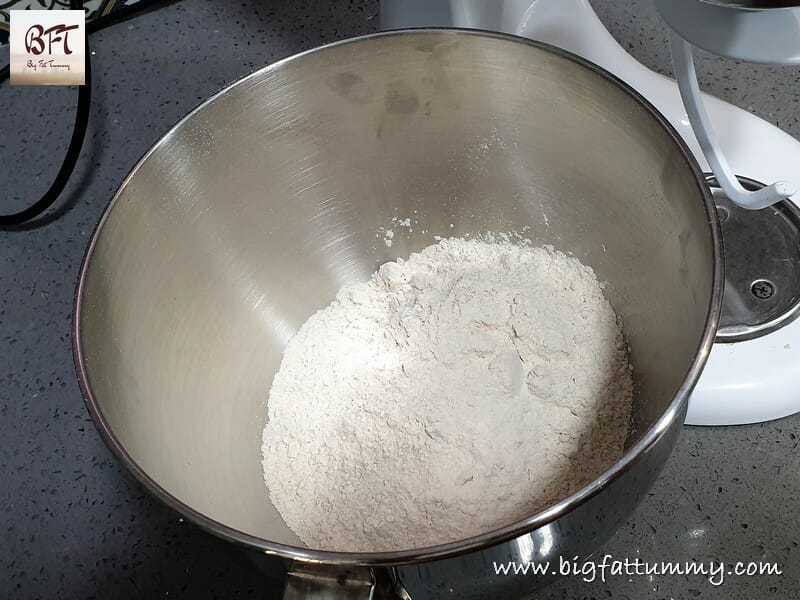 Step 2:     Add the oil and continue kneading for another 2 minutes. The dough should be smooth and very soft to touch. Dimples should form when you touch against it with your fingers. Cover and leave aside for 30 minutes to an hour (follow the same steps as 1 and 2 also, if kneading by hand).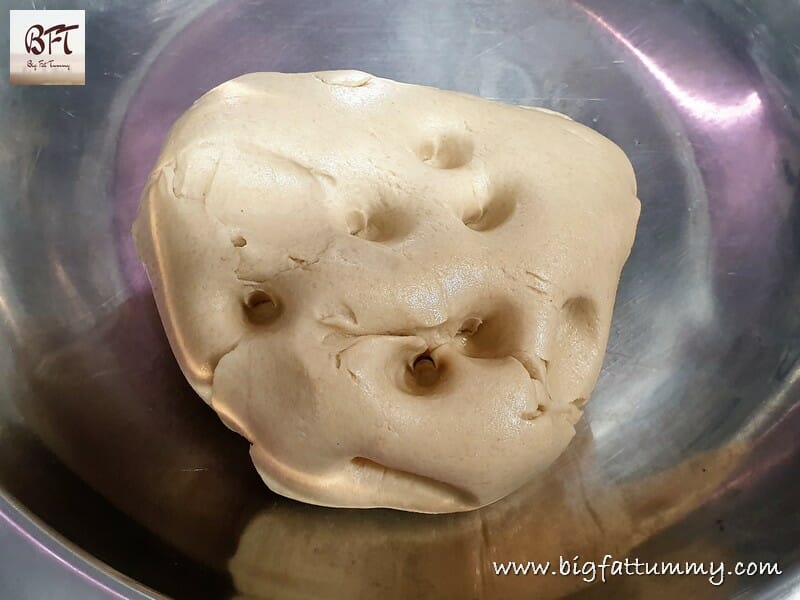 Step 3:     Divide the dough into 10 to 12 equal portions and roll each portion into a ball (depends on the size and thickness of the chapatis you want).
Step 4:     Take some dry flour in a bowl. Take a rolling board and rolling pin. Take a ball of dough and dip in the dry flour and press to flatten. Then place the flatted dough ball on the rolling board and roll out so that the dough flattens and spreads evenly (dip in the dry flour or sprinkle some dry flour in between to avoid the dough sticking to the board or pin).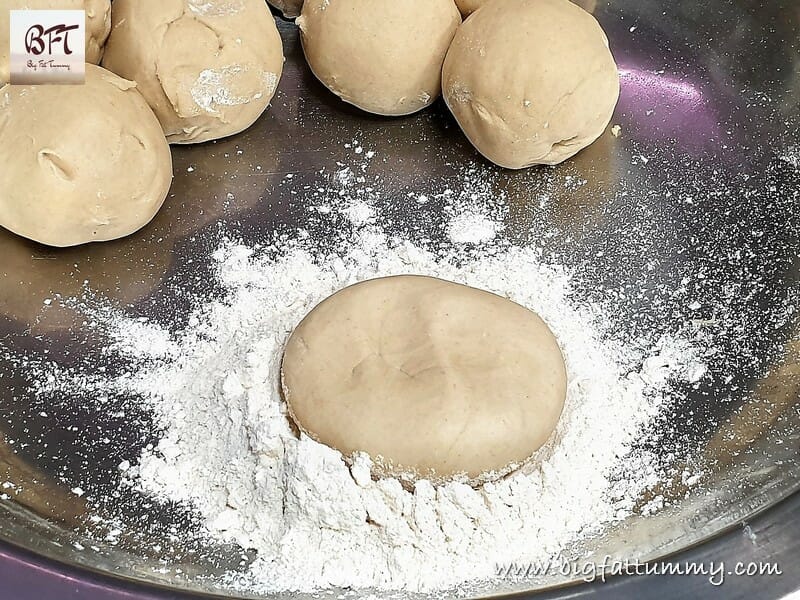 Step 5:     Place a griddle on heat and when hot place the rolled dough / chapatti onto it. When you see bubbles forming, turn it over and lower the heat. Continue cooking whilst turning it over ever few seconds and dabbing with a cloth or flat spatula till well roasted.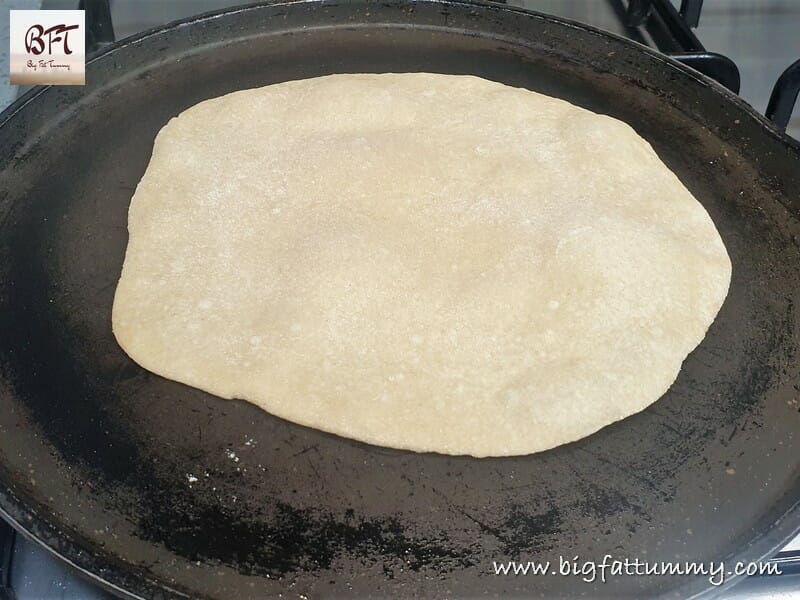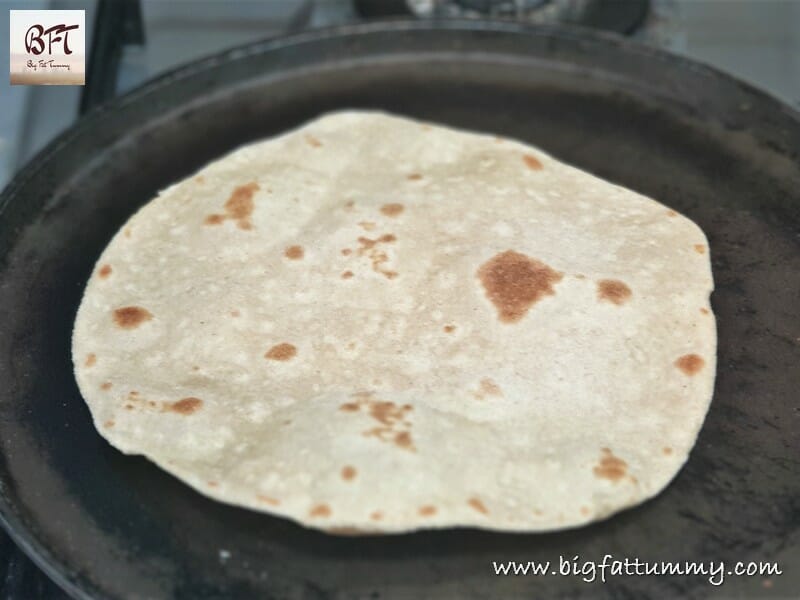 You can also place directly on a medium open flame once the chapati has a few brown blisters. You can use kitchen tongs in such case and keep flipping the chapatti over the open flame till it is cooked well (the chapatti will balloon up when you keep on an open flame, but do not deflate it purposely).
Do the above for all the balls of dough.
Step 6:     When the chapatti is cooked you can serve it hot as it is or apply some ghee on both sides and then serve. You can also make and store in a tiffin box / or a casserole line with clean cloth and later heat them again for a few seconds on each side when you need to serve them.
Note:
You can use oil instead of ghee for application on the chapatis.