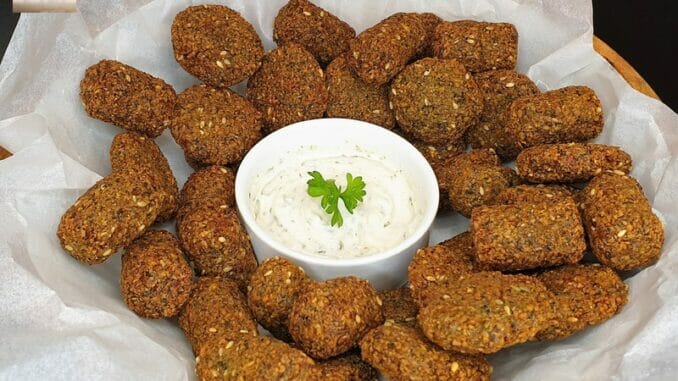 Falafel is a Middle Eastern snack. It is a popular Street Food. In India, we make similar fritters know as Dal Wadas which uses split Bengal Gram or Moong bhajis which uses Green Gram. In this recipe we use chickpeas to make the Falafel.
Yield: 40 Bite Sized Falafels
Prep. Time: 20 Mins + Soaking
Frying Time: 15 Mins
Ingredients:
[ Standard Measure : 1 cup = 250 gms ]
Chickpeas (dry) – 1 ½ cup
Corriander Leaves – 1 cup
Parsley Leaves – ½ cup
Garlic – 6 to 8 cloves
Onion (finely minced) – 1 medium
Lime – ½ medium
Cayenne Pepper Powder – 1 tsp.
Black Pepper Powder – 1 tsp.
Corriander Powder – 2 tsp.
Cumin Powder – 2 tsp.
Sesame Seeds – 1 tbsp.
Baking Powder – ½ tsp.
Salt – 1 tbsp.
Step 1: Wash the chickpeas. Soak them overnight in sufficient water.
Step 2: The next day drain the water, rinse and place in a strainer to dry out completely.
Step 3: Take all the ingredients, except the onion, lime, sesame seeds and baking powder, in a food processor jar. Grind in short bursts. Grind till you have a coarse mixture of all ingredients as seen in the picture below.
Step 4: Transfer the mixture to a bowl and cover with cling film and keep in the refrigerator for 2 hours or till you are ready to fry them.
Step 5: Later, take the mixture out of the refrigerator and add the juice of the ½ lime. Also add the baking powder, finely minced onion and the sesame seeds. Give the mixture a good mix.
Step 6: Divide your mixture into small portions of similar quantities and shape each portion into a shape that you desire.
Step 7: Heat oil in a pot and when the oil is hot (You can check by inserting a bamboo skewer into the oil. You will see small bubbles forming around the skewer) fry the shaped Falafels (in 3 to 4 batches) on medium heat for 3 to 4 minutes per batch. Then transfer to a plate lined with kitchen towels to soak out extra oil.
Serve hot with a dip of your choice.
Notes:
You can replace Cayenne Pepper Powder with Red Chilly Powder.
So not used boiled chickpeas for the recipe.
Watch the Video