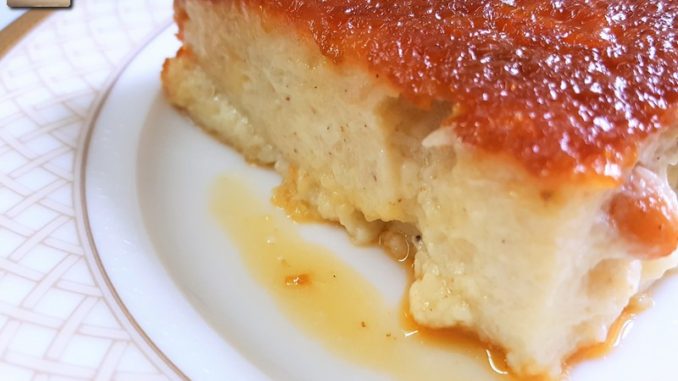 Breakfast .. Tea Time .. Anytime .. Use leftover pao to make this wonderful pudding. Served warm, children and adults alike will love the caramel bread pudding. (For more Pudding Recipes, click here)
Serves: 4 to 6 Persons
Prep. Time: 10 Mins. + 2 ½ Hrs. (standing time)
Baking Time: 30 to 35 Mins.
Ingredients:
Full Cream Milk (warm) – 450 ml.
Pao – 2 small
Nutmeg (grated) – 2 pinches
Sugar – 4 tbsp. + 3 tbsp.
Eggs – 2
Condensed Milk – 2 tbsp. (optional)
Raisins – 1 tbsp.
Step 1: Take the warm milk in a bowl. Break the pao into small pieces and add to the bowl. Add 4 tbsp. sugar, the eggs, nutmeg, raisins and mix well with a fork or a whisk. Leave the mixture in the refrigerator for 2 to 2 ½ hours max.
Step 2: Take a 6 x 6 inch aluminium baking dish. Put the rest of the sugar into it and place on medium heat. Do not add any water. Once the sugar starts melting and caramelising, shut off the heat and swirl the baking dish to spread the caramel uniformly over the base and sides. Keep aside.
Step 3: Remove the milk-bread mixture from the refrigerator and let it stand out for 15 minutes.
Step 4: Pre-heat the oven at 180°c for 15 minutes. Meanwhile, pour the egg mixture into the baking dish which is coated with caramel. Place the baking dish in the oven and bake at 180°c for 30 to 35 minutes. Take out of the oven and let it cool. Run a knife along the edges, invert onto a plate, cut and serve warm.