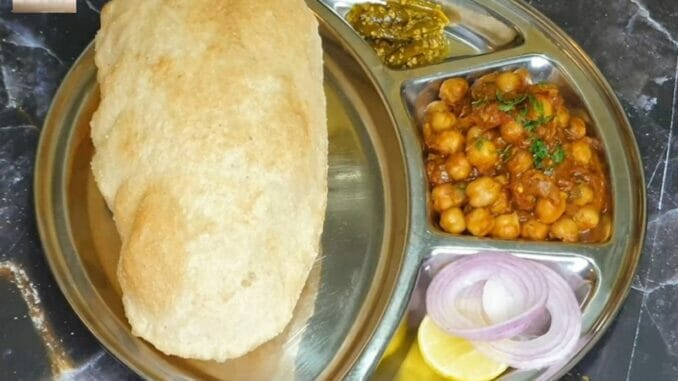 Chole Bhature is a popular Indian snack / meal especially in the Northern States of India. It is a thick tangy gravy with chickpeas. In this recipe we will be doing the gravy known as chole and also the bhature which is a deep fried Indian bread. The bhature are traditionally made with refined flour and leavening agents like curds or yeast. But here, we are going to use a shortcut method. The Chole Bhature are a favourite with my kids and so stands high on my list of regular preparations.
Serves: 6 to 8 Persons
Prep. Time: 30 Mins + Soaking + Resting the dough.
Cooking Time: 60 Mins
Ingredients:
[ Standard Measure: cup = 250 ml ]
For the Chole :
Chickpeas (dry) – 1 ½ cups
Onions – 3 medium (350 gms)
Tomatoes – 4 medium (400 gms)
Cumin Seeds – 1 tsp.
Black Pepper Corns – 10
Bay Leaves – 2
Cinnamon – 1 inch
Cloves – 4
Black Cardamom – 1 (optional)
Corriander Powder – 3 tsp.
Turmeric Powder – 1 tsp.
Red Chilly Powder – 2 to 3 tsp.
Punjabi Chana Masala Powder – 4 tbsp.
Garam Masala Powder – ½ tsp.
Chaat Masala – 1 tsp. (optional)
Ginger-Garlic Paste (freshly prepared) – 3 tbsp.
Tamarind – 1 big lime sized
Green chillies (finely chopped) – 2 to 3 (optional)
Green Corriander Leaves (chopped) – a handful
Oil – 125 ml
Sea Salt – 2 tsp.
For the Bature:
Refined Flour / Maida [ APF] – 500 gms
Chiroti Rawa / Sooji [Fine Semolina] – 50 gms
Club Soda –250 ml (approximately)
Oil – as needed + for deep frying
Salt – 1 tsp.
Step 1: Soak the chickpeas in enough water overnight.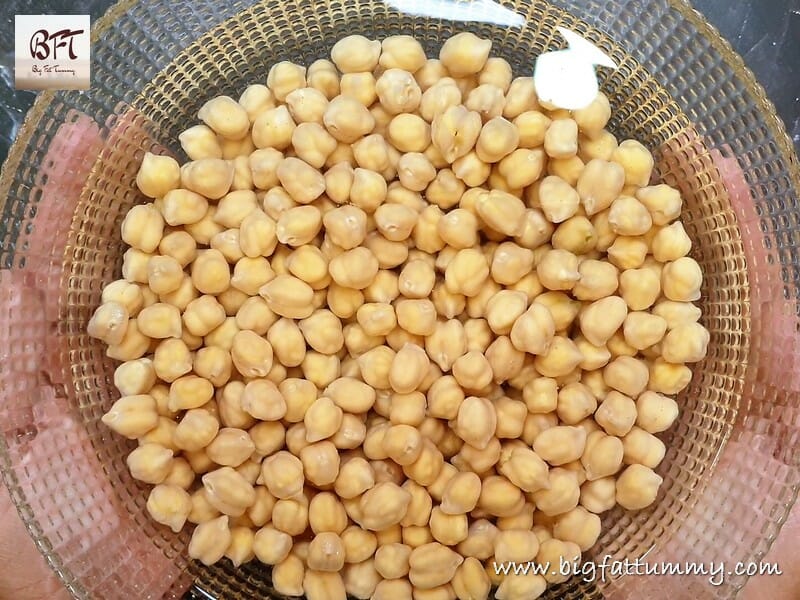 Step 2: The next day drain and wash the chickpeas. Then add them to a pressure cooker with 1 litre of water and 1 tsp. salt. Put the pressure cooker lid on and cook on high heat till the 1st whistle. Then lower the heat and cook for another 20 minutes or so. Switch off the heat and leave aside for the pressure to drop naturally. When it has, strain the chickpeas and keep aside. Reserve the stock.
Step 2: Mince the onions and tomatoes and keep aside separately. Soak the tamarind in 1 cup hot water.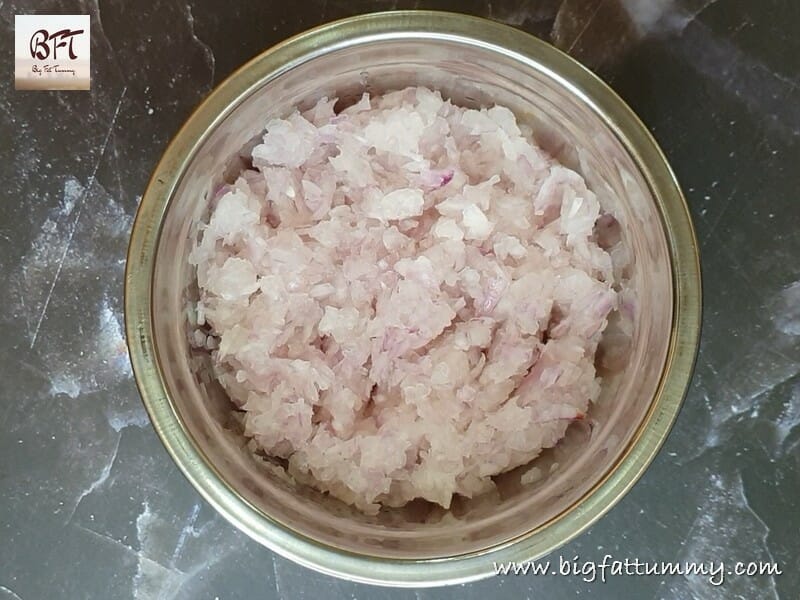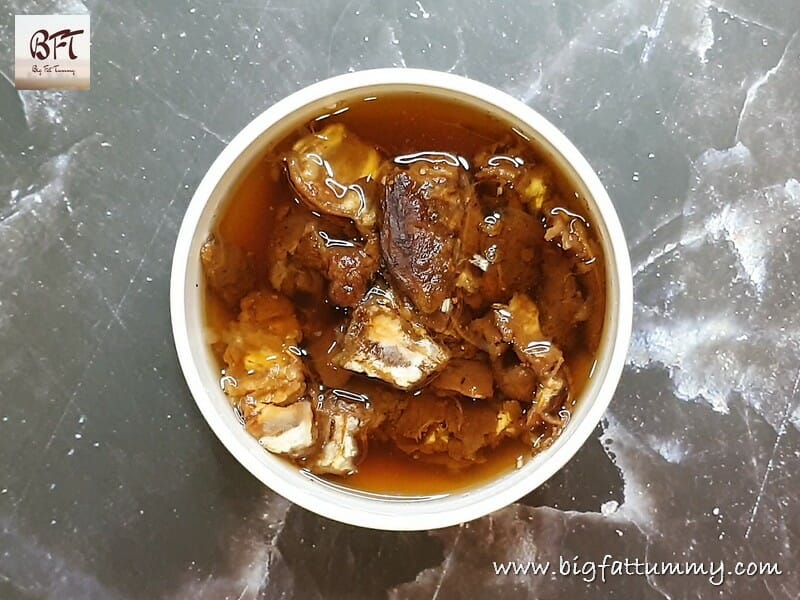 Step 3: Place a heavy bottomed pan on medium heat. Heat 125 ml oil and the whole spices (cumin, bay leaves, peppercorns, cinnamon, cloves, black cardamom) and saute for 2 minutes on low heat.
Step 4: Next add the the minced onion and saute on medium heat till the onion turns light golden.
Step 5: Add the chana masala powder and saute for a minute. Then add the minced tomato and saute for another 5 minutes.
Step 6: Next add the ginger-garlic paste. Saute on low heat for 2 minutes.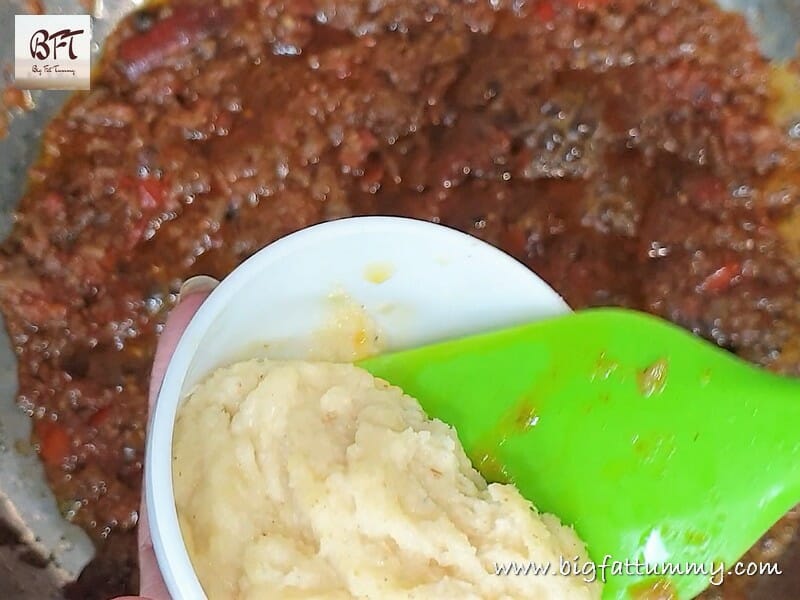 Step 7: Now add the corriander powder, turmeric powder and red chilly powder – Add 1 tsp. sea salt. Saute on medium high heat for a minute.
Step 7: Add ¼ cup hot water (to prevent the masalas from burning) and saute for another 2 minutes. Mash and strain the tamarind pulp into the pan. Keep cooking while stirring till oil oozes out from the masala.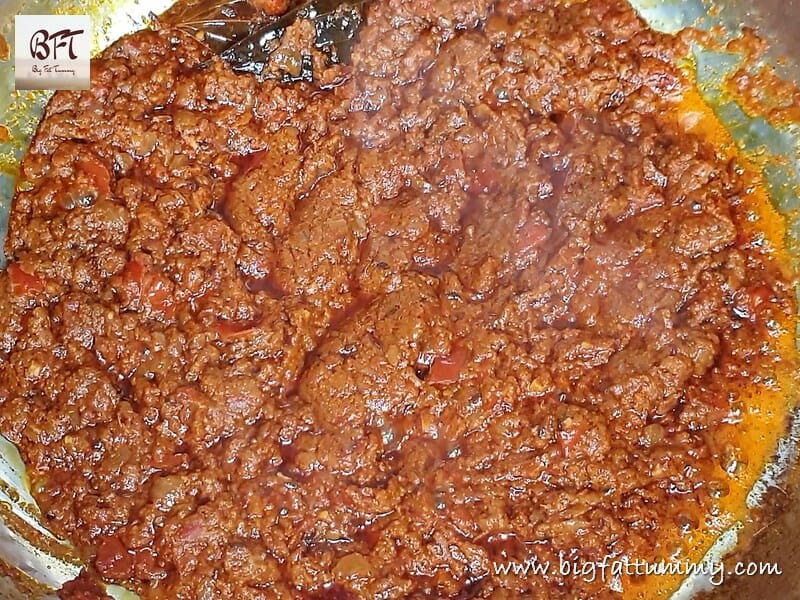 Step 8: Now add the cooked chole (chickpeas) and 2 cups of the chickpea stock. Mix and cover and cook for 2 minutes.
Step 9: Add the chopped chillies and cook covered for 5 minutes.
Step 10: Sprinkle ½ tsp. of garam masala powder. Finally add the green corriander. Give a mix and cover the pan. Switch off heat.
Now we will make the bhature:
Step 11: Add the salt and the chiroti rawa to the maida and give it a mix. Then knead the flour using the club soda a little at a time (Use club soda from a freshly opened bottle. It should not be flat.) Cover with a wet cloth and keep aside for 1 ½ to 2 hours.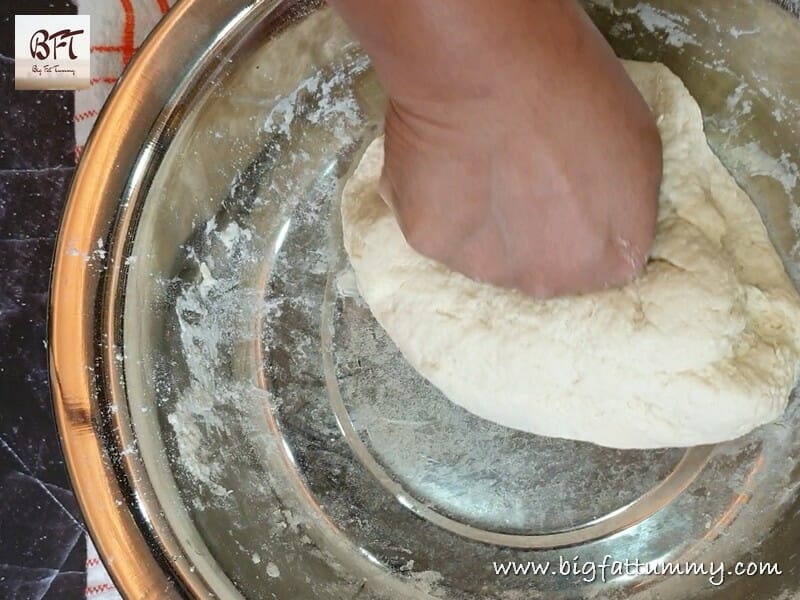 Step 12: Later, add ½ tsp. oil to the dough and knead it for 3 to 4 minutes. Divide the dough into 8 to 10 portions. Form each portion into a ball by folding in and rolling in your palms.
Step 13: Meanwhile keep a kadai on heat and add oil sufficient enough for deep frying the bhature one at a time.
Step 14: Take a ball of dough on your platform. Dip you fingers in oil and flatten the ball. Apply oil to the other side also. Then roll out the dough evenly as shown in the picture.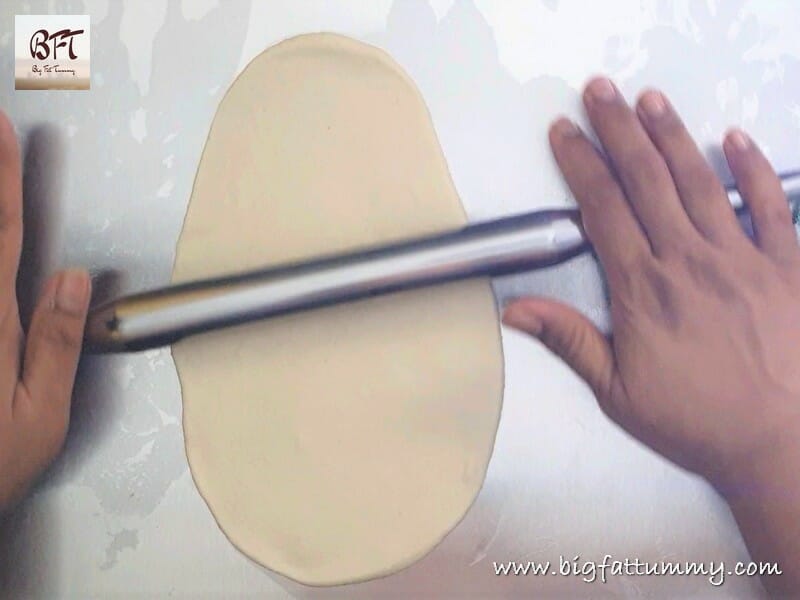 Step 15: Check that the oil has heated (the oil should be hot). Then gently lay the rolled out bhatura into the hot oil. Leave it alone to fluff up and then turn over to cook the other side (each batura should take about a minute to fry).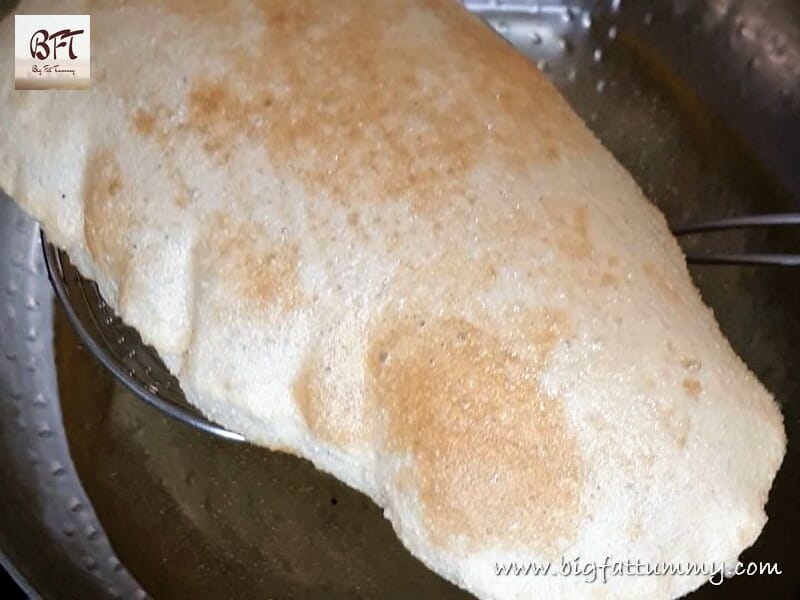 Step 16: Serve the chole warm with a sprinkling of chaat masala (optional) and the hot hot bhature ! Also some sliced onion and lime on the side.
Notes:
When making the chole, all ingredients should go into the pan in the order mentioned in this recipe.
It is also important to only use chiroti rawa for the bhature. If you don't have this fine rawa, then you could give it a whizz in your dry grinder to make it fine.
Watch the Video