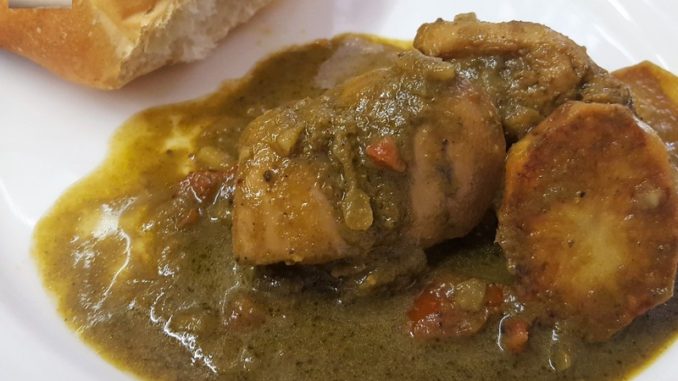 The Goan Green Chicken is a chicken curry which uses green corriander as its main flavouring agent. Usually cooked with beef in Goa, the chicken variant is good for those who don't eat beef. Chicken meat is also leaner and good for those who are counting their calories. No matter what meat you use, though, the dish turns out yummy.
Serves: 4 to 6 Persons
Prep. Time: 20 Mins.
Cooking Time: 45 to 50 Mins.
Ingredients:
Chicken Legs – 750 gms
Turmeric Powder – ½ tsp.
Potatoes – 3 small
Onion (finely chopped) – 2 medium
Tomato (finely chopped) – 1 large
Lime – ½ small
For the Green Masala Paste:

Green Corriander – 1 small bunch
Light Green Chillies – 4
Garlic – 12 small cloves
Peppercorns – 6
Cloves – 10 to 12
Cinnamon – 1 inch
Cumin Seeds – ½ tsp.
Tamarind – 1 small lime sized ball

Palm Vinegar – 1 tbsp.
Oil – 3 tbsp. + more
Salt – 1 tsp.
Step 1: Grind all the ingredients for the green masala into a fine paste using a little water.
Step 2: Chop the chicken legs into small pieces. Wash and drain well. Apply 1 tsp. salt, turmeric and lime juice and keep aside.
Step 3: Peel the potatoes and cut into roundels. Add 1 tsp. salt to 200 ml water and soak the potato slices in it.
Step 4: Heat 3 tbsp. oil in a vessel and sauté the onion till light brown (don't brown) on medium heat. Add the tomato and sauté till soft.
Step 5: Next add the marinated chicken and sauté till the colour changes (about 5 minutes).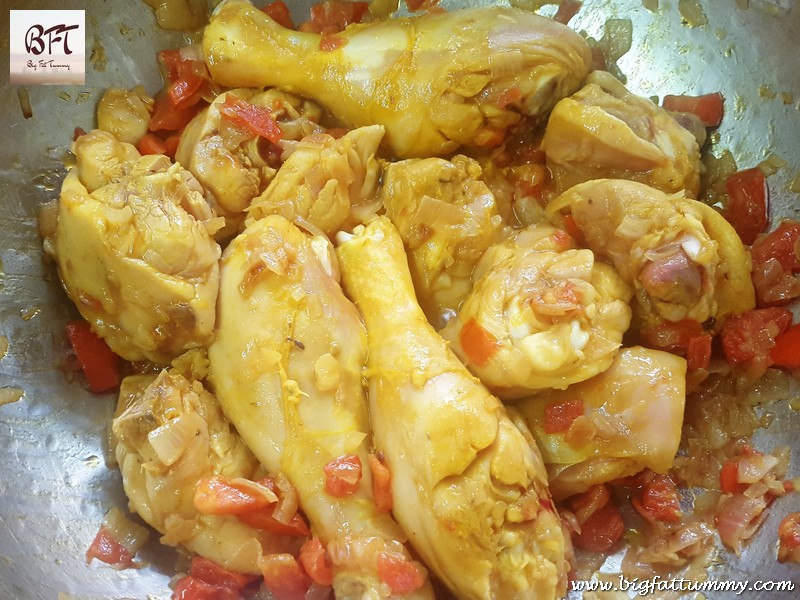 Step 6: Add the masala paste and mix well. Sauté on low heat for 6 to 8 minutes.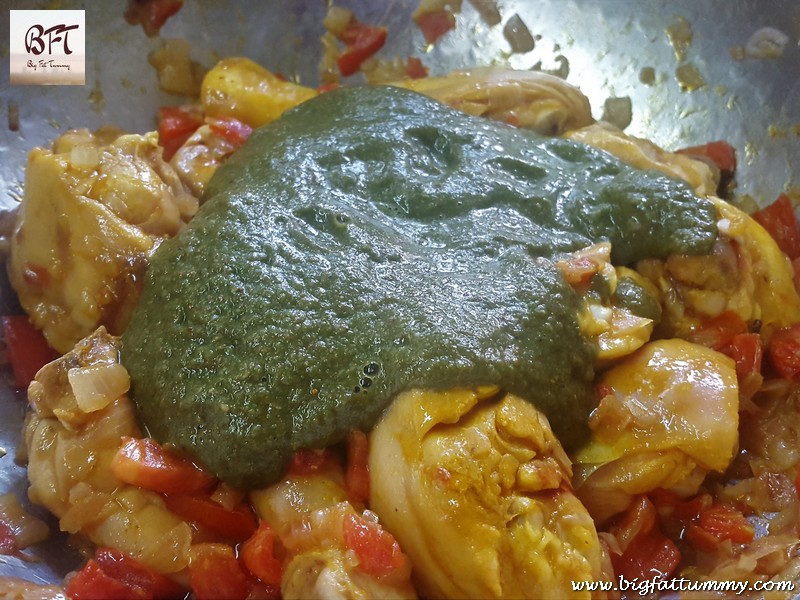 Step 7: Add 300 ml warm water and ½ tsp. salt and cook the chicken covered on low heat for 25 to 30 minutes till almost done.
Step 8: Meanwhile, deep/shallow fry the potato roundels separately till light brown and keep aside.
Step 9: When the chicken is almost done, add the vinegar, fried potatoes. Check for salt and add if required. Cook covered on low heat for another 5 minutes. Switch off the heat and serve hot.
Note: Betty Pires, my friend, from the Madhouse Balcao, shared her grandma's recipe for a stuffed capsicum with beef mince. I experimented with chicken using her green masala. Voila – it turned out very good.