The French Bean Potato Bhaji is a dry preparation. It is quick to make and can be served as a side with rice or you can eat this with chapatis or rotis at dinner time.
Serves – A Family of Four
Prep. Time – 20 Mins.
Cooking Time – 10 Mins. (active) + 10 Mins. (passive)
Ingredients:
French Beans (stringed and chopped) – 350 gms.
Potato (cubed) – 1 medium
Tomato (finely chopped) – 1 medium
Onion (finely chopped – 2 medium
Garlic (crushed) – 6 cloves
Coconut (grated) – 2 tbsp.
Mustard Seeds – 1 tsp.
Red Chilly Powder – ½ tsp.
Cumin Seed Powder – ½ tsp.
Corriander Seed Powder -1 tsp.
Turmeric Powder – ½ tsp.
Garam Masala Powder – a big fat pinch
Soda-bi-carb – a pinch
Oil – 2 tbsp.
Salt – 1 ½ tsp.
Step 1: Bring 2 cups of water to a boil. Add 1 tsp. salt, French beans and the soda-bi-carb. Boil for 2 minutes. Drain and keep aside.
Step 2: Heat oil in a pan. Splutter the mustard seeds. Add the garlic and onions and saute for 2 to 3 minutes till the onions are pink.
Step 3: Add the potatoes and saute for 2 minutes. Add the powder masala, except the garam masala powder and mix well. Add the chopped tomato and sauté for 2 minutes.
Step 4: Add the beans, ½ tsp salt and cook covered on low heat for 10 to 12 minutes till the potatoes and beans are cooked.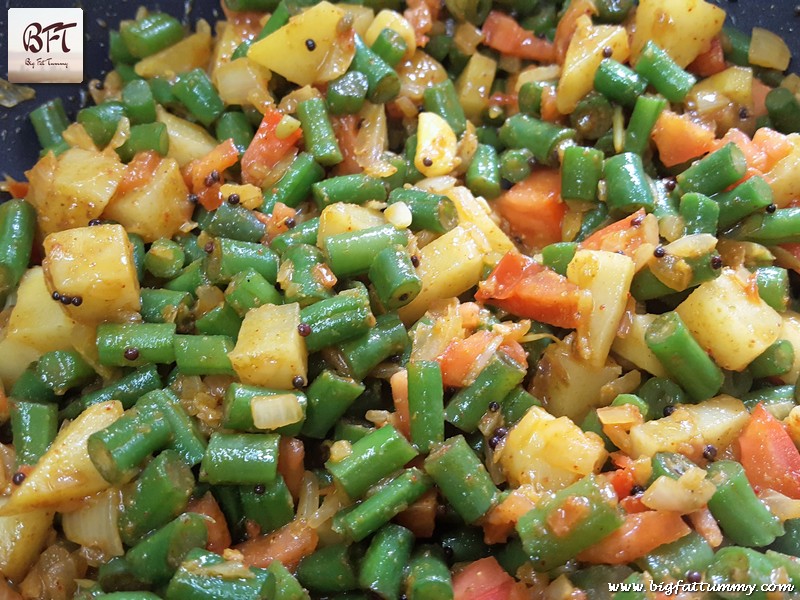 Step 5: Add the garam masala and give the vegetable a stir. Turn off the heat and add the grated coconut and stir. Keep covered for 5 minutes.
Serve with chappatis.