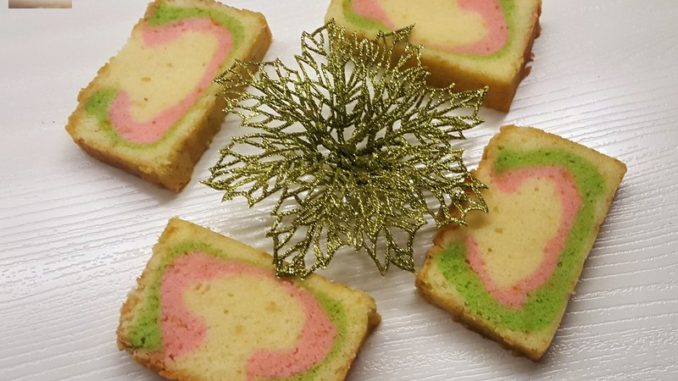 The Ribbon Cake is a popular cake which you will notice at all local bakeries in Goa. It is a popular serve at prayer meetings in Goa or as a tea time snack. It being every colourful, children like it. However, in present days with concerns of adulteration with sub-standard colours and essence, I would not like my children to have any except from a trusted source. So I find baking one at home preferable.
Prep. Time: 25 Mins.
Baking Time: 45 Mins.
Ingredients:
Maida (APF) – 175 gms.
Powdered Sugar (sieved) – 250 gms.
Eggs (at room temp.) – 4
Salted Butter (at room temp.) – 175 gms.
Milk Cream – 1 ½ tbsp.
Vanilla Essence – ½ tsp.
Pineapple Essence – ½ tsp.
Liquid Food Colour (Green) – a few drops
Liquid Food Colour (Pink) – a few drops
Baking Powder – 1 tsp.
Step 1: Line a baking tray [9 x 9 x 4 inch or similar] with parchment paper and keep aside. Preheat the oven at 180° c.
Step 2: Take the butter in a bowl at room temperature. Add the maida and mix well with a wire whisk till it forms a dough like mixture.
Step 3: Add the powdered sugar and whisk again for 3 to 4 minutes, till mixed well. Break an egg in a small bowl to check if okay. Add to the mixture and mix for 2 minutes. Do the same for the next 3 eggs (whisk for 2 minutes after each addition).
Step 4: Next add the milk cream and whisk at a fast pace for 3 to 4 minutes. The more quickly you whisk – the fluffier your cake will be.
Step 5: Finally add the baking powder and mix well for another 2 to 3 minutes (be careful not to miss this step).
Step 6: Divide the batter into three portions in the ratio 1:1:2 ( ¼ + ¼ + ½ ) Add vanilla essence and green food colour to one ¼ portion and whisk well to prepare the green batter.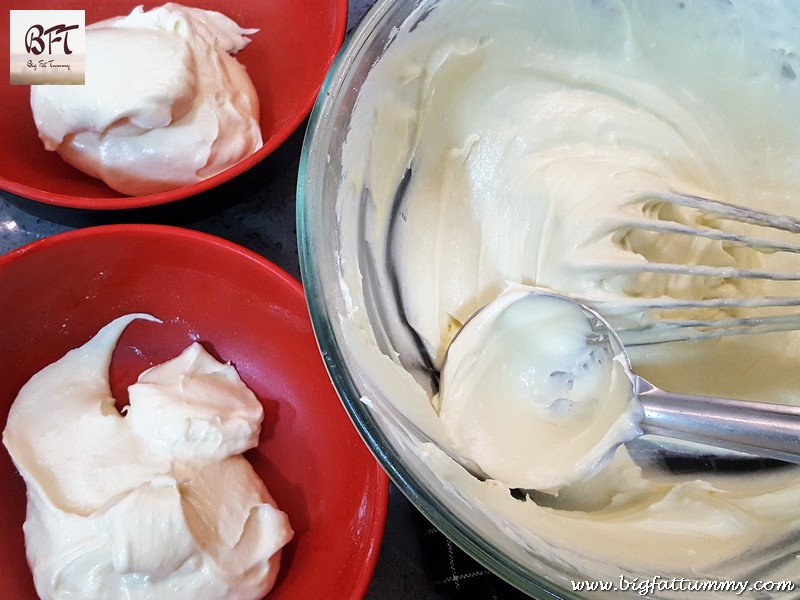 Step 7: Add vanilla essence and pink food colour to the second ¼ portion and whisk well with a different whisk or clean, dry and use the same whisk. This will be your pink batter.
Step 8: Add pineapple essence to the ½ portion. No food colour to be added to the ½ portion. Whisk well with a clean whisk. This is your white batter.
Step 7: Now it is time to prepare the baking dish. Add ½ portion of the white batter into the baking tray and spread out with a spatula. Then pour all of the green batter and spread it out with a clean spatula. Then the pink batter and finally the remaining white batter once again. Spread with a spatula to smoothen and the tap the baking tray 2 to 3 times.
Step 8:     Bake at 180°c for the first 15 minutes and then lower the heat to 160°c and bake for a further 30 to 35 minutes, till done. Later unmould and cool on a wire rack.