We've called this a Pork Meat Liver Masala, though we feel it is very similar in taste to a Goan sorpotel. The method of preparation and ratio of ingredients here is what makes it different from the sorpotel. However, if you are short on time, this is a perfect alternative. You need to try it to believe us. And the more you leave it to mellow, the better it tastes.
Serves: 12 to 15 Persons
Prep. Time: 55 to 60 Mins.
Cooking Time: 1 ½ hour (active + passive)
Ingredients:
Pork Meat (with fat/skin, boneless) – 1 ½ kg
Pork Liver – 750 gms
Onions (finely chopped) – 8 medium
Garlic (finely chopped) – ¼ cup (chopped)
Ginger (finely chopped) – 3 inch
For the Masala Paste:

Dry Kashmiri Red Chillies (deseeded) – 36
Cumin Seeds – 2 tsp.
Black Pepper Corns – 60
Cinnamon – 3 inch
Cloves – 45
Turmeric Powder – 1 tbsp.
Synthetic Cooking Vinegar – 200 ml or to taste

For Further Use:

Bay Leaf – 8
Cinnamon (broken) – 2 inch
Cloves – 15
Turmeric Powder – ½ tbsp.

Tamarind (soaked in 250 ml hot water) – 1 big lime sized ball
Sugar – 2 tsp.
Oil – 2 tbsp.
Salt – 1 ½ tbsp.
Step 1: Preparing the masala:
Heat 2 tbsp. oil in a pan and sauté the red chillies, the cumin, cloves, cinnamon and pepper corns on low heat till a nice aroma emanates (don't roast till they burn out). Switch off the heat and transfer to a plate to cool.
Grind to a fine paste using the vinegar and a little water to get a nice smooth masala.
Step 2: Wash the pork meat and cut into big chunks. Apply 1 ½ tbsp. salt, ½ tbsp. turmeric and leave aside for an hour. Leave the liver aside and whole.
Step 3: Later, take the cured / marinated pork meat and the liver in a large vessel. Add the 15 cloves, 4 bay leaves and 2 inch broken cinnamon. Add around 1 ½ litres of water and cook covered on low heat for 25 minutes. After 25 minute take the chunks of liver out of the vessel and cook the meat covered on low heat for another 10 minutes. Switch off the heat. The meat should be a tad bit under cooked at this time.
Step 4: When the boiled meat has cooled, cut it into 1.5 to 2 cm cubes ( a little bigger than the regular sorpotel). While doing so keep the fat and skin portion separately and the lean meat separately. Cut the liver too in the same size. Strain the stock and reserve the liquids.
Step 5: Take a large non-stick or thick bottomed steel pan and add the oil, the cubed pieces of fat, onion and sauté on low heat for 5 to 6 minutes. Then add the chopped ginger and garlic and sauté till the fat from the pork is released and the onion goes soft.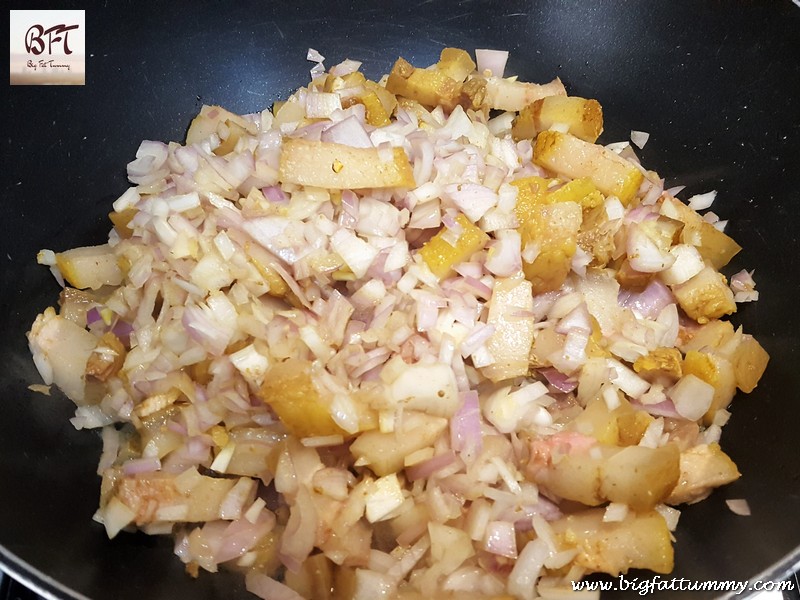 Step 6: Now add the meat cubes and mix them in for 2 to 3 minutes on medium heat. Then add the liver cubes and sauté again for another 2 to 3 minutes. Finally add the ground masala and mix well on low heat for 6 to 8 minutes.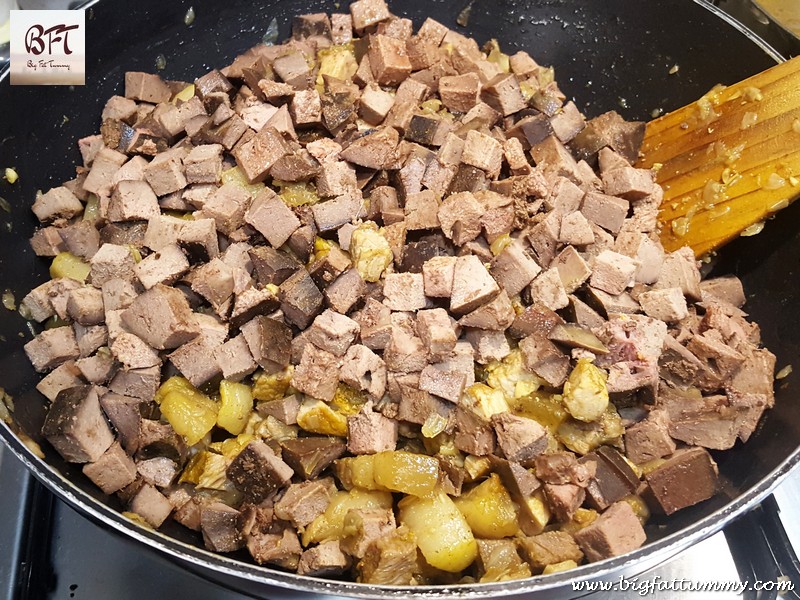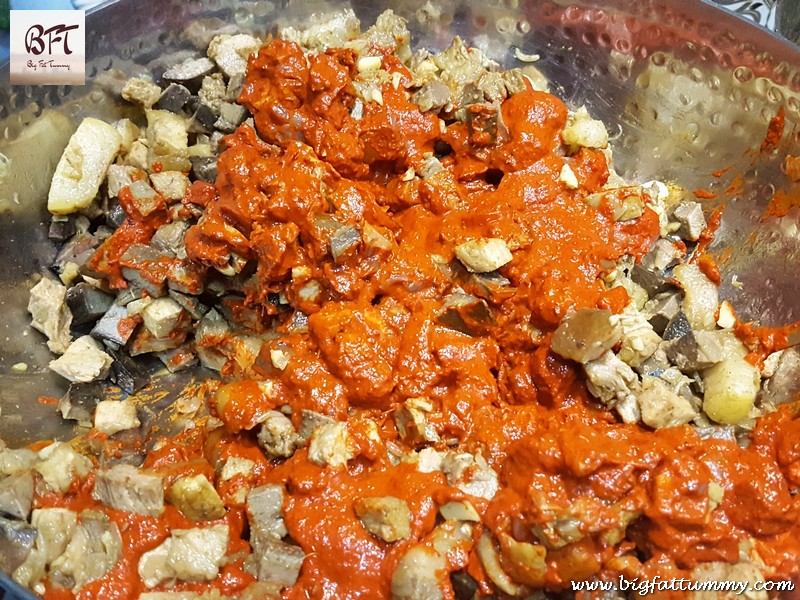 Step 7: Add the strained stock, the remaining bay leaves and some hot water (adjust water to the consistency you desire). Cover and cook on low heat till the meat is done (about 20 minutes).
Step 8: When you have finished cooking the meat, pulp and strain the tamarind into the vessel. Add the sugar. Check for salt, sourness and sweetness and add if required. Mix and cook covered for a further 5 minutes on low heat.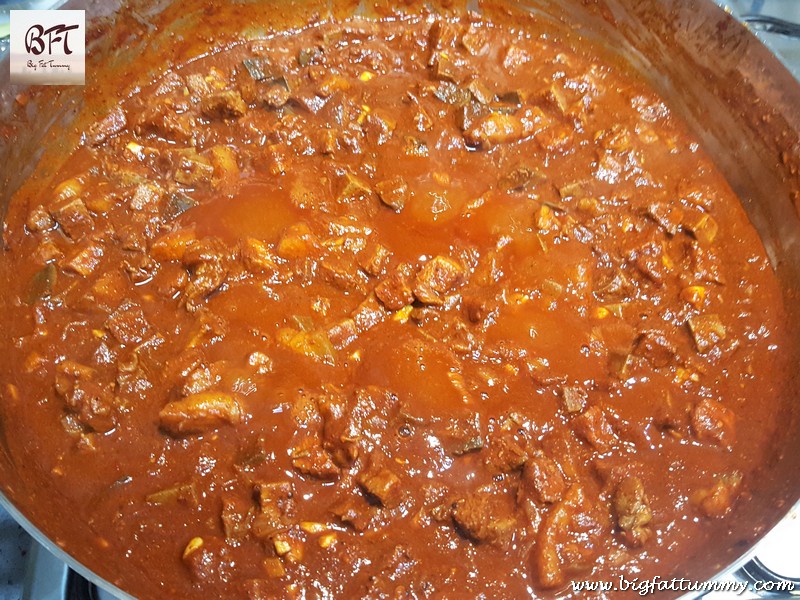 You can eat it right away, but we suggest that you keep it for over a day to enjoy the flavours.