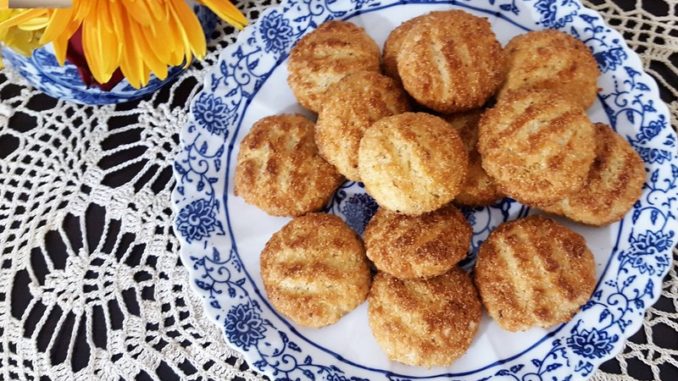 Bolinha is a coconut-semolina cookie that is enjoyed as a tea time snack in Goa. These are also prepared during Christmas to be a part of the kuswad (sweet platter) that is shared with neighbours, relatives and friends. Make these Quick Bolinhas when you are short of time. Unlike the other version of Bolinhas that I had posted earlier (click here to see the other one) these are quicker and easier to make.
Yield: 16 Bolinhas
Prep. Time: 20 Mins + resting
Baking Time: 25 to 30 Mins
Ingredients:
Semolina (pre-roasted) – 150 gms
Coconut (fresh and finely grated) – 130 gms
Granulated Sugar – 175 gms
APF [Maida] – 1 ½ tbsp. + some for dusting
Baking Powder – ½ tsp.
Cardamom Powder – ½ tsp. or to taste
Egg – 1
Pure Ghee (melted) – 2 tbsp.
Salt – a pinch
Step 1: Take the sugar and 60 ml water in a sauce pan and place it on low heat. Stir it till the sugar melts and forms a syrup.
Step 2: Whilst, still on heat, add the grated coconut and semolina to the syrup and mix well. Then add the ghee and mix it well again. Take your pan off the heat and let the mixture come to room temperature.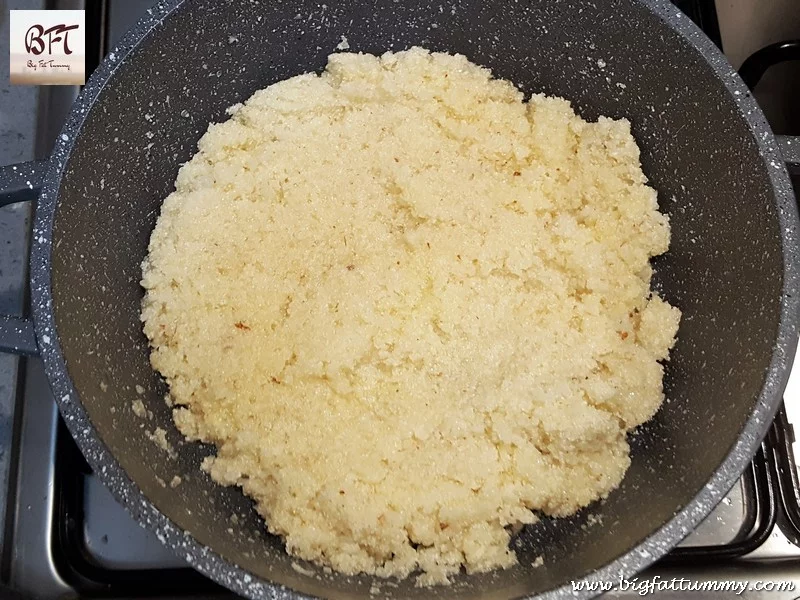 Step 3: Later, crack open the egg and collect it in a small bowl. Beat it lightly and then add to the mixture. Also add the cardamom powder and salt. Mix it all up very well. Then add the maida and mix till the dough is free of lumps (the dough will be sticky). Leave to rest for 2 hours at room temperature.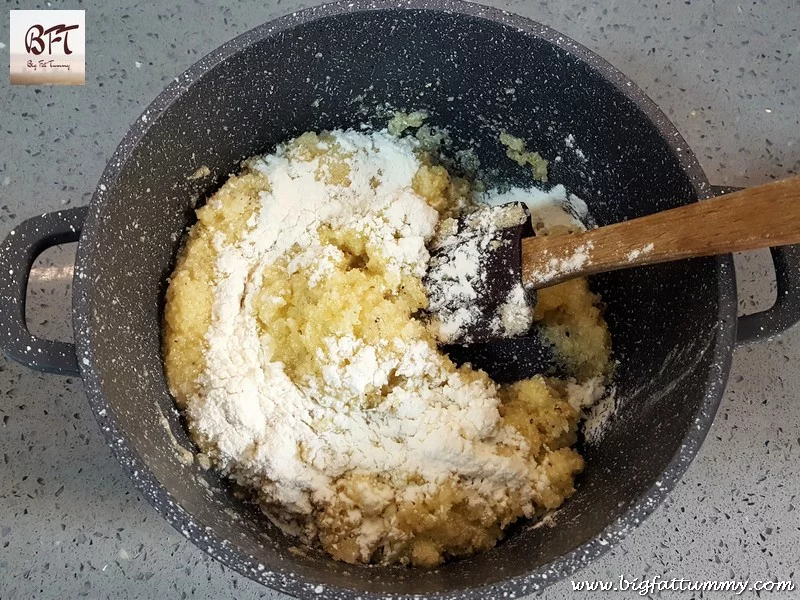 Step 4: When you are ready to bake, line a baking tray with parchment paper. Dissolve the baking powder in 1 tbsp. of tepid water. Add it to the resting batter and mix well. Also add a pinch of cardamom powder.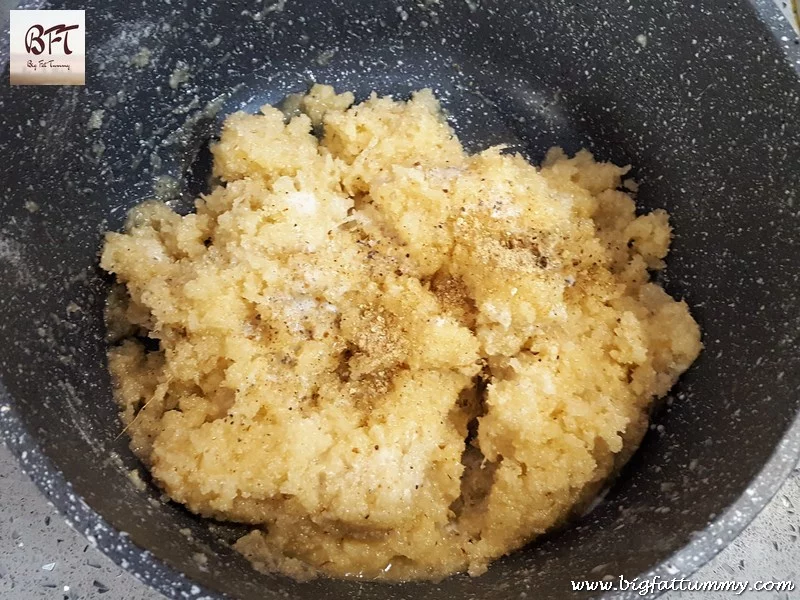 Step 5: Scoop the batter with a tablespoon and arrange it on the baking tray. Once you've used all the batter, dust you palms with some APF. Pick one scooped portion of the batter that you had lined on the tray and form it into a ball. Flatten slightly and place on the tray. Dust your hand with APF again and then go for the next scoop. Keep repeating till you have shaped all the scoops into balls.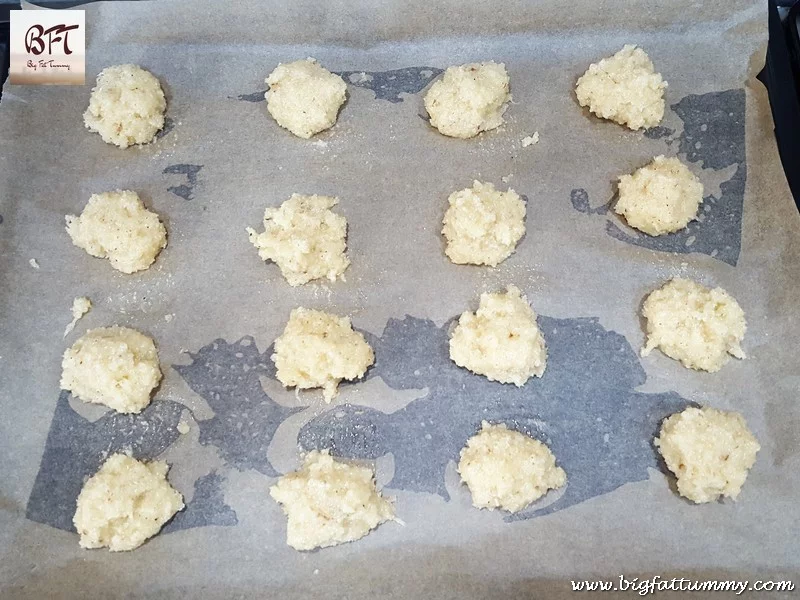 Step 6: Use a toothpick / blunt knife and make three parallel indentations on each bolinha for decorative purpose. Preheat the oven to 190 ° C and then bake the cookies on the middle rack at 190° C for 25 minutes.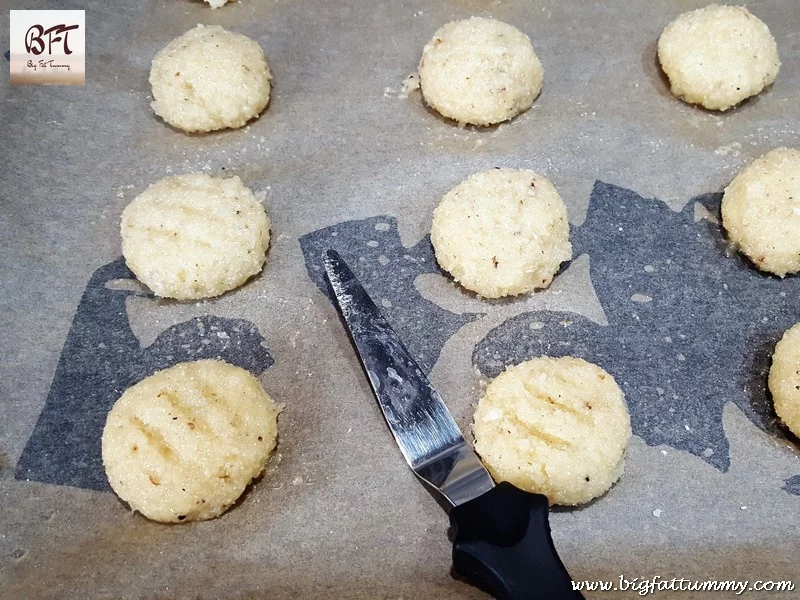 Step 7: (optional) When the cookie has baked, shift the tray to near the grill and grill for 2 to 3 minutes to get a nice brown colour to the crust. Remove and cool on a wire rack.
Note:
If you are using frozen coconut shreds / flakes, defrost it and once at room temperature use 2 tbsp. water and blitz in a blender to make it a bit fine.