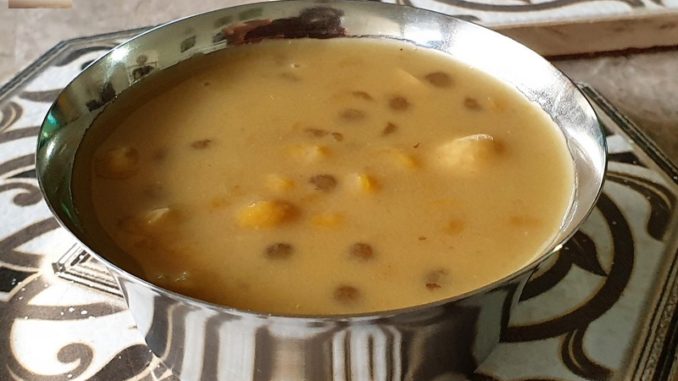 Mangaane is a Goan sweet porridge made with sago and split chickpeas. Coconut milk provides it its rich flavor while it is sweeted with sugarcane jaggery. Though it is prepared during festivities, I bet you'll cook it more often cause it tastes just super.
Serves: 8 to 10 Persons
Prep. Time: 30 Mins
Cooking Time: About 60 Mins
Ingredients:
[Standard Measure : 1 cup = 250 ml ]
Split Chickpeas [Chana Dal] – ½ cup
Sago [Sabudana] – 3 tbsp.
Cashew Nuts (broken) – 10 to 12
Coconut Milk

Thin – 3 cups
Thick – ½ cup

Sugarcane Jaggery – ½ cup
Cardamom Powder –
Sugar – 2 tbsp.
Salt – ¼ tsp. + a pinch
Step 1:     Wash and soak the chana dal and the sago separately in water for 20 mins. Also soak the cashew nuts in hot water.
Step 2:     Later cook the dal with 2 cups water and ¼ tsp. salt till the dal is soft but not mashy. Remove the scum and discard. Also cook the sago separately with 1 cup water till transparent.
Step 3:     Add the sago to the dal. Then add the thin coconut milk and bring to a boil on medium heat. When it starts boiling, drain and add the cashew nuts, the jaggery and a pinch of salt. Mix and cook on low heat till the mixture thickens.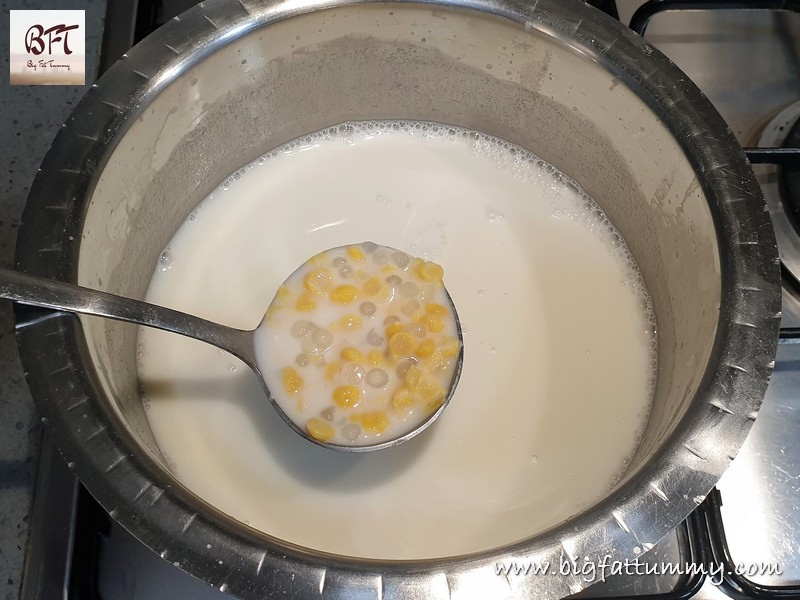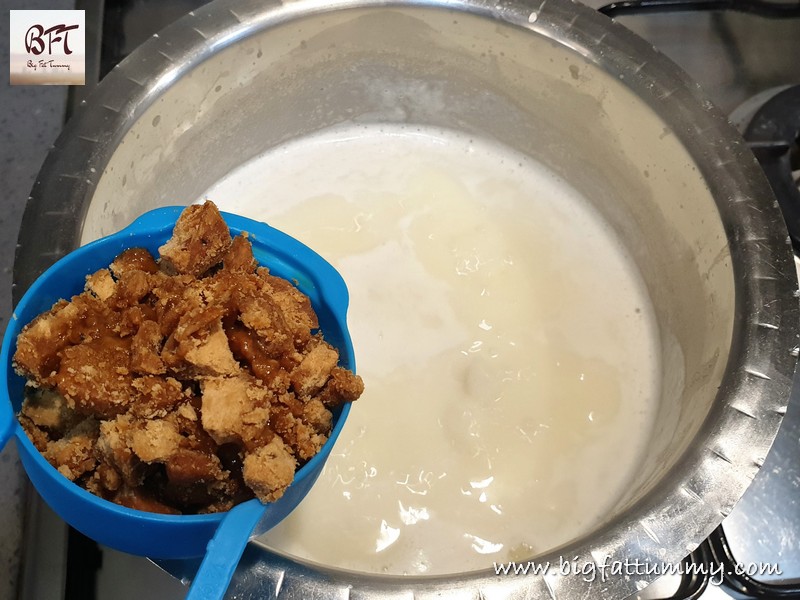 Step 4:     Finally add the cardamom powder and the thick coconut milk and cook on low heat from 5 to 6 minutes. Switch off the heat and serve warm or chilled.
Note:
You can also use canned coconut milk. If so, keep aside ½ cup coconut milk (for thick milk) and dilute 1 ½ cup canned coconut milk with 1 ½ cup water for the thin coconut milk.