The White Chocolate Fruit Fudge is superciliously delicious. If making it for a special occasion, you may have to keep it locked up until D-Day. For if you fail to watch or protect it, it will be gone in a matter of minutes with the oldies and youngies all attacking it. The White Chocolate Fruit Fudge guarantees everyone's sweet cravings satisfied.
Yield: 800 gms
Prep. Time: 15 Mins.
Cooking Time: 2 Mins.
Ingredients:
[ Standard Measure : 1 cup = 250 ml ]
White Chocolate Compound – 350 gms.
Condensed Milk – 350 gms.
Mixed Candied Fruit – 1 ½ cup
Salted Butter – 1 tbsp.
Rum Essence – ¼ tsp.
Step 1:     Cut the candied fruit into small cubes and keep aside in a bowl.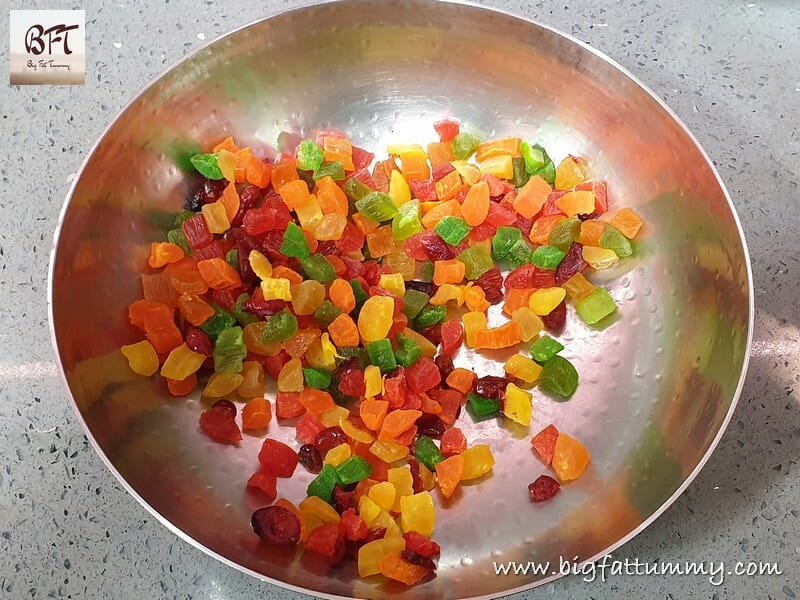 Step 2:     Chop the chocolate into small pieces and add to a dry heat-proof glass or a steel bowl. Also add the condensed milk and the butter to it. Keep aside.
Step 3:     Line a baking tray (8 x 8 inch or similar) with parchment paper (see note). Place some pieces of fruit on it and keep aside.
Step 2:     Take another vessel such that the bowl with the ingredients sits on its edges. Heat some water in this vessel and let it come to a boil. Then lower the heat so that the water simmers. Place your bowl with the ingredients on the pot (to make a double boiler). Your chocolate will start to melt almost immediately. Stir continuously with a silicon spatula for about 3 minutes till all the chocolate melts and forms a homogenous mixture.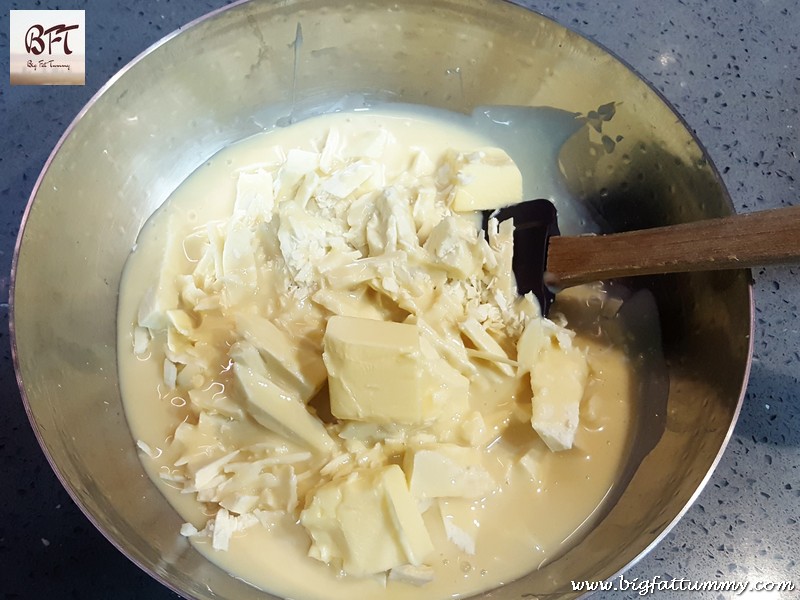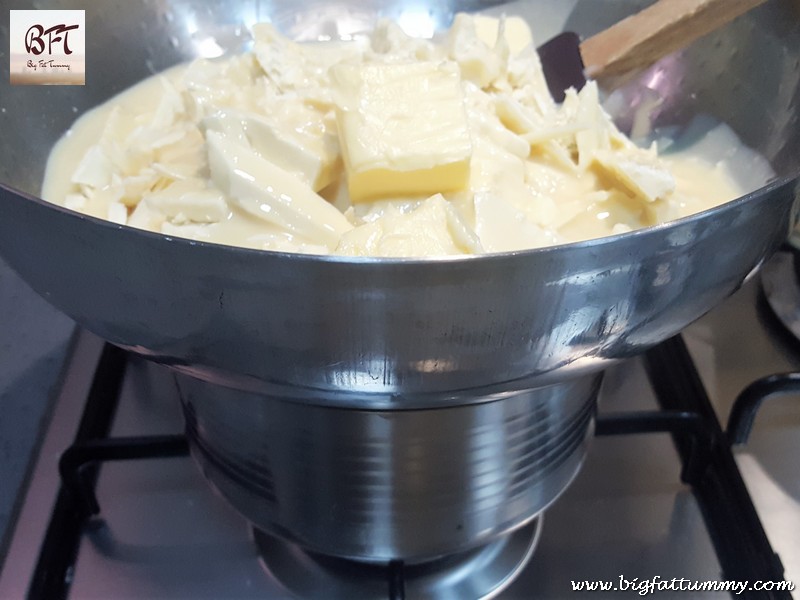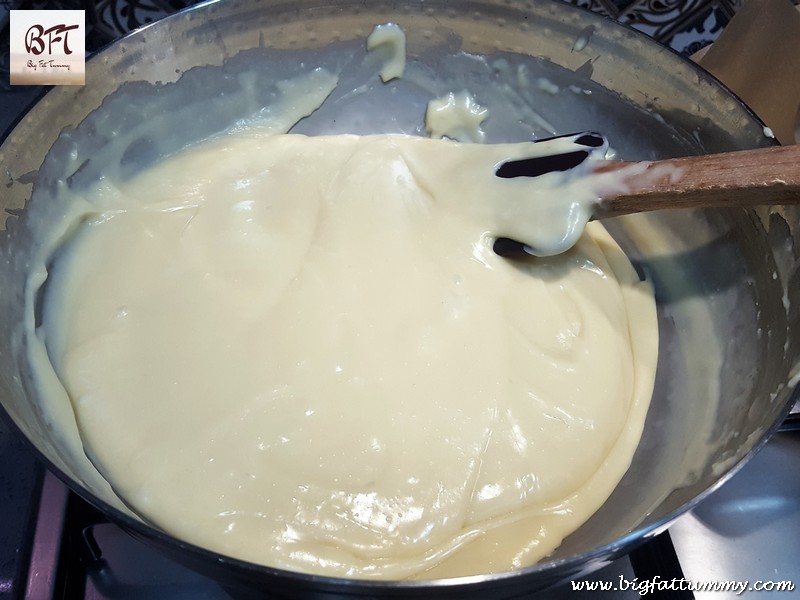 Step 3:     Take the mixing bowl off the heat, add the essence and mix well. Pour the fudge into the chopped fudge and mix well.
Step 5:     Next transfer the fudge in the prepared baking tray and spread evenly. Let the fudge rest at room temperature 30 minutes and then place in the refrigerator for 3 hours. Later remove from the baking tray by holding the edges of the parchment paper. Cut into pieces and store in a flat airtight container lined with parchment paper in the refrigerator for up to a fortnight.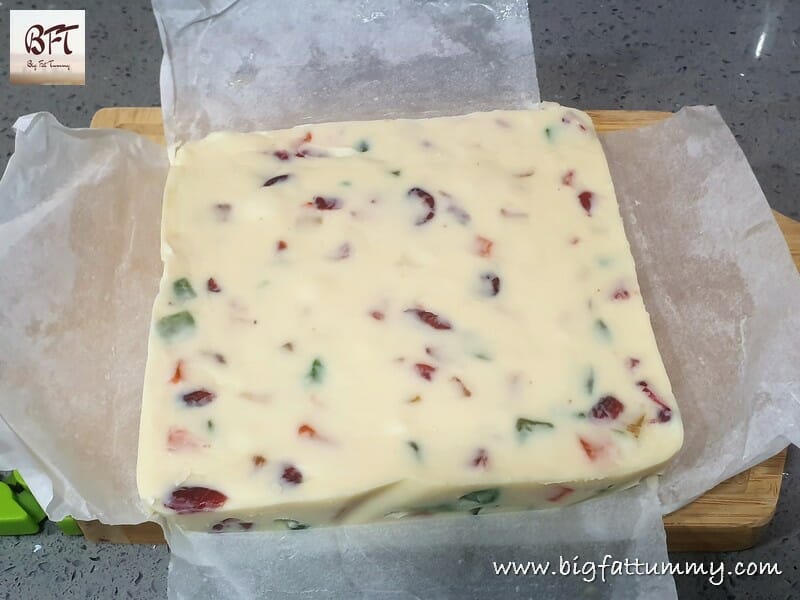 Note:
Before you start bring all the ingredients to room temperature.
Cut the parchment paper double the size of your tray and mould it into the tray. This is done so that you can pull out the fudge after it has set by holding the parchment paper and not be afraid of breaking the set fudge.
When using the double boiler method, pay attention that the water does not boil at any point of time when you are mixing the ingredients. The water must always be at a simmer. Also, the mixing bowl must not be immersed in the water (there should be a gap between the water and the mixing bowl).