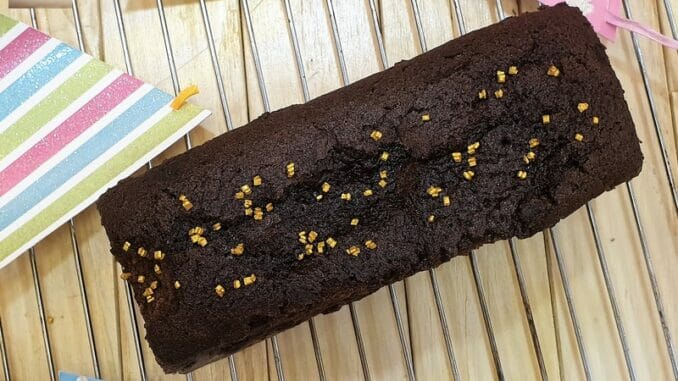 The Shortcut Chocolate Cake is an easy to make cake. It makes use of a blender. To get the perfect texture see that you don't over blend. The process is like making an emulsion – like a mayonnaise. Try it soon.
Serves: 8 to 10 Persons
Prep. Time: 20 Mins
Baking Time: 45 Mins
Ingredients:
[ Standard Measure : 1 cup = 250 ml ]
Maida [APF] – 1 cup
Powdered Sugar – 1 cup
Cocoa – ¼ cup
Milk – ½ cup
Oil – ½ cup
Eggs – 2
Soda-bi-carb – ½ tsp.
Baking Powder – 1 tsp.
Vanilla Essence – 1 tsp.
Step 1: Take the eggs, sugar, oil, cocoa in a small mixer jar and blend for about 2 minutes (don't over blend). Transfer to a large bowl.
Step 2: Take the flour, soda-bi-carb, baking powder and a pinch of salt in a sieve and sieve into the wet ingredients. Add the vanilla essence to the bowl and fold in all the ingredients.
Step 3: Add ½ of the milk and fold / mix in slowly. Then add the remaining milk and mix in one direction (don't over mix).
Step 4: Set your oven to pre-heat at 180° C for 15 minutes.
Step 5: Pour the batter into a pre-greased 8 x 3 inch pan and tap to remove any air bubbles.
Step 6: Bake at 160° C for 45 minutes to 1 hour till a skewer pierced into the cake come out clean.
Notes:
This cake is baked at a lower temperature.
Remember not to blend the ingredients for a long time.