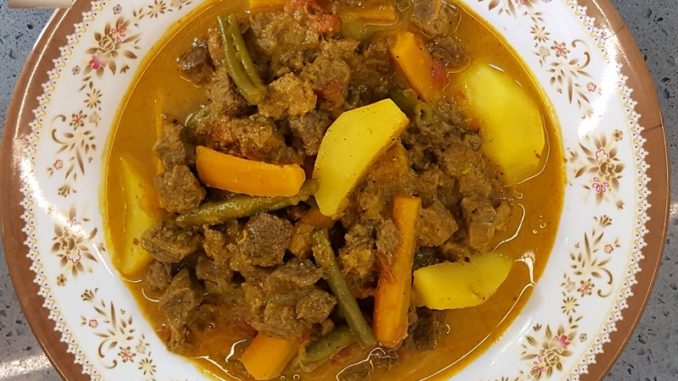 When I'm half done cooking this dish, my two little kids come trotting into the kitchen sniffing and drooling like puppies. They won't leave me alone until their tummies are full. They like it hot with rice and even the veggies disappear into their tiny tummies. I find the beef and vegetable curry a deft way to feed them a lunch full of carbs, fiber and protein power-packed with iron, zinc and B Vitamins with no use of oil or ghee.
Serves : A Family of Four
Prep. Time : 20 Mins. + 60 Mins. (marination)
Cooking Time : 15 Mins. (active) 30 Mins. (passive)
Ingredients:
Boneless Lean Beef (cut into 1 inch cubes) – 750 gms.
Onion (finely chopped) – 1
Tomato (finely chopped) – 1
Carrot (cut into thick long strips) – 1
French Beans (cut into 3″ pieces) – 6 to 8
Potato (cut into long pieces) – 1
Kashmiri Red Chilli Powder – 1 ½ tsp.
Corriander Powder – 1 tsp.
Cumin Powder – ½ tsp.
Pepper Powder – ½ tsp.
Tumeric Powder – ½ tsp.
Garam Masala Powder – 1 tsp.
Ginger-Garlic Paste – 1 tbsp.
Juice of 1 big or 2 small limes.
Thick Coconut Milk (click here) – ½ cup
Hot Water – ½ cup
Sea Salt – 1 ½ tsp. or to taste
Step 1: Marinate the beef with salt, lemon juice and ginger- garlic paste. Leave aside to marinate for at least 60 minutes.
Step 2: Transfer the marinated meat into a pressure cooker. Add the chopped onion and tomato. Cook uncovered on low heat for 10 minutes. The meat will start releasing juices and change colour.
Step 3: Add the water and close the lid. Cook on high heat till the first whistle and then continue cooking on a low heat for 30 minutes. Switch off the heat thereafter and leave 10 minutes.
Step 4: Open the pressure cooker and add the dry masalas and vegetables. Put on the lid and heat till one whistle. Open the lid immediately and check for salt.
Step 5: Add the coconut milk and allow it to cook for another 5 minutes.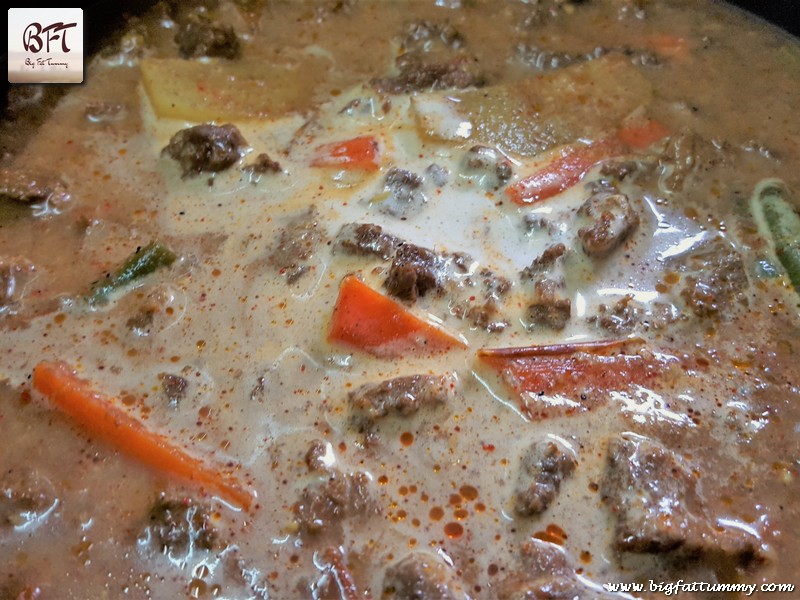 That's it! We're done! Serve this dish hot with hot rice.
Tips:
1). The time taken to pressure cook the meat may vary depending on the cut used.
2). You can leave the vegetables out if you wish.
3). The meat tastes good even without the coconut milk.