A simple way to cook the bottle gourd, this vegetable can be eaten with chappatis or served as a side dish with rice. The Goan dudhi bhaji is a vegetable that is eaten by Goans very regularly, healthy and simple.
Serves: A Family of Four
Prep. Time: 10 Mins.
Cooking Time: 18 to 20 Mins.
Ingredients:
Tender Bottle Gourd – 1 piece (600 gms.)
Onions (finely chopped) – 2 small
Tomato (finely chopped) – ½ small
Green Chillies (slit) – 2
Coconut (grated) – 1bsp.
Mustard Seeds – ½ tsp.
Turmeric – ½ tsp.
Sugar – 1 tsp.
Oil – 2 tsp.
Salt 1 tsp. or to taste
Step 1: Peel the outer skin of the gourd and cut it into 2 cm. rings. Cut the rings into small pieces.
Step 2: Heat oil in a pan. Add the mustard seeds and when they splutter, add the onion and sauté for a minute or two till light pink on medium heat. Next add the tomatoes and sauté for a further 2 minutes.
Step 3: Add the chopped gourd and mix well. Put in all the other ingredients except the coconut and mix well. Cover the pan with a deep lid and put some water on the lid. Cook the gourd on low heat for 12 to 15 minutes.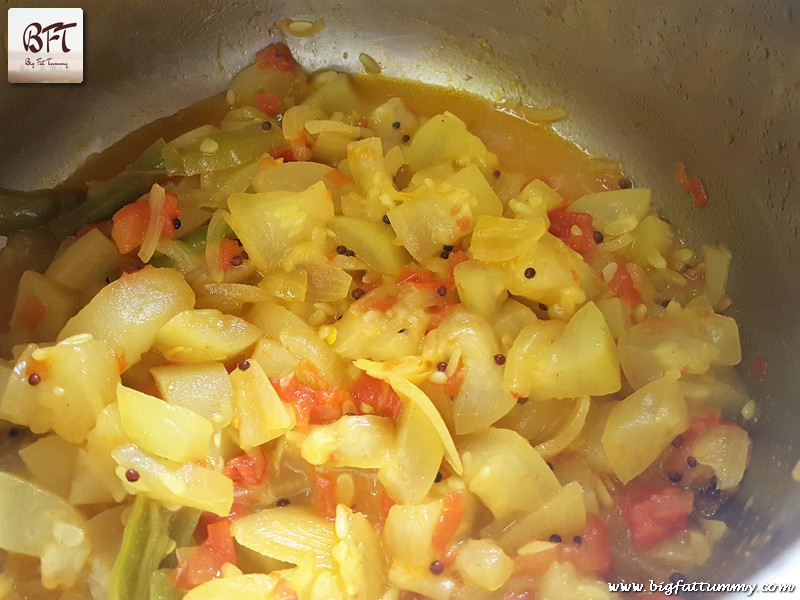 Step 4: Later check if the gourd is tender and sprinkle the coconut on it and keep it covered for another 2 minutes before serving.