The Pepper Rawa Fried Prawns get their flavour from the pepper and prawns and the crunch from the deep fried coating of semolina. These are an all-time favourite of people of all ages. My boys just love them. They can be served as a starter, a snack or as a side.
Serves: 2 Persons
Prep. Time: 10 Mins. + 15 Mins. (marination)
Frying Time: 5 Mins.
Ingredients:
[Standard Measure – 1 cup = 200 ml.]
Prawns (cleaned & deveined) – 1 cup (cleaned)
Black Pepper Powder (coarsely ground) – 1 tsp.
Rawa [Semolina] – ½ cup
Oil – to deep fry
Salt – ½ tsp. or to taste.
Step 1: Take the prawns in a bowl/plate. Apply salt and then add the black pepper. Mix well and leave to marinate for 10 to 15 minutes.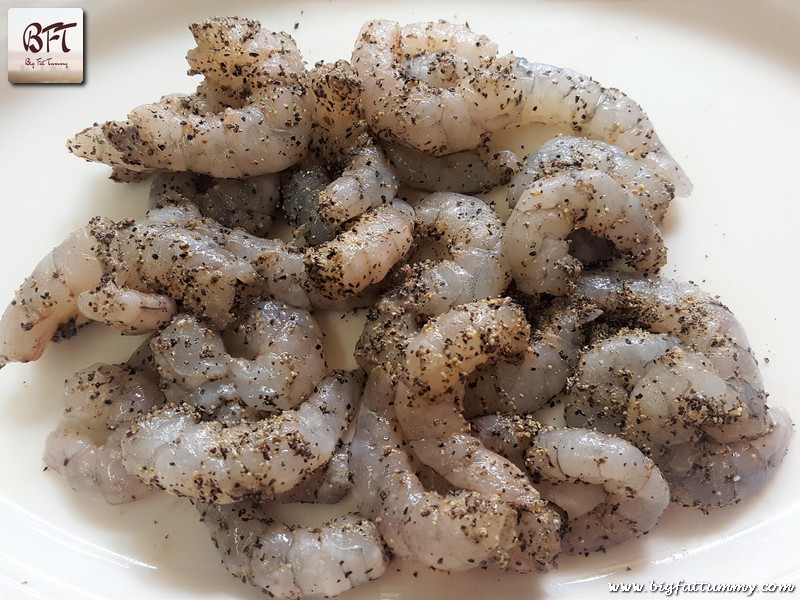 Step 2: Heat oil in a pan suitable to deep fry the prawns. Place the rawa in a flat plate and roll the prawns in the rawa. When the oil is hot, reduce the heat to medium and fry the prawns in batches for 1 to 1 ½ minutes till light golden.