Tandoori food is liked by all. But very few restaurants (including top rated ones), rarely serve a good fish tikka and we have not liked the way they cook it on numerous outings. For one, they use frozen fish, their marination is commercial and with added food colours and that is why I am mostly critical of restaurant food. Also cooking on coal on a proper tandoor can be cumbersome for people living in apartments (although we manage that too, in the balcony). Therefore the Fish Tikka Tawa Se is a wonderful option if you want to do it smoke free and it tastes just as good.
Serves: A Family of Four
Prep. Time: 15 Mins. + 30 Mins. (marination)
Cooking Time: 12 to 15 Mins.
Ingredients:
Sea Bass Fillet (deboned and cubed) – 350
Hung Yoghurt – ½ cup.
Besan[gram flour] – 1 tbsp.
Ginger (finely chopped) – 2 tsp.
Garlic (finely chopped) – 1 tbsp.
Kashmiri Red Chilli Powder – 3 tsp.
Cumin Powder – 1 tsp.
Garam Masala – ½ tsp.
ChaatMasala – ½ tsp.
Corriander Leaves (chopped fine) – 2 tbsp.
Lime Juice –2 tbsp.
Salt – 1 ½ tsp. or to taste
Oil – 3 ½ tbsp.
Step 1: Heat 1 ½ tbsp.. oil in a pan and add the besan. Roast on a low flame till fragrant. Whisk the yogurt with the roasted besan till smooth. Add the ginger and garlic to the mixture and mix well.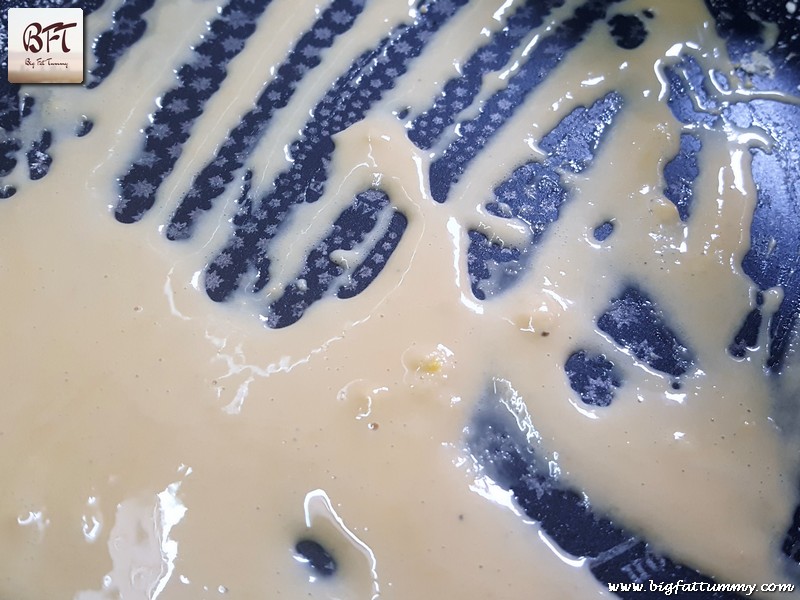 Step 2: Add the chilly, cumin and garam masala powders and mix well. Add lime juice, corriander, salt and mix well.
Step 3: Add the fish cubes and coat them well. Marinate in the refrigerator for 30 minutes.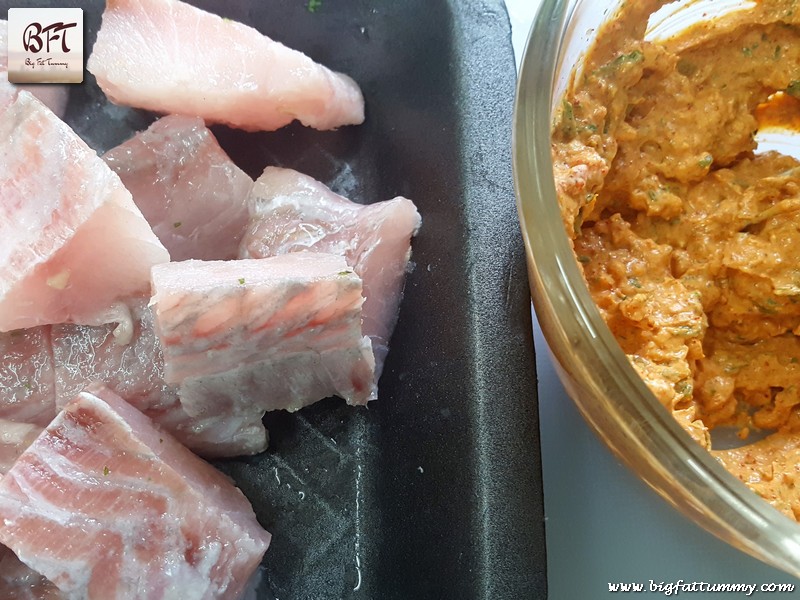 Step 4: Soak 5 to 6 wooden/bamboo skewers in water for 10 minutes. Skewer the fish on it.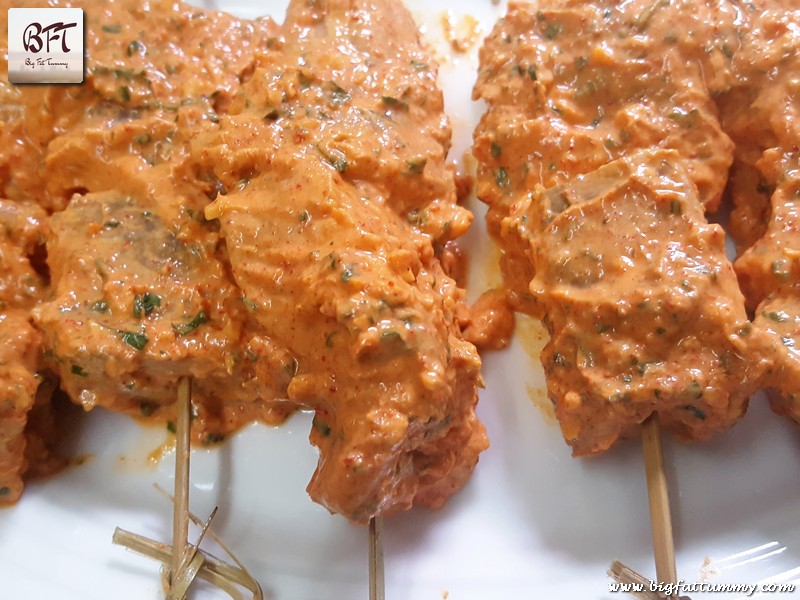 Step 5: Heat a non-stick tawa [griddle pan]. When well heated, pour 2 tbsp. oil on it. Place the skewered fish on the tawa and cook uncovered on low heat for 2 to 3 minutes. Do this for all the four sides (be very gentle or your fish cubes will disintegrate).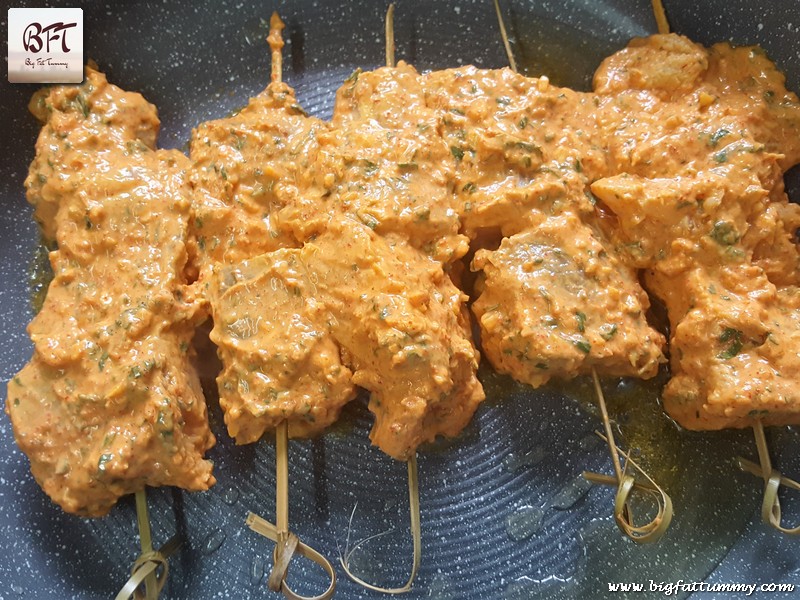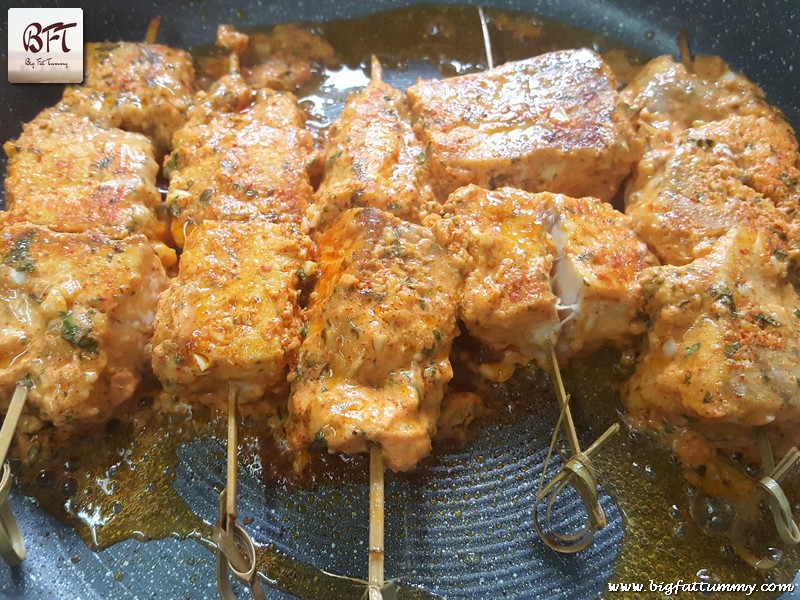 Step 6: Take off the heat, place on a plate and sprinkle chaat masala whilst turning them over.
Garnish with onion rings and corriander leaves. Serve with a mint-yogurt chutney.
Note:
Use Kashmiri chilly powder. It's mildly spicy and you do not need to use food colour.
You can choose to use other boneless fish like ravas [Indian Salmon] or Basa.