The leaves of the rajgira plant are harvested when tender for use in Indian Cooking. There are many species of this leaf vegetable and commonly they are referred to as green amaranth and red amaranth. The leaves are very rich in nutrients and fibre. Try this garlicky red amaranth recipe (we call it tamdi bhaji in Goa) – the tender leaves are available in plenty in summer in India and also in the rainy season.
Serves: 4 to 6 Persons
Prep. Time: 20 Mins.
Cooking Time: 20 Mins.
Ingredients:
Red Amaranth – 2 medium sized bunches (approx. 4 cups after cleaning & chopping)
Onion (finely chopped) – 2 medium
Garlic (finely chopped) – 6 to 8 cloves
Coconut (freshly grated) – 2 to 3 tbsp.
Green Chillies (chopped) – 2 to 3
Oil – 1 to 1 ½ tbsp.
Salt – ½ tsp. or to taste
Step 1: Cut off the stems of the amaranth and wash thoroughly. Drain the leaves in a colander and when drained chop and keep aside.
Step 2: Heat the oil in a pan and add the garlic and green chillies. Sauté for 2 minutes on medium heat and then add the onions. Sauté the onions till translucent.
Step 3: Add the chopped amaranth leaves and sauté for a further 2 minutes. Add 2 to 3 tbsp. of rice kanji [water drained after boiling rice] or plain hot water. Sprinkle salt over the vegetable in the pan and cook covered for 8 to 10 minutes till cooked. Sprinkle the grated coconut and cook further covered for another minute. Switch off the heat.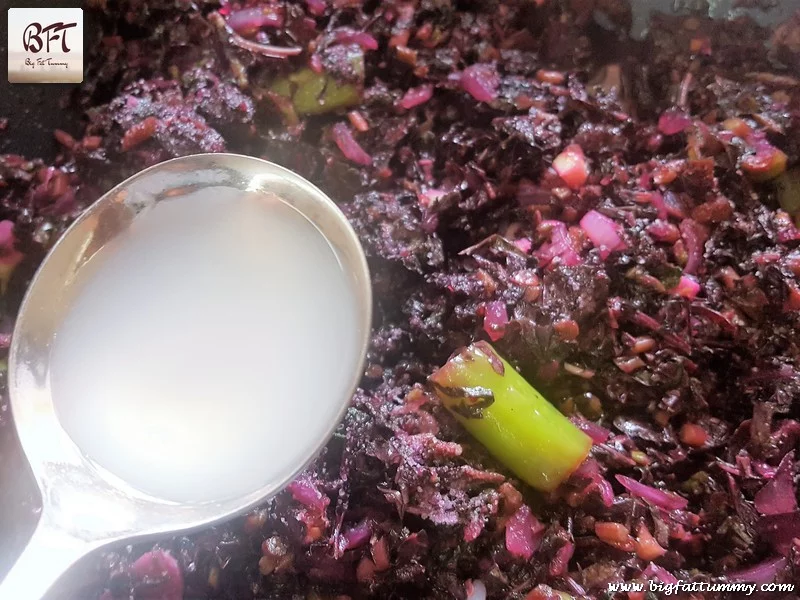 Serve hot with chappatis or as a side dish.