Snake Gourd or padwal / parwal is popular in south and southeast Asian cuisine. This vegetable is rich in vitamins and minerals. Chana dal is low on gluten and hence good for the diabetics. The addition of the chana pulse to the vegetable gives the preparation a nice texture. This Snake Gourd Chana Dal Stir Fry will keep you in fine feather.
Serves: 3 to 4 Persons
Prep. Time: 10 Mins.
Cooking Time: 18 to 20 Mins.
Ingredients:
Snake Gourd – 1 long or 2 medium (approx. 600 gms.)
Chana Dal [Bengal Gram] – 2 tbsp.
Coconut (freshly grated) – 2 to 3 tbsp.
Curry Leaves – 6 to 8
Dry Red Chillies (Gundu – Tamil Nadu Round or Mapusa) – 4 to 6
Mustard Seeds – ½ tsp.
Turmeric Powder – a pinch
Hing [asafoetida] – ¼ tsp.
Oil – 1 tbsp.
Salt – ½ tsp. or to taste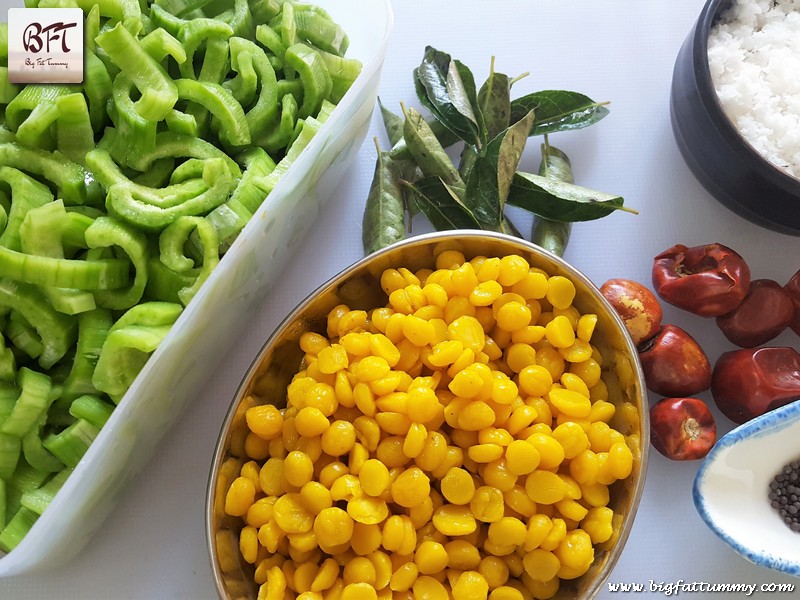 Step 1: Soak the chana dal in water for an hour. Meanwhile, use a peeler and peel the snake gourd. Cut lengthwise into half and scoop out the inner white fibre and seeds. Slice the cleaned halves into semicircles, apply ¼ tsp. salt to the cut padwal and keep aside.
Step 2: Cook the soaked chana dal with some water, the turmeric and ¼ tsp. salt till soft. Drain and keep aside.
Step 3: Heat the oil in a pan and when heated lower the heat to low and add the hing followed by the mustard seeds in quick succession. Wait for the mustard seeds to splutter and add the curry leaves and the dry red chillies. Sauté for a few seconds.
Step 4: Add the prepped snake gourd, give a light stir and cook covered on low heat for 5 minutes.
Step 5: Open the lid and add the chana dal. Stir and check for salt. Add if required. Cook further with the lid for 8 to 10 minutes. Open and add the coconut and give the dish a good stir. Cook again covered for a minute.
Tip:
See that the dal is soft but not overcooked and mushy.