The Goan Xacuti curry in another avatar – the crab xacuti. It's just as inviting! I have used blue swimmer crabs to make the curry, but you can use the local variety also. Any which way the curry turns out yummy.
Serves: 4 to 5 Persons
Prep. Time: 25 Mins.
Cooking Time: 20 Mins. (masala) + 30 to 35 Mins.
Ingredients:
[ Standard Measure – 1 cup = 250 ml ]
Crabs [Blue Swimmers] (cleaned) – 8 to 10 medium sized
Kashmiri Red Chillies – 3 to 4
Corriander Seeds – 1 tbsp.
Cumin Seeds – ½ tsp.
Poppy Seeds – 1 tsp.
Aniseed – 1 tsp.
Cloves – 4 to 5
Cinnamon – ½ inch
Black Pepper Corns – 10
Fenugreek Seeds – a small pinch
Star Anise (remove seeds) – 3 petals
Turmeric Powder – 1 tsp.
Veg Stock Cube – 1 small
Coconut (grated) – 1 cup
Green Chillies – 2
Fresh Green Corriander – ½ cup + for garnish
Curry Leaves – 2 sprigs
Garlic – 6 cloves
Onions (sliced) – 2
Tamarind (soaked in ½ cup warm water) – 1 small lime sized ball
Oil – 3 tbsp. + 1 tsp.
Salt – ½ tsp. or to taste
Step 1: Heat a pan and dry roast the Kashmiri chillies on low heat till crisp. Keep aside. Heat 1 tsp. oil in the same pan and add the corriander seeds, cumin, aniseed, fenugreek, cinnamon, cloves and star anise and roast till fragrant. Space them out on the pan so that they are roasted individually. Add the poppy seeds and roast for another minute. Remove and keep aside.
Step 2: In the same pan, take another tbsp. of oil and add one sliced onion and sauté on medium heat till light golden. Add the garlic and sauté for another 2 minutes. Switch to low heat and add ½ cup grated coconut. Roast till light golden. Remove from the pan and allow to cool.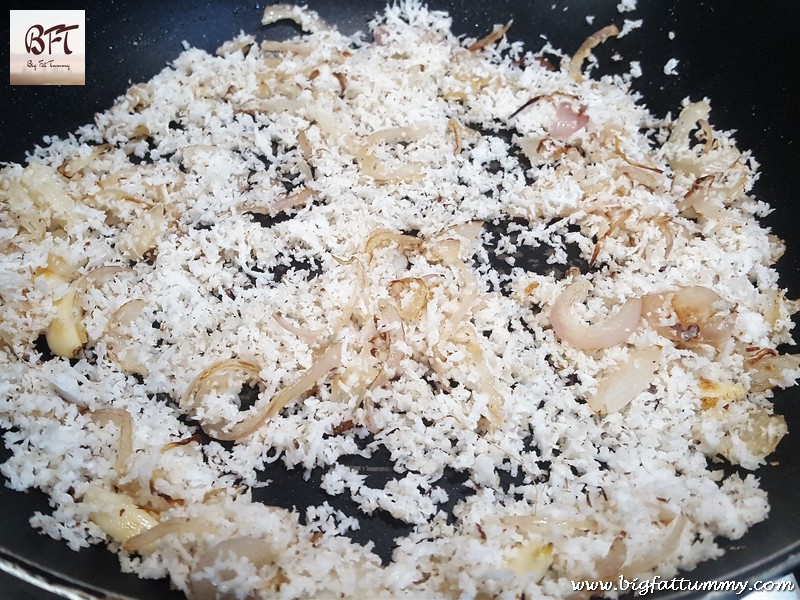 Step 3: When all the roasted ingredients have cooled, grind them to a fine paste with the turmeric, green chillies, green corriander and the tamarind in water with another ¼ cup water. Keep aside. Take the remaining ½ cup of grated coconut and ½ cup water and grind and extract the thick coconut milk (see here).
Step 4: Take the cleaned crabs in a vessel and add 1 cup water. Cover and cook on medium heat for 10 minutes.
Step 5: Meanwhile, heat a tbsp. of oil in a pan and sauté the curry leaves and the second sliced onion till light golden. Add the ground spice paste and sauté for 2 to 3 minutes. Drain and add the crabs to this (reserve the stock). Mix nicely to coat with the masala.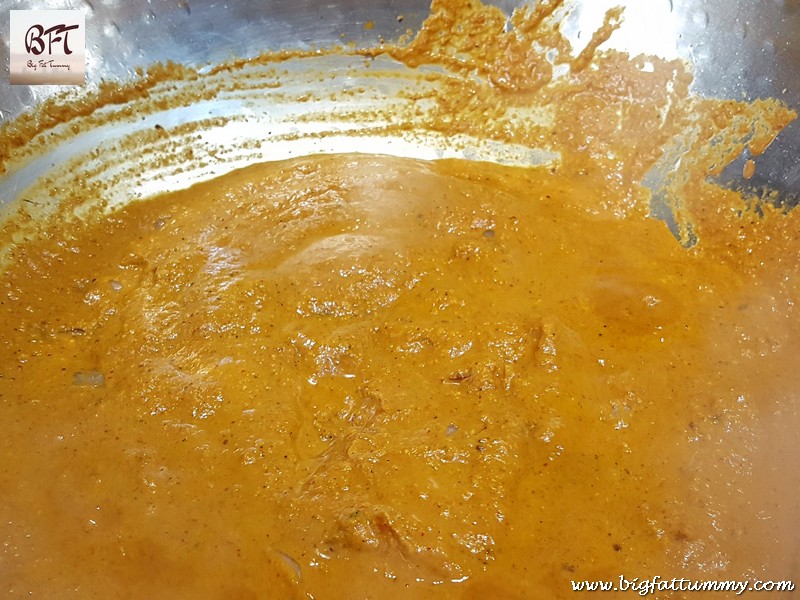 Step 6: Add the salt, stock and the crumbled stock cube into the pan with the crabs. Cook covered on medium heat for 8 to 10 minutes.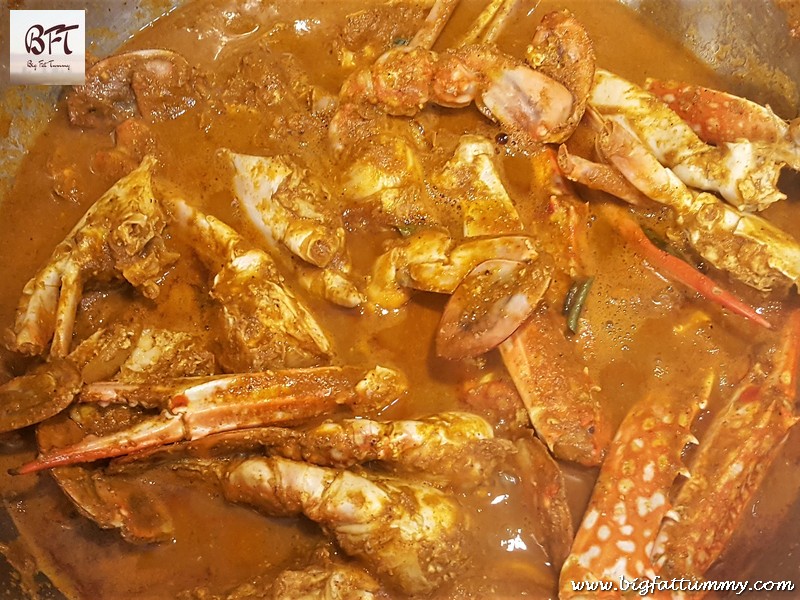 Step 7: Check for salt and add if required. Add the thick coconut milk and cook uncovered on low heat for another five minutes.
Garnish with corriander and serve with hot rice.