Koiloreos (Koiloleos / Coiloreos) – the unleavened Goan bread made with rice and coconut, is sometimes also made with the eggs added in the batter. This was shared to me by my dear friend, Viana Ozorio from Aquem (A fellow member of the Madhouse Balcao [ read here to know more ] ) These have the same mild sweet and savoury taste of the eggless ones but are softer and remain so even when cold – somewhat like the dosa. It is a matter of preference what you like.
Serves: 6 Persons
Prep. Time: 30 Mins. + soaking
Cooking Time: 2 minutes for one
Ingredients:
[ Standard Measure – 1 cup 250 ml ]
Rice (Goan Red Rice) – 1 ½ cup
Rice (Goan Suroi Rice) – ½ cup
Coconut (fresh / new / slightly tender, finely grated) – 1 ¼ cups
Egg (whisked) – 1
Powdered Sugar – 2 tbsp. (optional)
Ghee – ¼ tsp.
Salt – 1 tsp. or to taste
Step 1: Clean and pick the rice. Wash thoroughly and soak them together in enough water, overnight. (also read notes below).
Step 2: Grind the rice in an electric wet grinder to a slightly coarse consistency with 1 ½ cup water. Add the whisked egg, sugar and salt when half done. Later add the coconut and grind for a few minutes so that the rice batter and coconut is mixed well. ( If using a mixer, drain the rice and grind to a paste (not too smooth) using 1 ½ cup water with the egg, sugar and salt. Transfer to a bowl. Add the grated coconut to the mixer jar and give it a short pulse and then mix it with the rice batter ).
Step 4: Transfer to a bowl and add another ¾ to 1 cup water to make a batter of dripping consistency (not thick nor thin). Thinner than the picture you see below.
Step 5: Check for salt and sugar and add if required. Leave the batter to rest for 10 minutes before proceeding to make.
Step 6: When you are ready to make the koiloreos, heat a non-stick flat pan. Add 2 drops of ghee to the pan and spread it out on the pan with a paper towel. Mix the batter well with a ladle and pour a ladle-full of the batter on the hot pan to form a pancake. Cover with a lid and cook on medium heat for 2 minutes.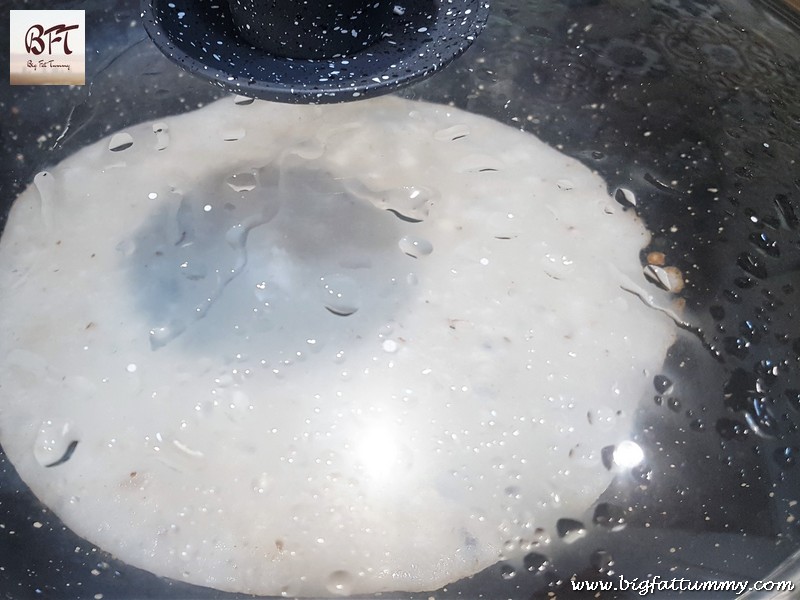 Step 7: You will see holes being formed and the batter will have set. That's when you need to take them off the pan (the koiloreos are to be fried on only one side).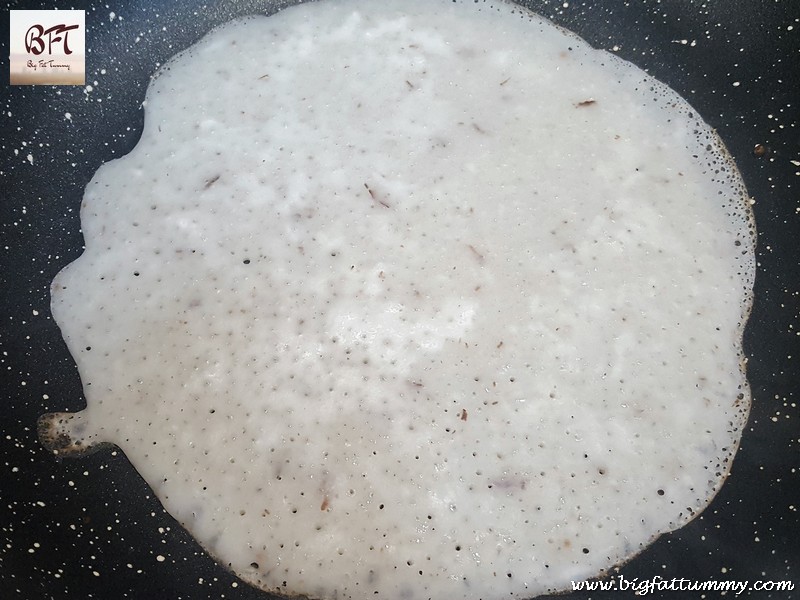 Step 8: Do the same with the rest of the batter. Remember to mix the batter each time you take a ladle-full and clean the pan with a paper towel after each koiloreo. No need to grease again.
Serve hot with tea or coffee.
Notes:
The rice should not be ground very smooth. It should be slightly coarse – not smooth, but not rough. Else the koiloreos turn sticky or draggy.
I have used a total of 2 ½ cups of water in this recipe.
You can use two pans simultaneously to fry the koiloreos to make them faster.
If you don't have the Suroi rice, you can use some other rice other than parboiled rice. I have used Sona masuri.