This is something that I remember my Dad make and hence the dish is named Daddy's Fried Beef. It is pretty simple to make – all you need it a good cut of beef. The fried beef turns out flavorsome as the beef is cooked in its own juices.
Serves: A Family of Four
Prep. Time: 30 Mins + Marination
Cooking Time: 25 to 30 Mins
Ingredients:
Beef (undercut) – 500 gms
Pepper (freshly ground, slightly coarse) – 1 tbsp. or more
Ginger Paste – ¼ inch (grind to a paste)
Garlic Paste – 8 cloves (grind to a paste)
Bancal Sauce – 3 tbsp.

OR Worcestershire Sauce – 2 tbsp.

Lime – 1 medium
Butter – 1 tbsp. (optional)
Oil – 2 tbsp.
Salt – 1 tsp.
Step 1: Slice / cut the meat. Wash and drain well. Tenderise the meat using a meat mallet. Marinate with salt, lime juice, ginger-garlic paste, Bancal sauce (or Wooster) and pepper powder for at least an hour.
Step 2: When the meat has marinated, heat the oil in a pan. Place the meat slices on the pan and sear on both sides on high heat.
Step 3: Add ¼ cup hot water and cook covered on low heat for 15 minutes till the meat is done (cooking time depends on the cut of meat).
Step 4: Once the meat is cooked, keep the lid open and let all extra juices dry out.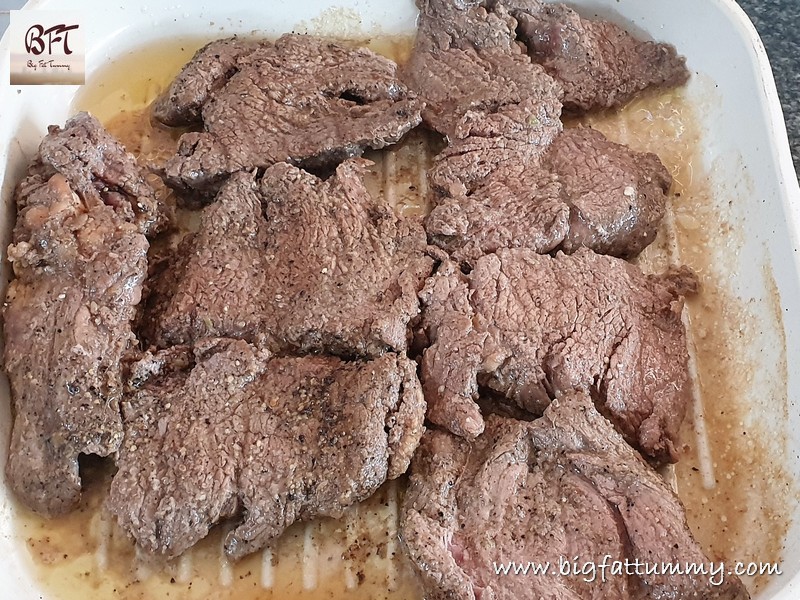 Step 5: Add the butter (optional) and turn the meat over to coat with the butter. Switch off the heat. Daddy's Fried Beef is ready to serve 🙂