Alu or Aloo Paratha is a wheat flour chapati / Indian hand bread which are stuffed with an herby potato mash. They are a popular snack in North India and are served at any time of the day but mostly at breakfast. They taste good hot off the tawa and can be eaten plain. They also go well with curds or pickle.
The potato mash is prepared in numerous ways with some even adding spice powders or cumin. But our mash has just the herbs. It is inspired by one of our numerous travels to various Indian tourist destinations. We like to indulge in local food at small local restaurants when we travel. It helps us discover new food and flavours. We have travelled all throughout 80 % of India to date and it was at one such occasion, when we travelled to Binsar (Near Almora) in Uttarakhand, that we chanced upon this place which functioned as a general store, a restaurant and also as a dwelling for the owners. It was here that we had this simple Aloo Paratha which were prepared fresh and with minimal ingredients. Our taste buds were so excited with the experience and the taste lingered on in our minds. The potato mash in this recipe is inspired by that singular experience.
Yield: 10 to 12
Prep. Time: 15 Mins. + Standing
Cooking Time: 30 Mins.
Ingredients:
[ Standard Measure: 1 cup = 250 ml ]
Atta [Wheat Flour] – 3 cups + some more
For the Potato Mash:

Aloo [Potatoes] (peeled, boiled, mashed) – 700 gms
Green Chillies (finely chopped) – 6 to 8
Green Corriander (finely chopped) – ¼ cup
Mint Leaves (finely chopped) – ¼ cup
Ginger (grated) – 1 tbsp.
Garlic (crushed Coarsely) – 8 to 10
Chaat Masala – 1 tbsp.

Ghee – as needed (optional, check notes)
Oil – 1 tbsp.
Salt – 1 + 1 ½ tsp.
Step 1:     Take the flour in a stand mixer bowl and add the 1 ½ tsp. salt and mix. Then attach the dough hook and add water (upto 375 ml) a little by little and knead at a low speed till a soft, not too sticky dough is formed (you can knead by hand too). Check the recipe for Chapatis to learn more, here.
Step 2:     Add the oil and continue kneading for another 2 minutes. The dough should be smooth and very soft to touch. Dimples should form when you touch against it with your fingers. Cover and leave aside for 30 minutes to an hour (follow the same steps as 1 and 2 also, if kneading by hand).
Step 3:     Meanwhile, take the potato mash in a bowl and add to it the chopped green chillies, green corriander and mint leaves (I've added a little less of the green herbs than mentioned in this recipe as I did not have a lot – Covid-19 Lockdown!). Also add the grated ginger, crushed garlic, chaat masala and 1 tsp. of salt. Mix well and divide into 8 to 10 portions and make a ball of each and keep aside.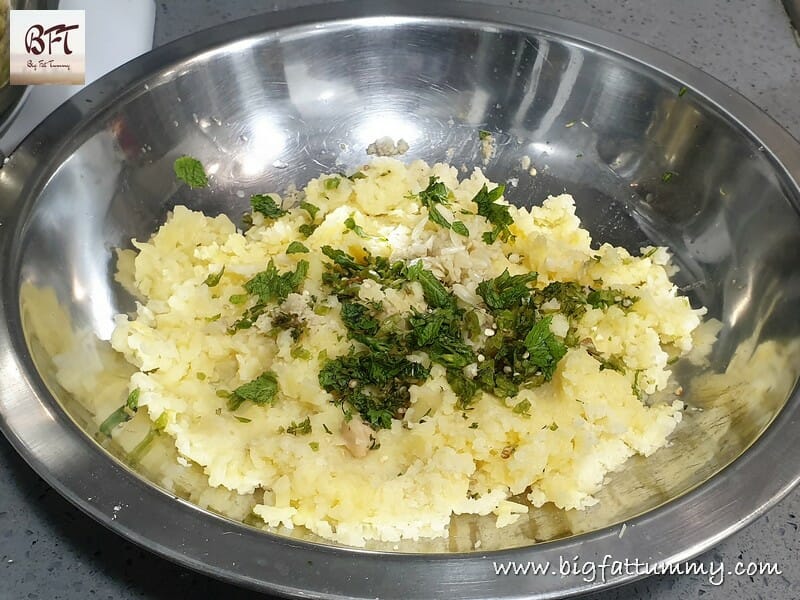 Step 4:     Divide the dough into 8 to 10 equal portions and roll each portion into a ball.
Step 5:     Take some dry flour in a bowl. Take a ball of dough and dip in the dry flour and press to flatten. Then place the flatted dough ball on a rolling board or platform and roll out so that the dough flattens and spreads evenly to a 4-inch circle (dip in the dry flour or sprinkle some dry flour in between to avoid the dough sticking to the board or pin).
Step 6:     Then place one of the potato mash balls on it and bring the edges of the rolled dough together to cover the potato mash ball and then seal it by pressing together. Then flatten this ball and dip in some dry flour and roll it out once again (be gentle) into a circle of about 6 inches diameter (The paratha should be a little thick).
Step 5:     Place a griddle on heat and when hot place the paratha onto it. Cook for a minute on high heat and then lower the heat and flip the paratha. Apply ghee on the cooked side. Continue cooking whilst turning them over carefully (so as not to break them open) every few seconds till well fried.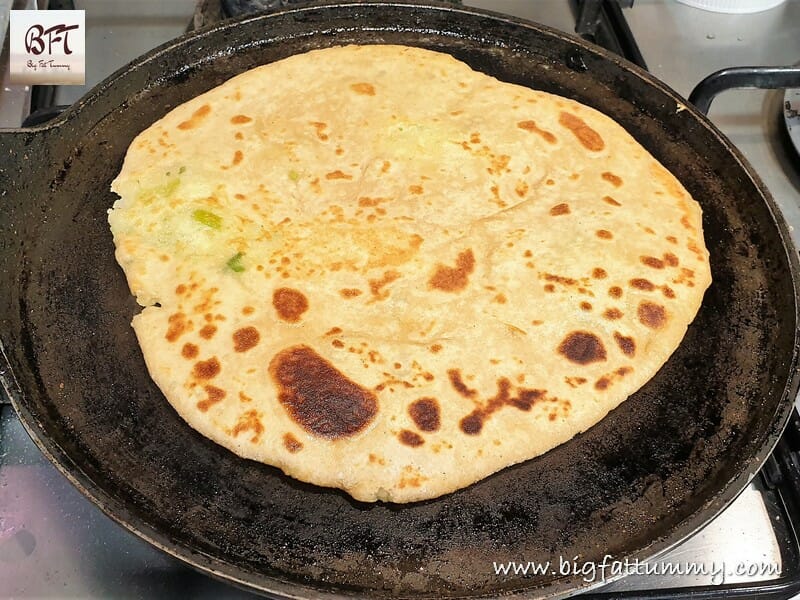 Note:
You can use oil instead of ghee for application on the parathas.