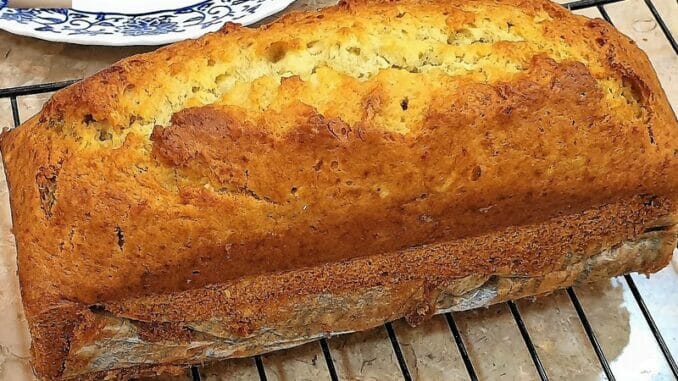 The Banana Bread Loaf is a simple to make loaf and is great as a snack at tea-time. It tastes good enough by itself – but you could to choose to apply butter or jam to the slices.
Serves: 4 to 6 Persons
Prep. Time: 10 Mins.
Baking Time: 35 to 40 Mins.
Ingredients:
[ Standard Measure: 1 cup = 250 ml ]
Robusta Bananas (overripe) – 2
Butter (unsalted) – 100 gms
Eggs (at room temp.) – 2
Maida – 1 ⅓ cup
Baking powder – 1 tsp.
Soda-bi-carb – ½ tsp.
Sugar (castor) – ½ cup
Milk – 3 tbsp.
Vanilla Essence – ¼ tsp.
Salt – ¼ tsp.
Step 1: Melt the butter using a double boiler and leave aside to cool.
Step 2: When the melted butter has cooled, set your oven to pre-heat at 180° C.
Step 3: Meanwhile, take a bowl and mash the bananas. Add the eggs and mix.
Step 3: Now add the sugar, flour, baking powder, soda-bi-carb, salt, melted butter, milk and vanilla essence and mix well.
Step 4: Pour the batter into a greased loaf tin (8 x 3 inches) and then bake the loaf for 35 to 40 at 160° C till a skewer inserted into the loaf comes clean. Slice and serve warm or at room temperature.