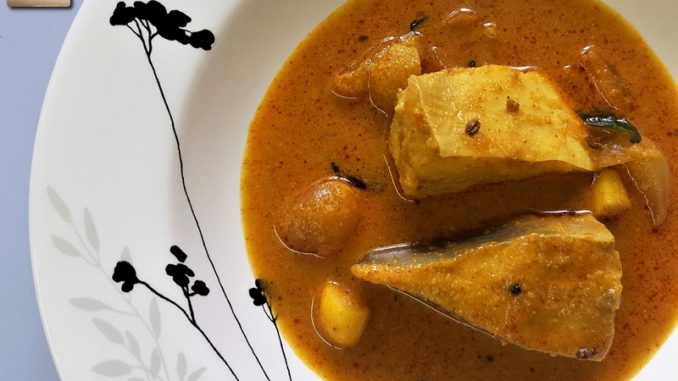 Vaaval Meen Kuzhambu is Tamilian for Pomfret Fish Curry. Tamilians love their rice and curry. They make ample use of whole spices and tamarind to cook yummy food. I have used pomfrets to cook this kuzhambu but you can use other fish also. Seer Fish [Kingfish] goes very well this curry.
Serves: A Family of Four
Prep. Time: 15 Mins.
Cooking Time: 18 to 20 Mins.
Ingredients:
[Standard Measure – 1 cup = 200 ml.]
White Pomfret – 1 (350 gms.)
Shallots (peeled & halved) – 16 to 18
Garlic (peeled & halved)– 8 cloves
Curry Leaves – 8 to 10
Tamarind (soaked in 1 cup hot water) – 1 lime sized ball
Coconut (grated) – 4 to 5 tbsp.
Mustard Seeds – ½ tsp.
Fennel Seeds – ¾ tsp.
Fenugreek Seeds – ¾ tsp.
Red Chilly Powder (pref. South Indian spicy variety) – 2 tsp.
Corriander Powder – 2 ½ tsp.
Turmeric Powder – 1 tsp.
Oil – 2 to 3 tbsp.
Salt – 1 ½ tsp.
Step 1: Clean and cut the fish into pieces. Wash and drain well. Apply 1 tsp. salt and ½ tsp. turmeric and leave aside.
Step 2: Heat the oil in a heavy bottomed vessel and add the mustard, fennel, and fenugreek seeds. Also add the curry leaves and sauté of low heat for a minute. Next add the shallots and garlic and sauté for 3 to 4 minutes on medium heat till the shallots change to a light golden.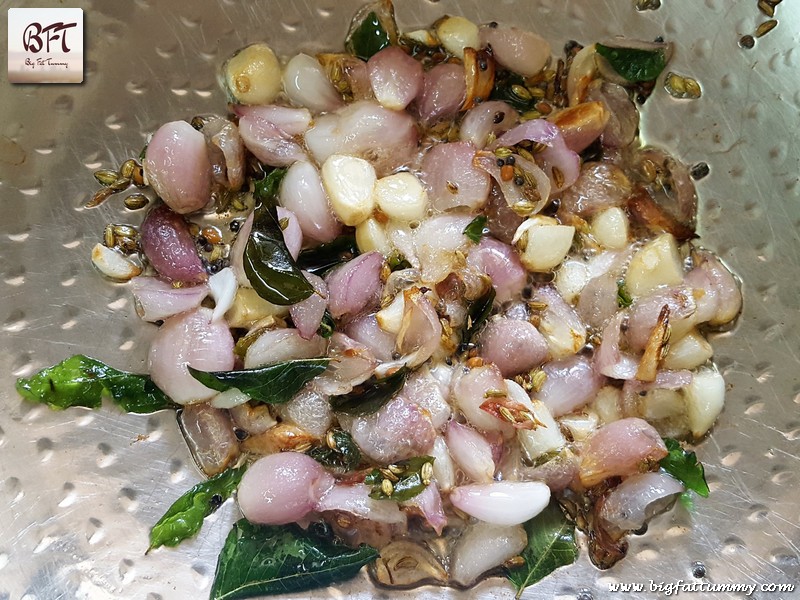 Step 3: Add the red chilly powder, corriander powder and ½ tsp. turmeric powder and sauté for a minute or two on low heat. Mash and strain the tamarind pulp into the vessel. Add 1 ½ cups of warm water, ½ tsp. salt and let it come to a boil.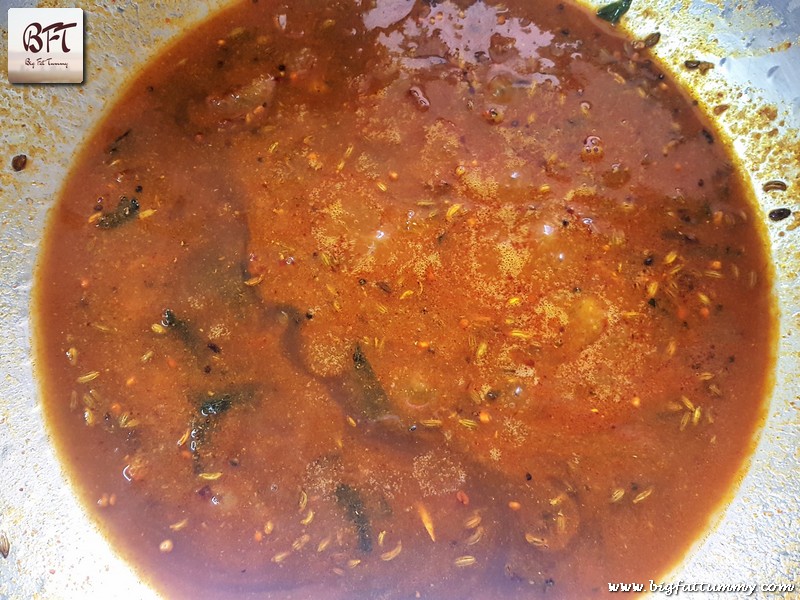 Step 4: Meanwhile grind the coconut with ¼ cup water till fine. Add the ground coconut paste to the vessel and let it come to a boil. Once it starts boiling, lower the heat and let it simmer for 4 to 5 minutes. Now add the fish and let it simmer for another 3 to 4 minutes. Your kuzhambu is ready. Serve hot with hot rice.