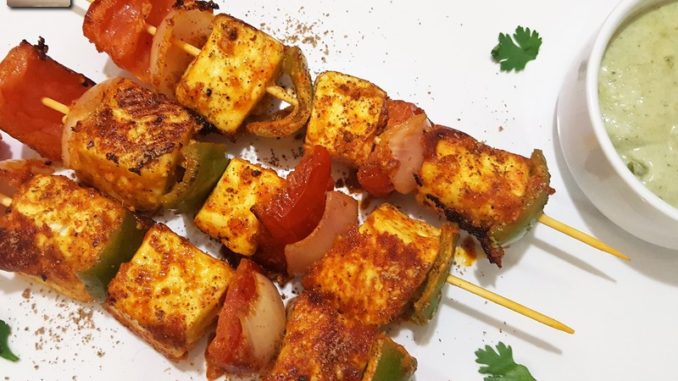 Make these cottage cheese tikka's without a barbecue, on a griddle. You can serve the paneer tikka on the stick like a shashlik or take them off the stick and serve them with a salad and green mint chutney and a sprinkle of chaat masala.
Serves: 6 to 8 Persons
Prep. Time: 30 Mins. + 60 Mins. (marination)
Cooking Time: 10 Mins.
Ingredients:
Paneer (cut into 1 inch cubes) – 500 gms.
Onion (cubed and separated) – 2 small
Tomatoes (deseeded and cubed) – 2 small
Capsicum (cubed) – 2 small
Ghee – 4 tbsp.
Besan [Chickpea Flour] – 2 tbsp.
Ajwain [Carron Seeds] – ½ tsp.
Thick Curds – 1 cup
Ginger-Garlic Paste – 4 tsp.
Kashmiri Chilli Powder – 2 tsp.
Chilli Powder – 1 tsp.
Turmeric Powder – ½ tsp.
Lemon Juice – 2 tbsp.
Garam Masala Powder – ½ tsp.
Mustard Oil – 2 tbsp.
Salt – 1 ½ tsp. or to taste
Bamboo Skewers (7 inch) – 8
Step 1: Heat 2 tbsp. ghee in a pan. Add the ajwain and sauté till aromatic. Add the besan and sauté till the raw smell disappears and it becomes aromatic. Leave it aside to cool.
Step 2: Mix the cooled besan mixture, curds, ginger-garlic paste, chilli powders, lemon juice, salt and garam masala. This is the marinade. Mix well with a whisk.
Step 3: Heat the mustard oil in a tadka pan till smoking hot. Switch off the heat and add the turmeric powder to the oil and mix well. Next add it to the marinade and mix well. Add the paneer and the vegetables except the tomatoes to the marinade and marinate for at least an hour.
Step 4: Meanwhile soak the bamboo skewers in water. After an hour of marination, skewer the paneer, onion, capsicum and tomatoes onto the bamboo skewers and keep aside.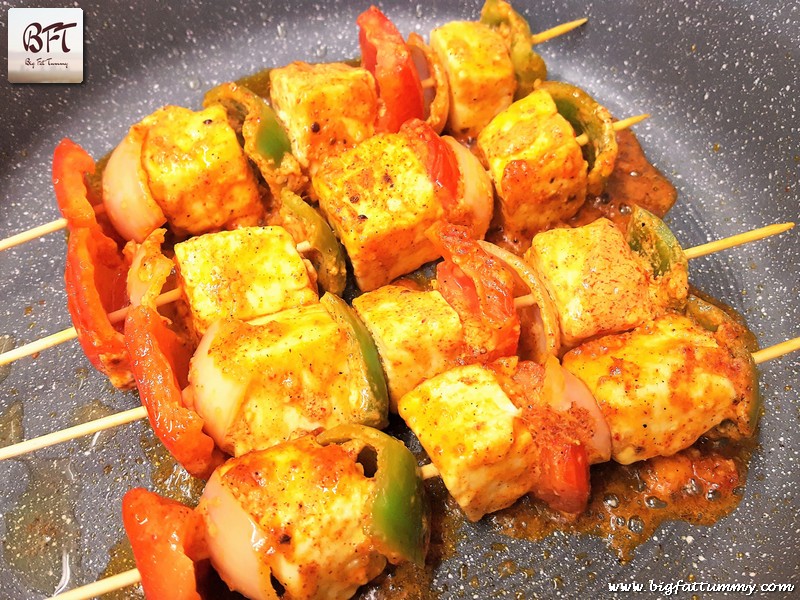 Step 5: Shallow fry the paneer sticks on a non-stick griddle pan for a minute on all four sides.