The masala cheese omelette or omelet is a regular served at breakfast in most live stations of Indian Star Hotels. It is an omelette stuffed with cheese. The best cheese to go inside the omelette and available in India is an easy melt cheese or a cheddar cheese. This is because your cheese should have melted in the short time that you cook the egg mixture and the molten cheese is the best part. For when you dig into your omelette you will be overjoyed looking at the cheese oozing out and it will taste yum – juicy and creamy. (For a Bread Egg Omelette (which uses stale bread), click here)
Yield: 1 large omlette
Prep. Time: 10 Mins.
Cooking Time: 6 Mins.
Ingredients:
Eggs (at room temperature) – 3 to 4
Onion (finely chopped) – 1 small
Green Chillies (very finely chopped) – ¼ tsp.
Tomato (very finely chopped) – ½ small
Cheese (grated fine / cut into strips) – as needed
Black Pepper (coarsely ground) – as needed
Whole Fat Milk – 1 ½ tbsp.
Oil – 1 ½ tsp.
Salt – ¼ tsp. or to taste / not required if using salty cheese (optional)
Step 1:     Break each egg one at a time and transfer to a larger bowl. Whisk the eggs with salt (I prefer not using any. Can also season while eating) and milk till fluffy.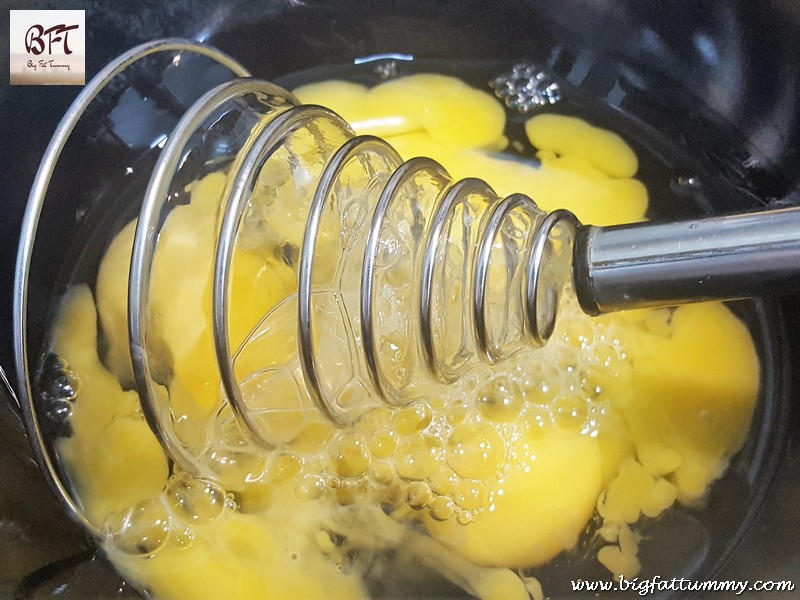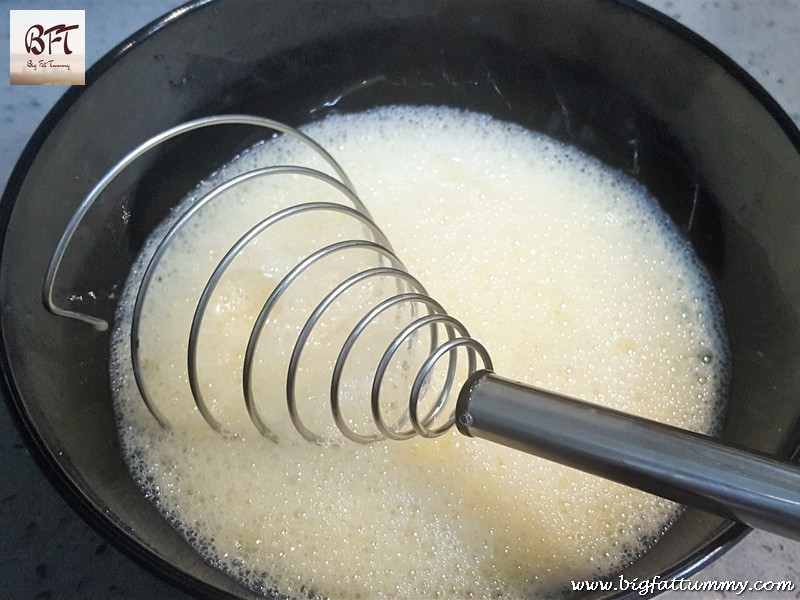 Step 2:     Keep all the rest of the ingredients prepped and at hand. Heat a non-stick pan on medium heat and spread 1 tsp. of oil evenly on the pan. Pour the beaten egg mixture and spread evenly by swirling the pan off the heat. Bring the heat down to low and place the pan on it again.
Step 3:     Sprinkle the onion, tomato, green chillies, corriander and salt all over the half cooked egg. Immediately start pushing the cooked portion of the egg all around the pan, towards the center of the pan so that the uncooked portion spreads out to the edges of the pan (do this off the heat). Keep doing this till most of the egg has cooked but is still runny.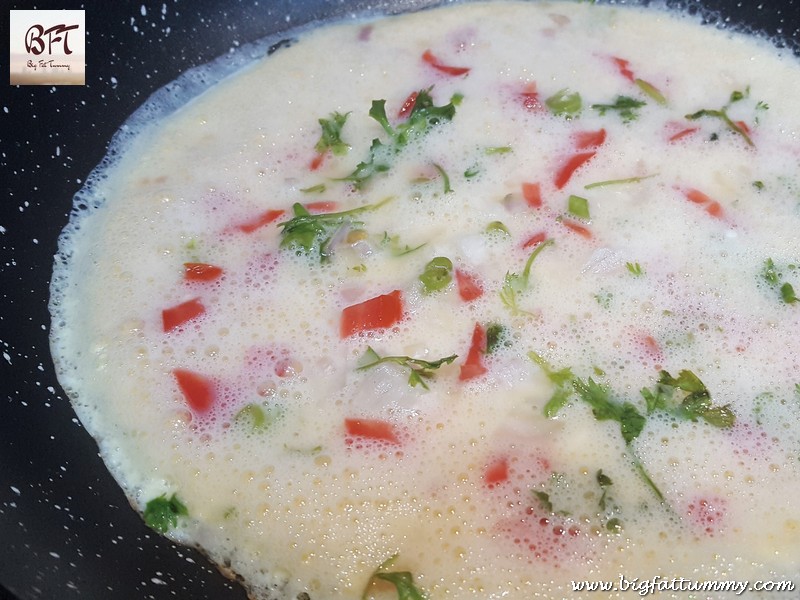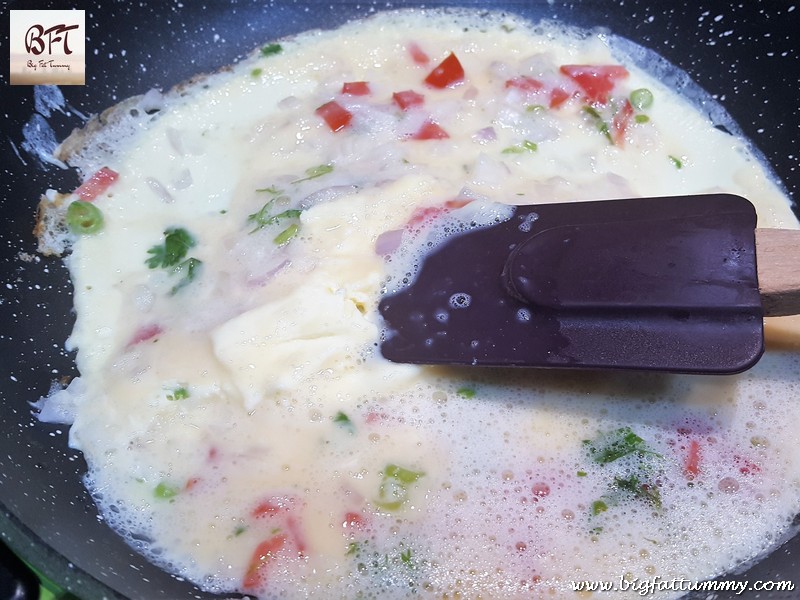 Step 4:     Now sprinkle the cheese on one half of the omelette. And fold the second half over it. Sprinkle ½ tsp. of oil and cook till it sets / browns slightly and then flip it over carefully and let the other side brown slightly.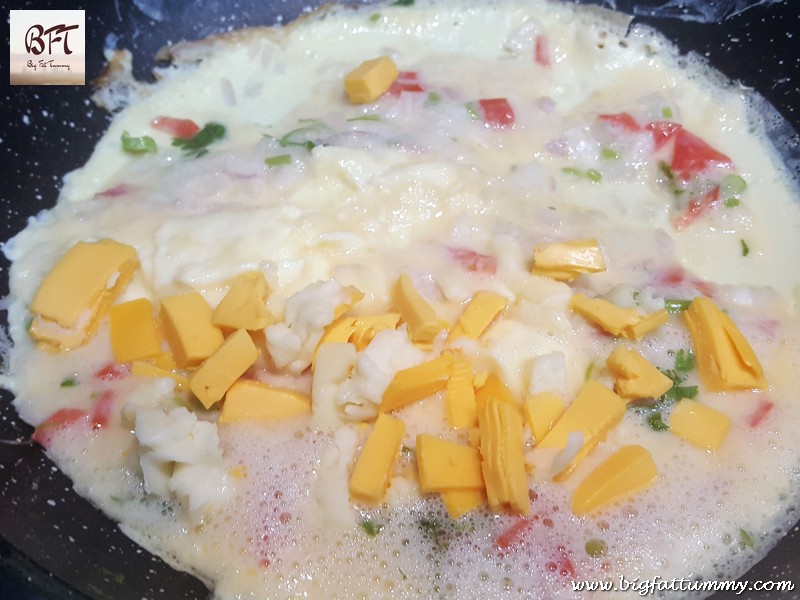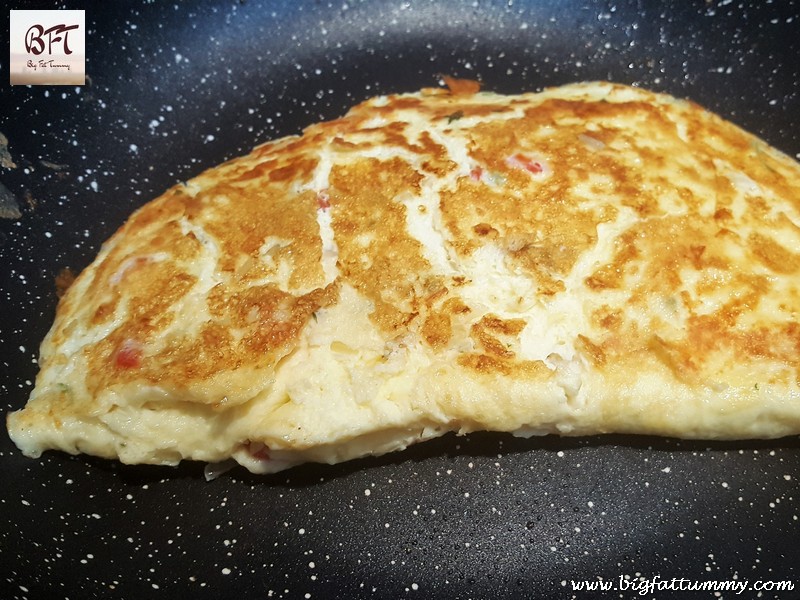 Transfer to a plate and serve hot.
Note:
Low heat is essential, so that the eggs don't cook too fast.
Timing is essential or your omelette will taste very dry.
I've used quick melt cheese singles, so I just cut them roughly into strips.