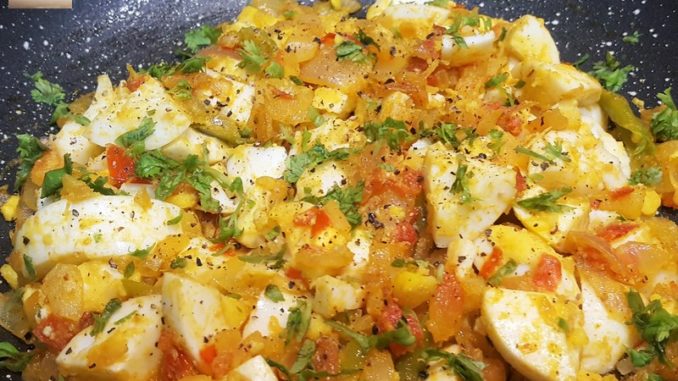 The egg chilly fry is based on a popular Goan preparation using meat but without sauces or tamarind. It is quick and easy to make. The dish is for those times when you do not feel like cooking or do not have too many raw supplies at home. You can eat it with chapatis or bread.
Serves: 2 to 4 Persons
Prep. Time: 20 Mins.
Cooking Time: 10 Mins.
Ingredients:
Egg (hardboiled) – 4
Onions (finely chopped) – 2 medium
Tomato (deseeded & chopped finely) – 2 medium
Ginger-Garlic Paste – 1 tsp.
Green Chillies (cut slanting) – 2 to 3
Green Corriander Leaves (finely chopped) – as needed
Garam Masala Powder – ¼ tsp.
Pepper Powder – ½ tsp. or as needed
Turmeric Powder – ¼ tsp.
Oil – 2 tbsp.
Salt – ½ tsp. or to taste
Step 1: Peel the eggs and chop into pieces (quarter each egg lengthwise and chop each quarter into four similar pieces to make a total of 16 pieces from each egg)
Step 2: Heat the oil in a frying pan and add the ginger-garlic paste and sauté for a few seconds on medium heat. Then add the green chillies and sauté for a few seconds.
Step 3: Next add the onion and sauté for 2 minutes. Sprinkle the turmeric powder and mix well. Add the tomatoes and cook till soft (not pulpy) on low heat.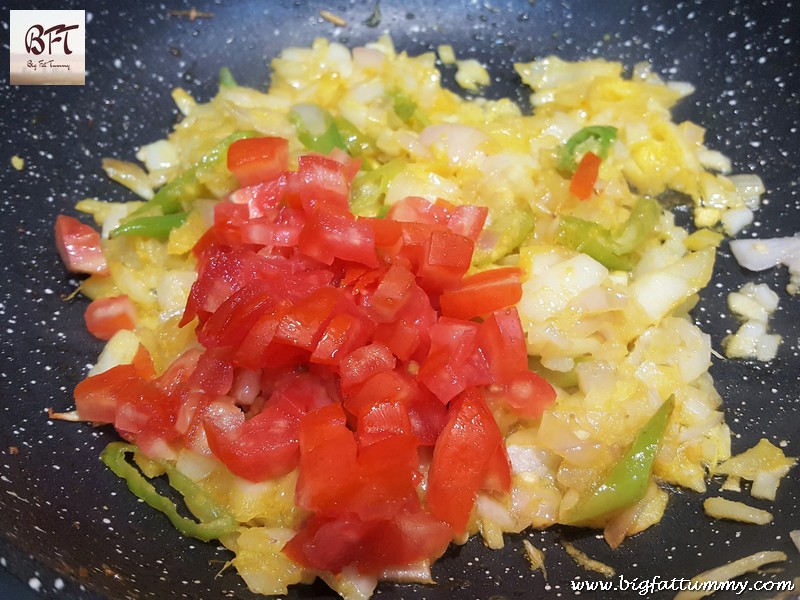 Step 4: Next add the garam masala and pepper powders and salt and mix well. Finally add the chopped eggs and mix lightly (so as not to separate most of the egg whites and the yolks). Sprinkle some coarsely crushed pepper and finely chopped corriander leaves and serve hot.