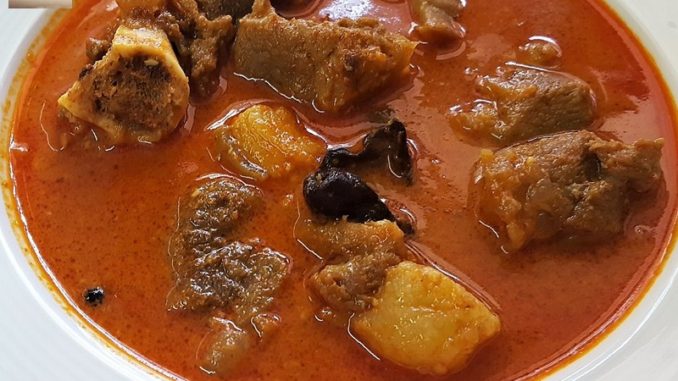 The pork curry is quick and easy to make and must be served with hot steaming rice. The recipe uses coconut and whole spices. Thus the curry turns out mild but flavoursome. Most importantly the flavours of the pork meat are not lost.
Serves: 4 to 6 Persons
Prep. Time: 30 Mins. + 40 Mins. (marination)
Cooking Time: 40 Mins.
Ingredients:
Pork (boneless + a couple of bones) – 600 gms
Onion (chopped coarsely) – 2 medium
Garlic (unpeeled & pounded) – 8 to 10 cloves (big)
Kokum – 6 petals
Tamarind Pulp – 1 tbsp.
For the Masala Paste:

Coconut (grated) – 1 medium
Bedgi Chillies – 8 to 12 (depending on how hot you want your curry)
Corriander Seeds – 1 tbsp.
Cumin Seeds – ¼ tsp.
Black Pepper Corns – 6 to 8
Garlic – 4 cloves

Black Pepper Corns – 6 to 8
Turmeric – ½ tsp.
Sea Salt – 2 tsp.
Step 1: Wash the meat and drain well. Chop the meat into medium sized cubes. Apply 2 tsp. salt to meat and bones and leave aside for 30 to 40 minutes or overnight in the refrigerator.
Step 2: Grind the coconut with the spices for the masala paste using 300 ml warm water and extract the thick spiced coconut milk and keep aside. Then extract the thin spiced coconut milk using 400 ml warm water (see extracting coconut milk).
Step 3: Place the meat in a pressure pan. Cook uncovered on high heat for 5 minutes till the colour of the meat changes. Stir in between. Add the turmeric powder and mix. Cover with a flat lid and cook for 8 to 10 minutes till the juices of the meat are released.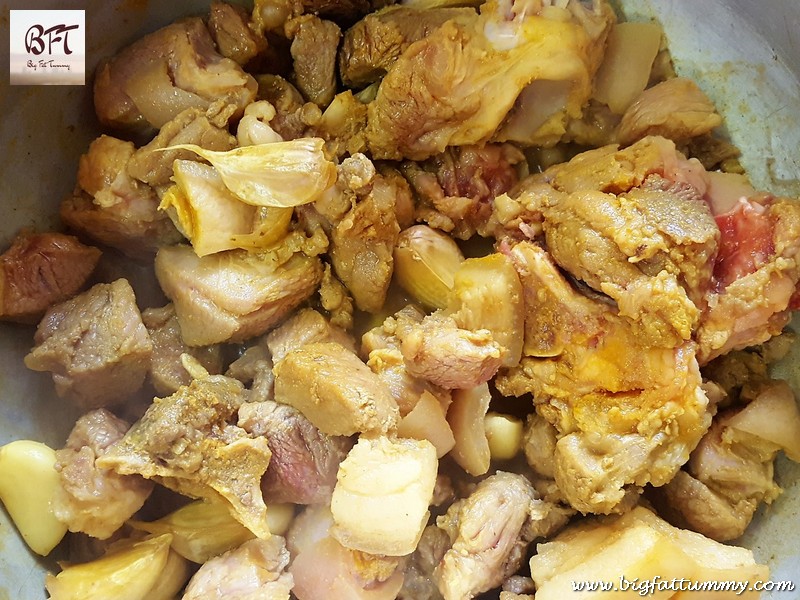 Step 4: Add the onion, pounded garlic and the thin spiced coconut milk. Put on the pressure cooker lid and cook on high heat till the 1st whistle. Lower the heat and cook till another whistle goes. Switch off the heat. Let the pressure drop naturally.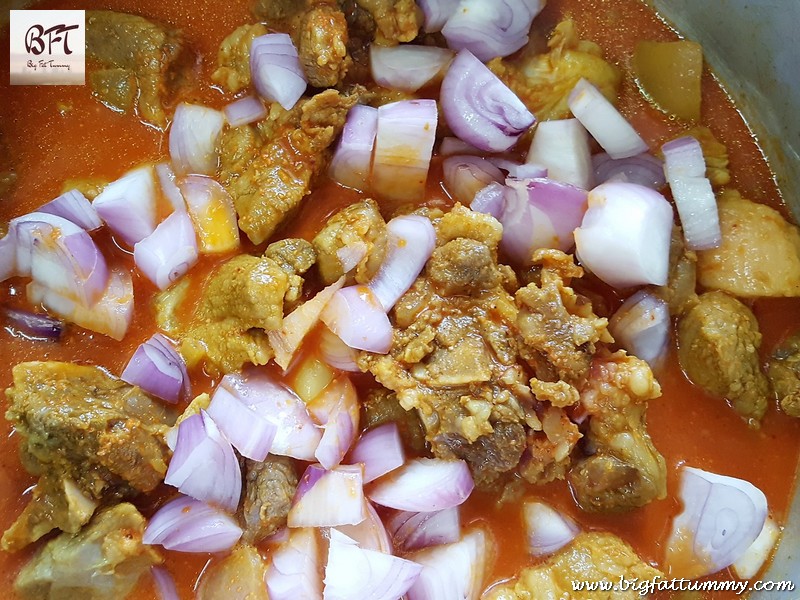 Step 5: Open the cooker lid and add the tamarind pulp, pepper corns and kokum and switch on the heat again. Cook covered with a flat lid on low heat till the meat is nice and soft as per your liking.
Step 6: Finally add the thick spiced coconut milk and simmer uncovered on low heat for 6 to 8 minutes.