The recipe for Pork Chilly Fry V. 2. is a slight variation from the Goan preparation. It turns out yum and I do not even need to invite my three kids (hubby included) to the table. They are at it from the word go. The plates all cleaned up in 5 minutes! My five-year-old is so much in love with this dish that he demands for 'Poke Chili Fly' even if we are dining out at a vegetarian restaurant. (If you want to try another version, click here)
Serves: 4 to 5 Persons
Prep. Time: 30 Mins….
Cooking Time: 10 Mins…. (active) + 65 Mins…. (active)
Ingredients:
Boneless Pork– 750 gms..
Cinnamon – 2 inch stick
Cloves – 8
Peppercorns – 12
Turmeric Powder – ½ tsp.
Ginger-Garlic Paste – 1 tsp.
Ginger (finely chopped) ½ tbsp.
Garlic (finely chopped) – 2 tbsp.
8 to 9 Meal Sauce – 2 tbsp.
Soya Sauce – 1 tsp.
Tamarind – a small ball soaked in 100 ml. hot water
Onions (sliced) – 4 medium
Green Chillies (cut slanted) – 3
Bell Peppers (green, red, yellow – cubed) – ½ each
A pinch of sugar
Sea Salt – 1 ½ tsp.
Oil – 2 tbsp.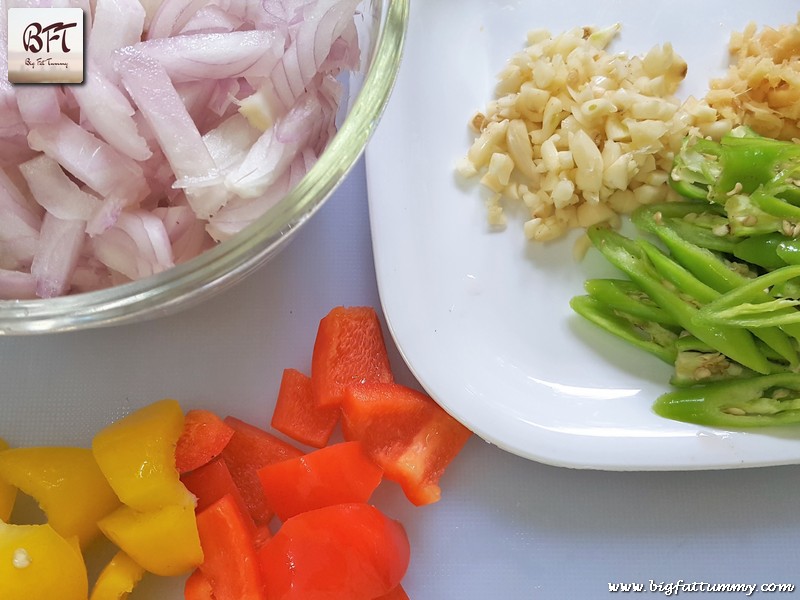 Step 1: Marinate the pork with the 1 ½ tsp. salt and leave it in the refrigerator overnight.
Step 2: Remove from the refrigerator, the next day. Apply ginger-garlic paste to the meat and leave aside for 20 minutes.
Step 3: Take the meat in a pan, add the cinnamon, cloves, peppercorns. Add 1 ½ cup water. Cover and boil on low heat till tender (40 to 45 minutes)
Step 4: Remove the pork from the stock and set aside. Strain and reserve the stock.
Step 5: Cut the meat into cubes or slices (as desired). Immerse the pieces in the stock so that they do not dry out. You can leave it in the stock for a few hours until you are ready to cook further.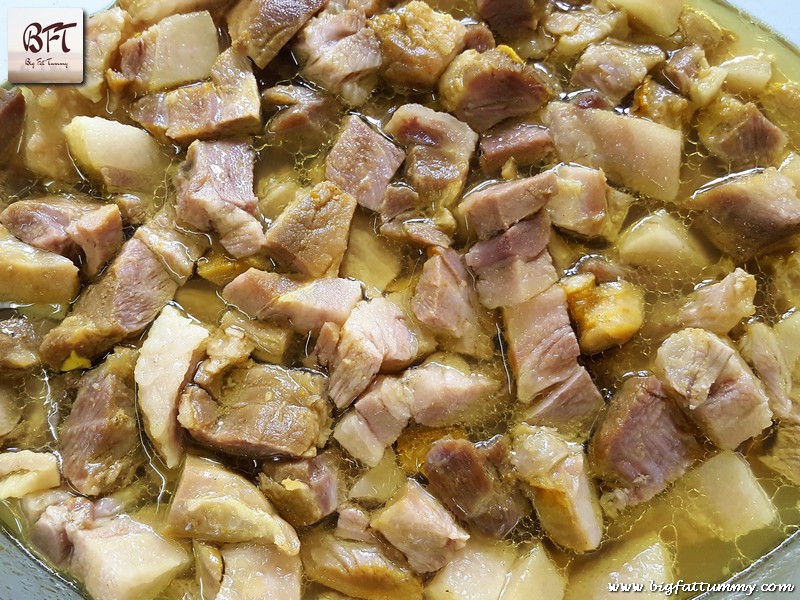 Step 6: Heat the oil in a pan. Add the ginger, garlic, green chillies and sauteé for 2 to 3 minutes so that the flavours of the aromatics are infused in the oil.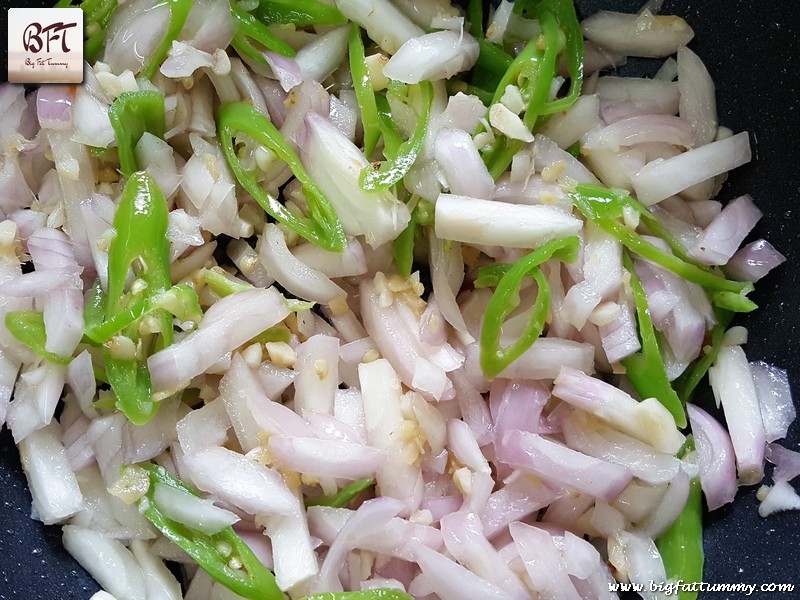 Step 7: Next, throw in the onions and sauteé for 2 minutes. Drain the pork and add to the pan. Stir well. Add 2 tbsp. of stock and the tamarind pulp (strained). Cover and cook on low heat for 10 minutes.
Step 8: Add the 8 to 9 sauce, soya sauce and the peppers. Cook covered on low heat for a further 10 minutes.
Step 9: Open the lid and cook over high heat while stirring in between, till the sauce thickens to your liking. Season with salt if needed.