Long years ago, when I was in school – a teenager, I had the habit of collecting recipes from tabloids or magazines. Information was not as easily available as in this age and the only way to learn new dishes was through recipe books, newspapers or through friends and relatives. I once chanced upon this recipe which I now share with you. Make this lovely desiccated coconut cake this Christmas along with the regular Goan batica and you will have two similar cakes, the desiccated coconut cake being softer and lighter with the essence of rose and almond and on the other hand the traditional and rich buttery batica.
Prep. Time: 30 Mins. + 60 to 90 Mins. (cooling of mixture)
Baking Time: 25 to 35 Mins.
Ingredients:
Desiccated Coconut – 250 gms.
Semolina [Rawa] – 250 gms.
Sugar – 500 gms.
Eggs – 6
Butter – 50 gms. + 1 tbsp.
Rose Essence – ¾ tsp.
Almond Essence – ½ tsp.
Baking Powder – 1 tsp.
Maida [APF] – for  dusting (if needed)
Step 1: Take a heavy bottom pan and add 200 ml. water and the sugar to it. Stir to dissolve the sugar as much as you can. Now place the pan on low heat and allow the sugar to melt on its own. DO NOT STIR. When the sugar has completely melted, add the semolina and desiccated coconut and mix. Add 50 gms. butter at room temperature and mix it all on low heat for 4 to 5 minutes till it forms a mixture. Make sure that it is not lumpy. Take it off the heat and leave aside to cool completely.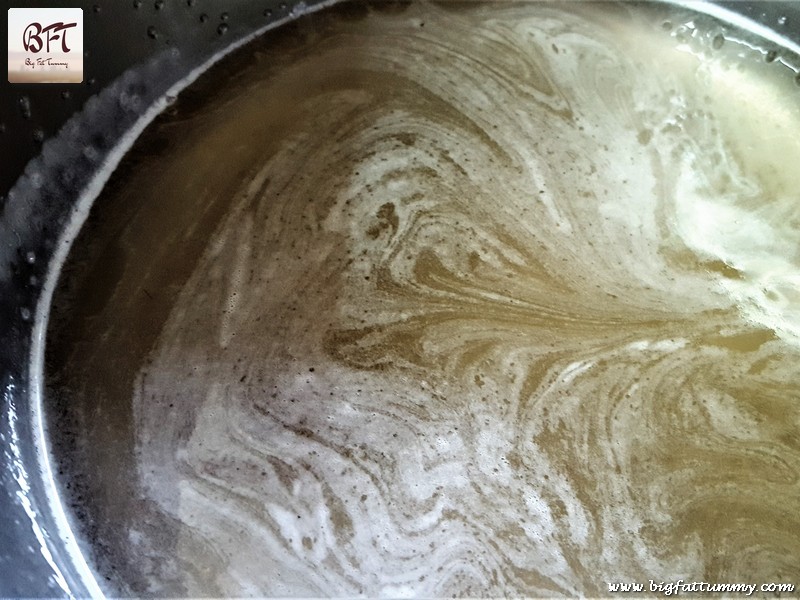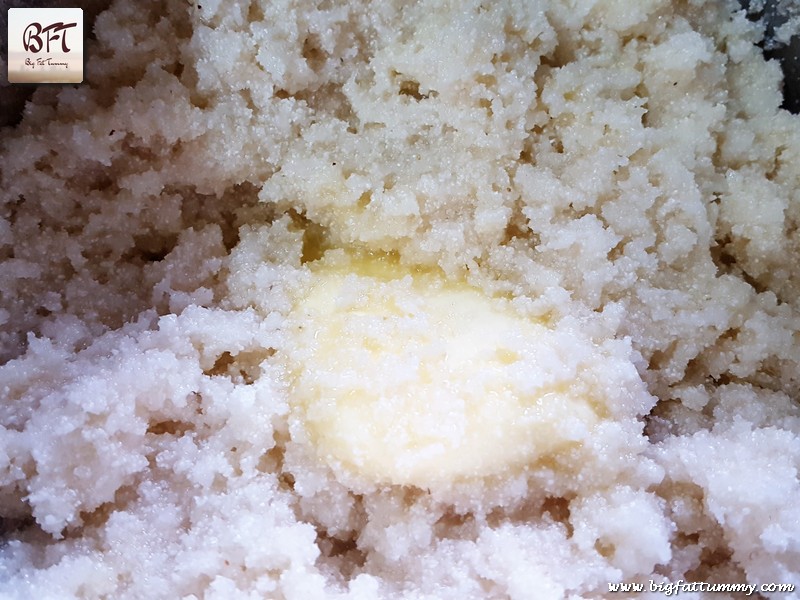 Step 2: Grease a non-stick baking dish (12 x 8 inch) with butter. If using a regular baking tray, grease with butter and dust with maida. When your mixture is completely cool, start your oven to pre-heat at 180°c.
Step 3: Meanwhile, beat the eggs with the rose and almond essence in a stand mixer or an electric beater till it is frothy and doubles in volume (about 2 minutes for the former or 4 minutes for the latter). Beating the eggs till they are light and frothy is important because it incorporates air in your batter and makes the cake light.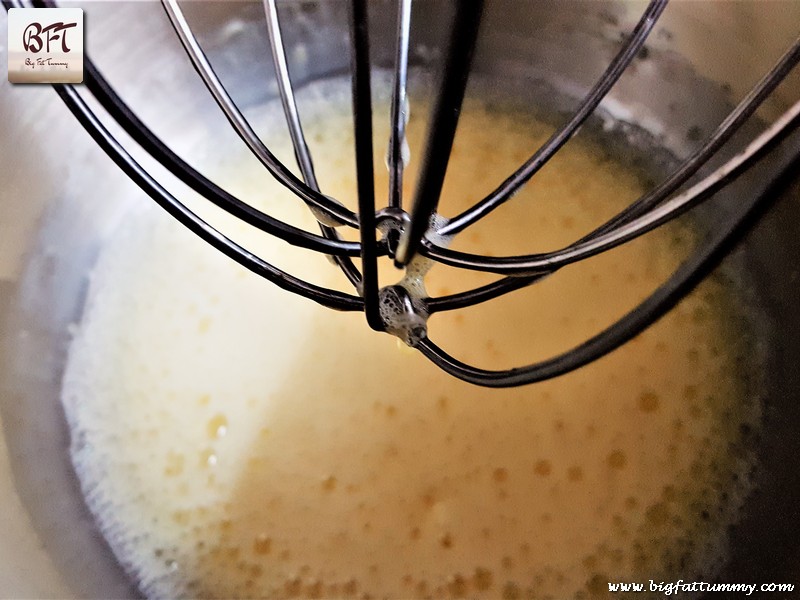 Step 3: Next, dissolve the baking powder in 2 tbsp. tepid water. Add the dissolved baking powder and beaten eggs to the mixture and fold lightly with your hand. Check for lumps if any and gently crush them (it is important to be gentle and fold lightly or your cake will turn out too dense).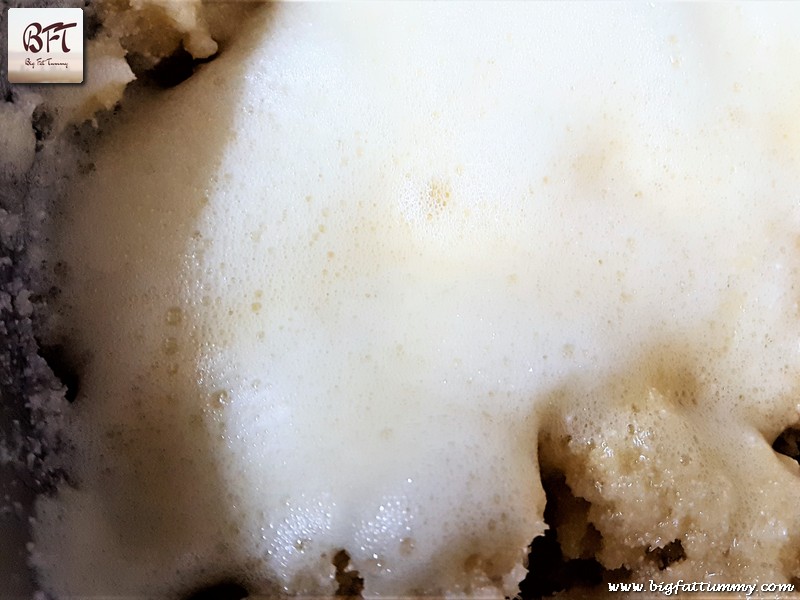 Step 4: Pour the batter into the greased/lined tray. Tap the tray lightly, once or twice to settle the batter. Bake the cake at 180° c for 10 minutes and then 160° c for 15 to 20 minutes. Check the cake by inserting a toothpick into it. If it comes clean the cake is done. Also the crust should be light brown. If it isn't baked, bake for a further 5 minutes and check again.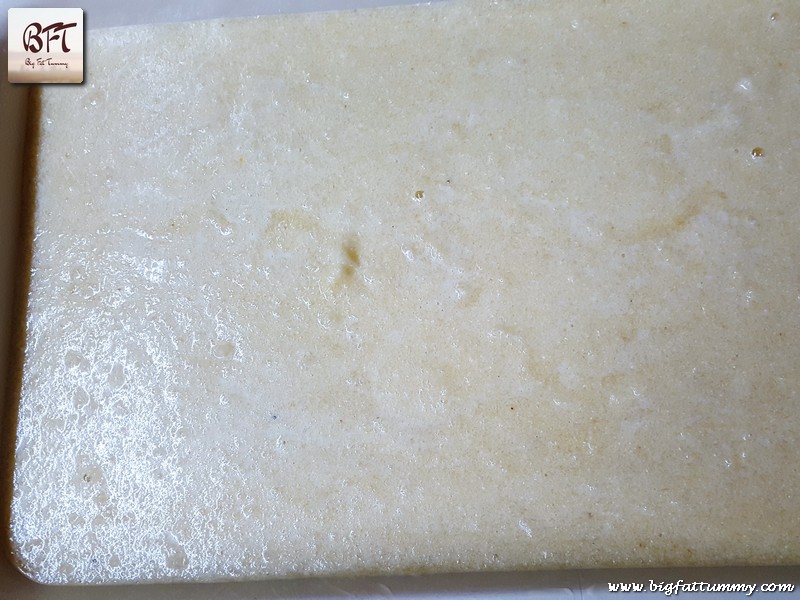 Note:
To be on the safe side, always break each egg in a small bowl to check if they are fresh before adding to your collective quantity.
Baking time varies for different makes or brands of ovens. Keep a watch on your cake while baking.
I have used pre-roasted pre-packed rawa in this preparation..