My chicken pulao is like a fake biryani. I say this because it looks like a biryani but does not involve the many steps required to make a biryani. It's a one pot meal and milder than the rich biryani (For a quicker version, click here).
Serves: 6 Persons
Prep. Time: 15 Mins. + 60 Mins. (marination)
Cooking Time: 4o to 45 Mins.
Ingredients:
[Standard Measure – 1 cup = 200 ml.]
Basmati Rice – 2 cups
Whole Chicken Legs (skinned and cut into small pieces) – 500 gms.
Onion (sliced) – 2 large
Ginger – ½ inch
Garlic – 10 to 12 cloves
Light Green Chillies – 5 to 6
Mint Leaves – ¼ cup
Lime – 1 medium
Stock Cubes – 2 to 3 small
Cumin Seeds – 1 tsp.
Cinnamon – 2 inch
Cardamom – 3 to 4
Pepper Corns – 10 to 12
Cloves – 6
Bay Leaves – 2 to 3
Orange Food Colour – 2 to 3 drops + 2 to 3 drops (optional)
Thick Curds – 4 tbsp.
Ghee – 2 tbsp.
Oil – 2 tbsp.
Salt – 2 tsp.
Step 1: Wash the rice gently with water. Change the water 2 to 3 times and keep the washed rice aside for 20 minutes.
Step 2: Grind the ginger, garlic and 2 green chillies to a fine paste.
Step 3: Apply 1 ½ tsp. salt and lime juice to the chicken. Add the ginger-garlic-chilly paste, 2 to 3 drops of orange food colour and one crushed stock cube and mix it well with the chicken pieces. Add the curds and mix again and keep in the refrigerator to marinate for at least 60 minutes.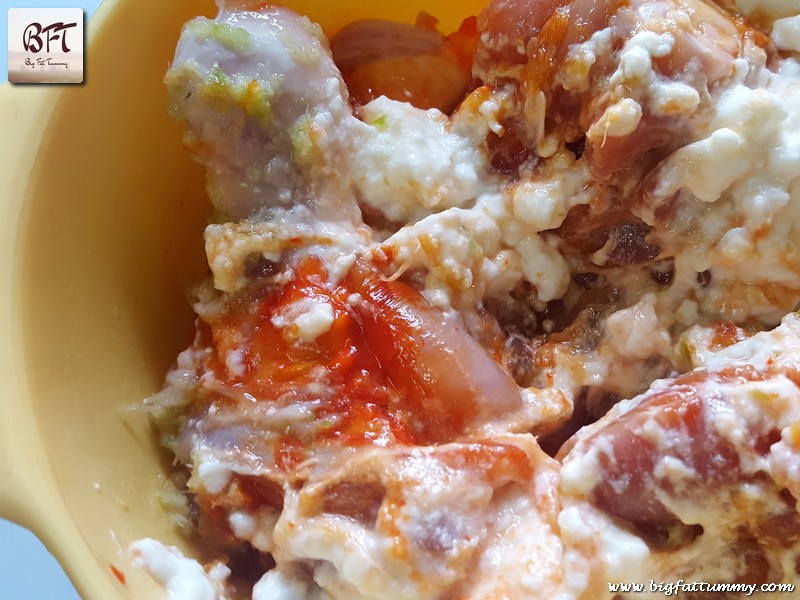 Step 4: Heat the oil in a vessel and add the cumin. When the cumin is aromatic, add cinnamon, cardamoms, cloves, pepper corns and the bay leaves and sauté. Once fragrant, add the onions and fry till light golden.
Step 5: Add the marinated chicken and sauté on high heat for 2 to 3 minutes. Lower the heat and sauté for a further 5 minutes till the raw smell of the ginger-garlic disappears.
Step 6: Drain the soaked rice and add it to the chicken in the vessel. Sauté for 2 minutes on low heat. Add the mint leaves, 4 cups of hot water and the remaining stock cubes. Mix and check for salt. Add salt if required and let it come to a boil on high heat. Add the remaining chillies and cover and cook on low heat for 5 minutes.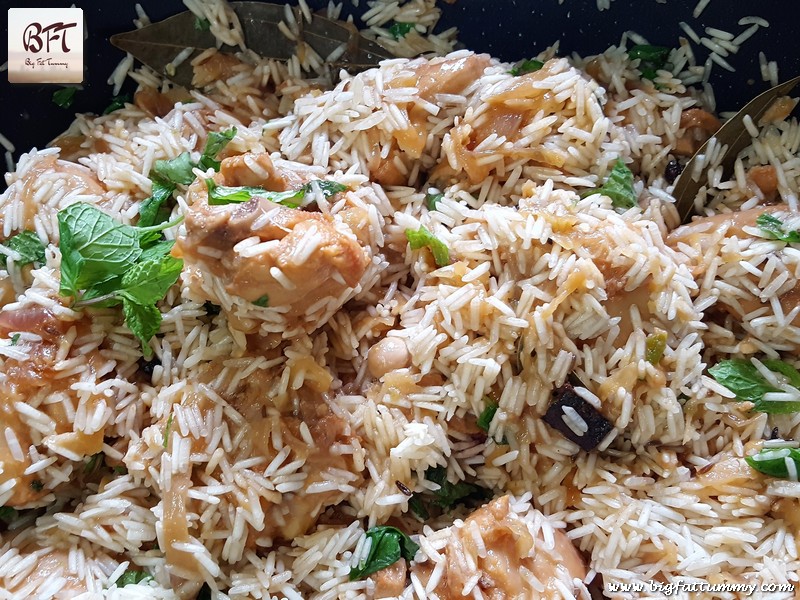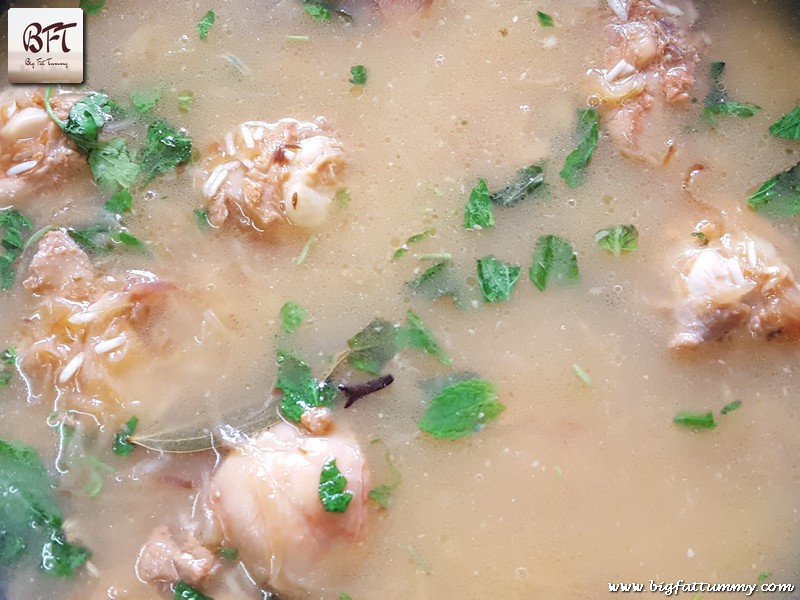 Step 7: Meanwhile heat a griddle on low heat. Now place the vessel containing the pulao on the griddle and continue cooking on low heat for another 15 to 18 minutes till the rice and the chicken are cooked.
Step 8: Mix 2 to 3 drops of orange food colour in 2 tbsp. water and sprinkle here and there over the pulao. Keep the pulao covered for 15 minutes before serving.
Serve hot with a vegetable raita.