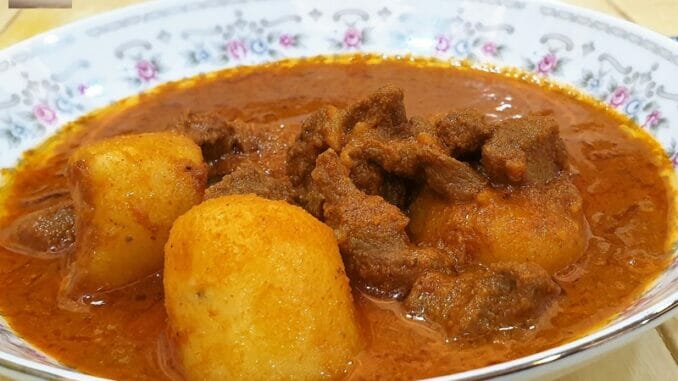 If you find the flavours of a xacuti too bold, then you will like the Coconut Beef Curry (click here for a beef xacuti). Even otherwise this curry is very tasty and will not disappoint xacuti lovers. Serve it doused on hot rice and enjoy it right down to licking of your fingers when you're done.
Serves: 4 to 6 Persons
Prep. Time: 30 Mins
Cooking Time: 55 Mins
Ingredients:
Boneless Beef (cut into cubes) – 500 gms
For Pre-cooking the Beef

Onion (cubed) – 1
Tomato (cubed) – 1
Black Pepper Corns – 8 to 10
Cloves – 4
Cinnamon – ½ inch
Turmeric Powder – ½ tsp.
Lime – 1 small

For the Masala Paste:

Coconut (fresh, grated) – 1 cup
Kashmiri Red Chillies – 6
Cloves – 6
Cinnamon – ½ inch
Cumin Seeds – ½ tsp.
Black Pepper Corns – ½ tsp.
Garlic – 6 cloves
Ginger – ½ inch
Corriander Seeds – 1 tbsp.
Turmeric Powder – ¼ tsp.
Tamarind – a small marble sized ball

Potatoes (peeled, cut into chunks) – 2
Onion (chopped) – 1 medium
Curry Leaves – 12 to 15
Stock Cube – 1
Oil – 2 tbsp.
Salt – 1 tsp. or to taste
Step 1: Wash and drain the meat. Apply the ½ tsp. turmeric, 1 tsp. salt and the lime juice to the meat and keep aside for 15 minutes.
Step 2: Then take the meat in a pressure cooker and add the cubed onions and tomato, 8 to 10 black pepper corns, 4 cloves and the ½ inch cinnamon and cook on medium heat for 10 to 12 minutes till the meat releases its juices and changes colour. Add ½ cup water and pressure cook on high heat till the 1st whistle and then reduce the heat and pressure cook for 25 minutes. Then open the lid and add the potatoes and another ½ cup hot water and cook for another whistle.
Step 3: Roast the coconut lightly and transfer to a plate.
Step 4: Next roast the coriander, cumin, pepper corns, cloves, cinnamon and red chillies on low heat and transfer to the plate with the coconut (The roasting at Step 3 & 4 is to be done just slightly).
Step 5: Grind all the roasted ingredients along with the turmeric powder, tamarind, ginger and garlic using a little water and keep aside.
Step 6: Heat oil in a vessel and add the curry leaves and the chopped onion. Sauté till light golden on medium heat.
Step 7: Add the ground masala paste and continue to sauté for another 5 to 6 minutes.
Step 8: Add the cooked meat and potatoes along with the stock. Add hot water to adjust the curry consistency as per your choice. Add the stock cube and mix. Then check for salt and add if required. Cook covered for 10 to 12 minutes till oil floats on the surface.