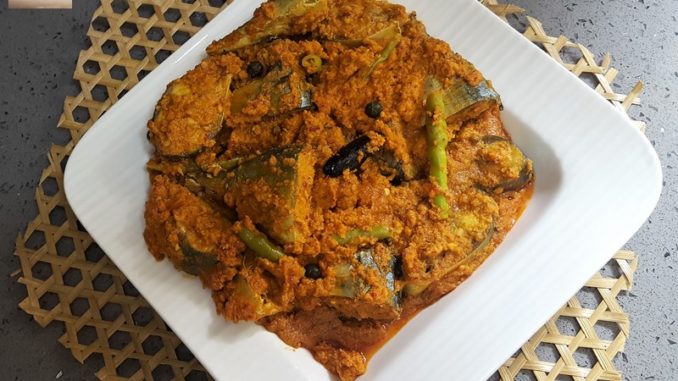 Bangde Sukhem / Bangda Sukka is a dry Goan preparation of mackerels in a coconut masala gravy. The main flavor of the dish is provided by the Teflam [Tefla] / Tirphal (Indian Prickly Ash) and Ginger. The Bangde Sukhem is a yummy side dish. So do try it out whenever you get your hands on some fresh mackerels.
Serves: 4 to 6 Persons
Prep. Time: 30 Mins.
Cooking Time: 15 to 20 Mins.
Ingredients:
[ Standard Measure – 1 cup = 250 ml ]
Mackerels – 4 big
Ginger (crushed) – ½ inch
Green Chillies (slit) – 2
For the Masala Paste:

Coconut (fresh, grated) – ¾ cup (packed)
Red Chillies [bedgi] – 5
Ginger (peeled) – 1 ½ inch
Tamarind – 1 small marble sized ball
Corriander Seeds – 1 tbsp.
Turmeric Powder – 1 tsp.

Kokam – 6 Petals
Teflam (fresh or dry) – 15
Coconut Oil – 2 tbsp.
Sea Salt – ½ tbsp. + ½ tsp. or to taste
Step 1: Clean the mackerels and cut them into pieces. Apply ½ tbsp. salt and leave aside for 15 to 20 minutes.
Step 2: Grind the ingredients under masala to a coarse paste with very little water (see pic).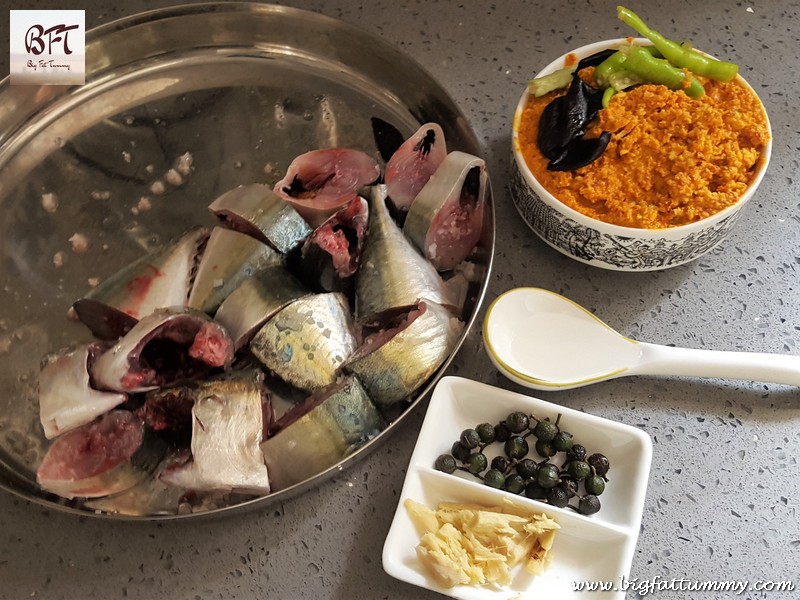 Step 3: Wash the salted mackerels again. Drain well and marinate with the ground masala paste and 1 tbsp. coconut oil. Add the kokam, crushed ginger, green chillies and ½ tsp. salt. Pound / crush the teflam to release the flavours and add to the marinade. Leave aside for 10 to 15 minutes.
Step 4: Take a heavy bottomed vessel / non-stick pan and put the marinated mackerel pieces in it. Add 3 to 4 tbsp. of the masala rinse or water. Cover and cook on low heat for 15 to 20 minutes. (Lift the vessel off the heat and swirl it to mix once or twice in between. Do not stir with a spoon or the fish will disintegrate)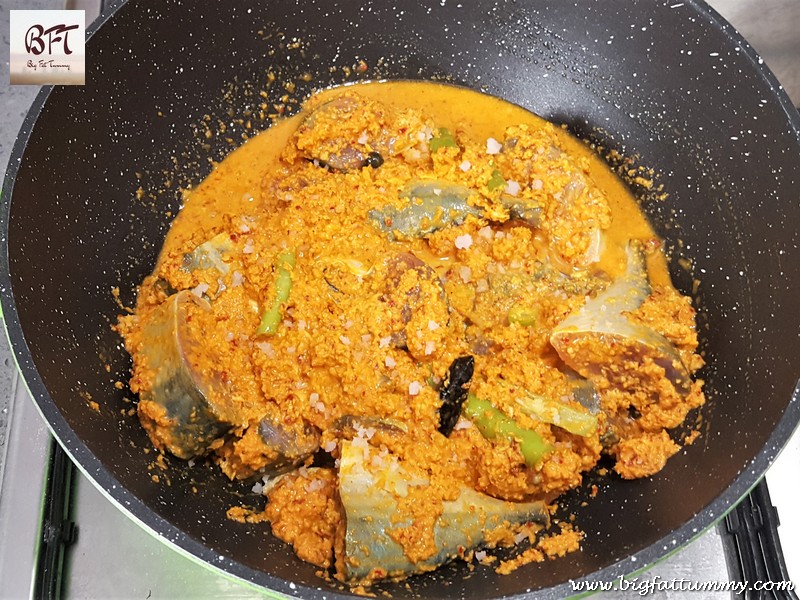 Step 5: Later sprinkle the remaining coconut oil. Switch off the heat and keep covered for 2 minutes before serving.