Kanda Bhaji or Onion Fritters are a popular Indian snack. Some restaurants serve it, though it is commonly available as street food. The Kanda Bhaji are deep fried in oil and hence tend to be oily. But they are so delicious that even the most conscious person will always binge on them once in a while. They are easy to prepare but the trick is to use the right amount of flour (besan) and water to coat the onions. This is because the sliced onions themselves have a lot of moisture content.
Serves: A Family of Four
Prep. Time: 20 Mins.
Cooking Time: 15 Mins.
Ingredients:
Onions (halved & sliced) – 2 medium
Besan [Gram Flour] – 6 tbsp. (+ / -)
Green Chilly (chopped fine) – 1 + more (optional)
Corriander Seeds (crushed to split) – ½ tbsp.
Oil – for deep frying.
Salt – ½ tsp. or to taste
Step 1:     Take the sliced onions in a bowl and add the corriander seeds, salt and green chilly and 4 tbsp. of besan. Mix with your fingers.
Step 2:     Now add a tbsp. of besan at a time and continue to mix till you use all the besan. Sprinkle a few drops of water, just enough, so that the onions are coated with the flour (see pic).
Step 3:     Heat a generous amount of oil in a frying pan and when hot, use your fingers and drop the onion-besan mixture into the oil in small portions. Fry the bhajis on medium low heat till light golden (frying on high heat will brown / burn them out before they are cooked well).
Step 4:     Once the bhajis are a light golden, drain them with a slotted spoon / strainer. Let the oil continue heating and when hot, again lower the bhajis in the hot oil and fry till dark golden in colour. Drain and place on a plate lined with kitchen towels (If making a bigger batch, drain after the 1st frying and keep on a plate. Then re-fry them a second time in hot oil to brown and crisp them).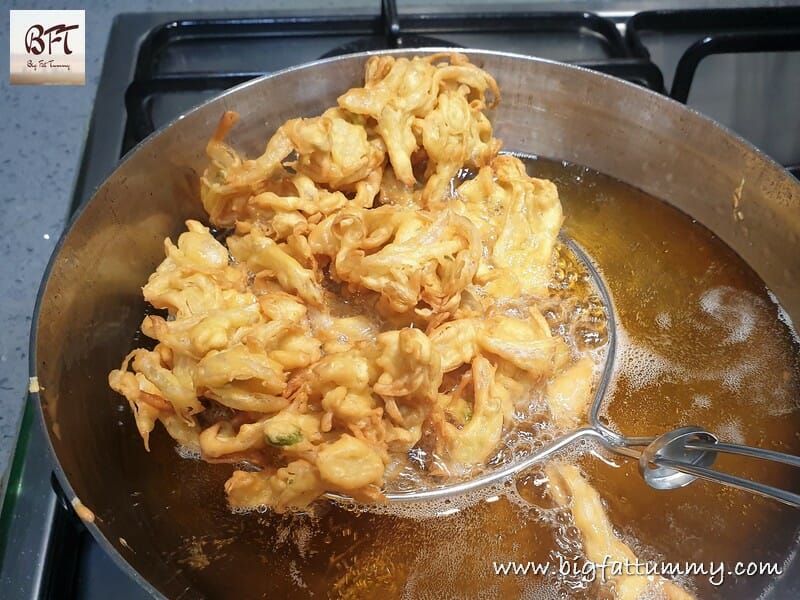 Step 5:     Fried chillies go well with the bhajis. Take a few chillies and slit each one. Place on a slotted spoon / strainer and place in the hot oil for a few seconds. Remove and place on a plate and sprinkle salt and mix. Serve with the hot bhajis.
Note:
The technique of double frying is important to make the Kanda Bhaji crisp.
Keep your bhajis on a plate lined with kitchen towels after frying. To be on the safer side, do not keep on newspaper. The picture with the newspaper in this recipe is only for presentation purpose.