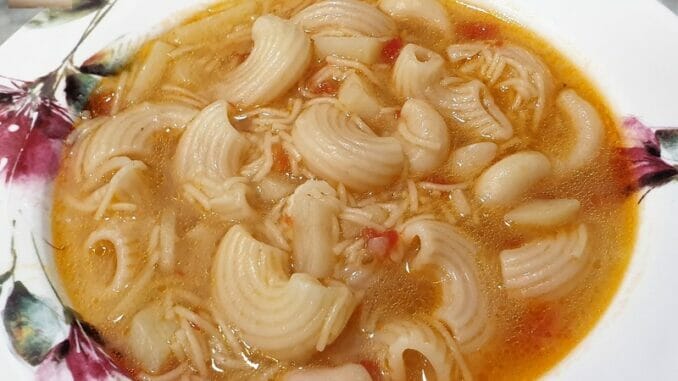 The Goan Macaroni Soup is a simple soup made in a broth of just onions, tomatoes and tiny chopped potatoes. The macaroni provides the bulk to the soup and hence the soup is good enough to have as a light dinner meal too. I have used macaroni and unroasted vermicelli for this preparation but you could use some other too, like alphabet macaroni. This soup was commonly made in most Goan households as mid-morning snack for kids or to combat early evening hunger pangs. (For a modified Chinese type version of this soup, click here)
Serves: 4 to 6 Persons
Prep. Time: 15 Mins.
Cooking Time: 25 to 30 Mins.
Ingredients:
Chicken Stock (click here) – 1.5 litres (see note below)
Onion (finely chopped) – 1 medium
Tomato – 1 large
Potato (peeled, chopped into 1 x ½ cm bits) – medium sized
Macaroni – ½ cup
Unroasted Vermicelli – ¼ cup
Oil – 1 tbsp.
Salt – to taste
Step 1: Soak the macaroni and vermicelli for 10 minutes with water just enough to cover it. Deseed the tomatoes and chop as shown in the picture.
Step 2: Heat the oil in a pot and then add the onions and sauté till translucent.
Step 3: Next add the tomatoes and sauté till they are well fried and ooze oil (see note below).
Step 4: Add potatoes and sauté for a minute.
Step 5: Add 6 cups (1.5 litres) of warm chicken stock and bring to a boil. Simmer for 5 minutes.
Step 6: Drain and add the macaroni and the vermicelli and check for salt. Add if required. Simmer till the macaroni is done. Serve hot.
Notes:
To use stock cubes, dissolve 2 to 3 of them in 1 ½ litre hot water and then use.
The tomato needs to be well fried as this is what lends a distinct taste to this soup.
You can also add finely chopped cabbage and carrots at Step 4.
Soaking the macaroni reduces the cooking time.