Prawn Ladyfinger Caldinho is a staple Goan curry prepared in most Goan households especially when the local variety of ladyfingers are available. The Goan Caldinho is a mildy spiced coconut milk curry preparation and is best served with rice. The recipe here is not how it is cooked traditionally where the spices are ground with the coconut. This is a short-cut, no-grind method.
Serves: 6 Persons
Prep. Time: 15 to 20 Mins.
Cooking Time: 30 to 35 Mins.
Ingredients:
[Standard Measure – 1 cup = 200 ml]
Ladyfinger (big long variety – cut into 3 inch pieces) – 10
Prawns (peeled & deveined) – ½ cup
Onion (finely chopped) – 1 medium
Tomato (blanched, peeled & chopped) – 1 large
Ginger (finely chopped) – 1 inch
Garlic (finely chopped) – 8 cloves
Green Chillies (finely chopped) – 2
Light Green Chillies (slit) – 2 (optional)
Corriander Powder – 2 tsp.
Cumin Powder – 1 tsp.
Black Pepper Powder – 1 tsp.
Turmeric Powder – 1 to 1 ½ tsp.
Coconut Milk Powder – see note below
Sugar – ½ tsp.
Veg Stock Cube – 1 small
Palm Vinegar – 1 tbsp.
Oil – 2 tbsp.
Sugar – 2 tsp. or to taste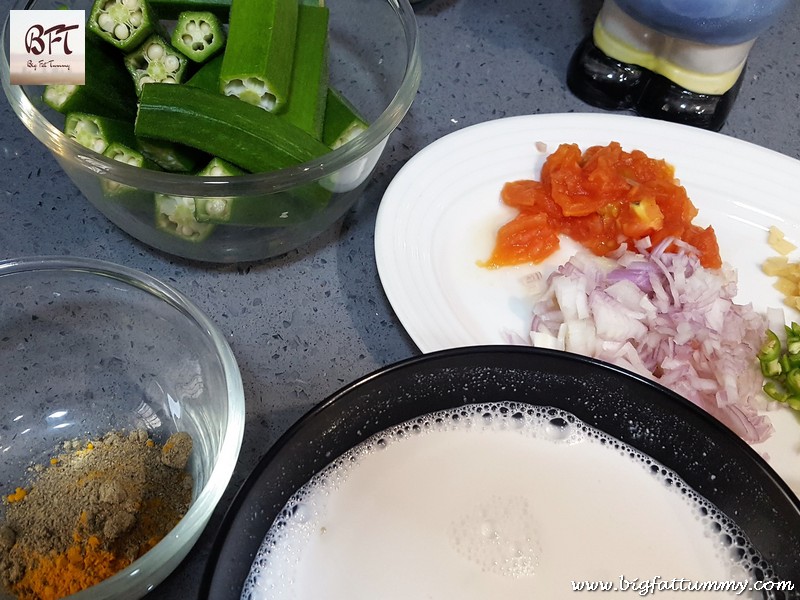 Step 1: Mix the dhania, jeera, miri and haldi powders (corriander, cumin, pepper and turmeric powders) with 2 tbsp. water to form a thick spice paste and keep aside.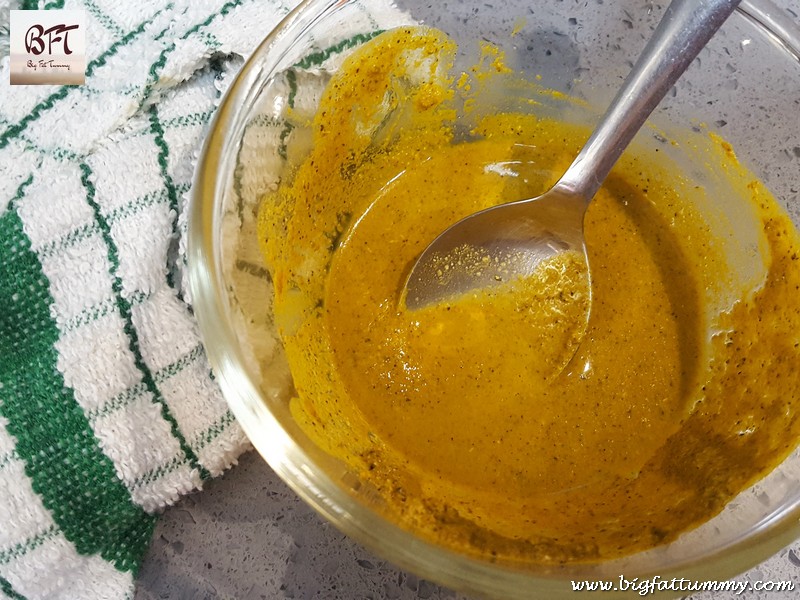 Step 2: Heat the oil in a pan and sauté the chopped ginger, garlic and green chillies, on medium heat, till aromatic. Add the chopped onions and sauté till soft. Then add the tomato and sauté for 3 to 4 minutes.
Step 3: Add the spice paste and sauté for a minute on low heat. Add the 400 ml thin coconut milk and let it come to a boil. Stir in between. Then add the ladyfingers, sugar, crushed stock cube and salt and cook on low heat for 10 to 12 minutes till the ladyfingers are almost done.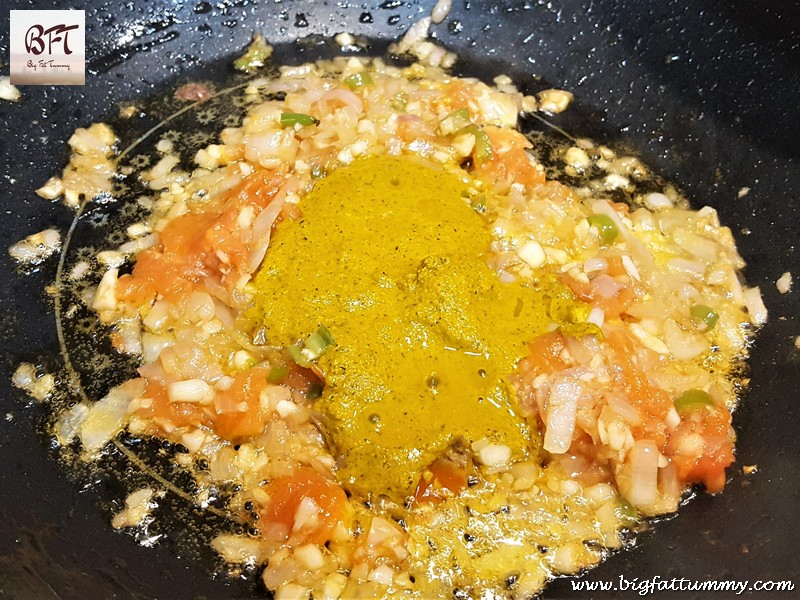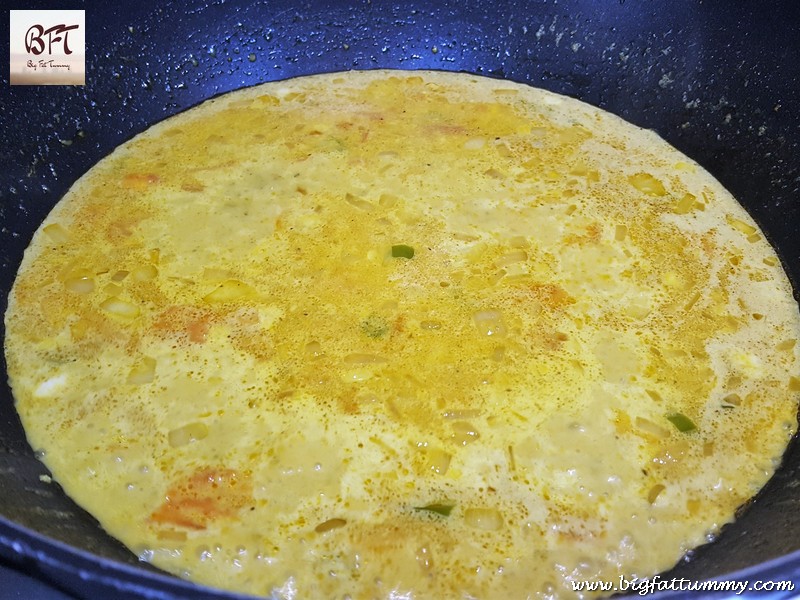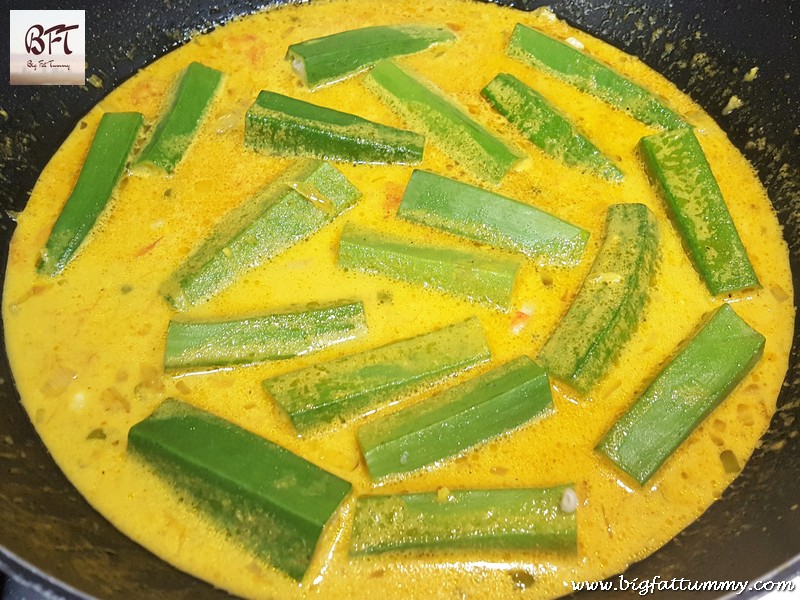 Step 4: Now add the prawns and cook for 2 minutes. Then add the vinegar, the two slit green chillies and mix. Finally add 200 ml thick coconut milk and cook on low heat for 3 to 4 minutes. Stir occasionally and do not let the curry boil or it will curdle.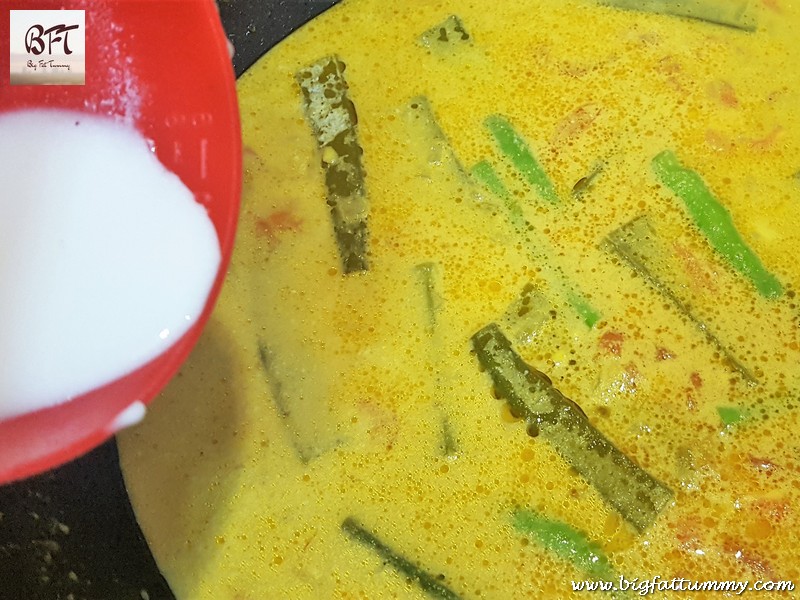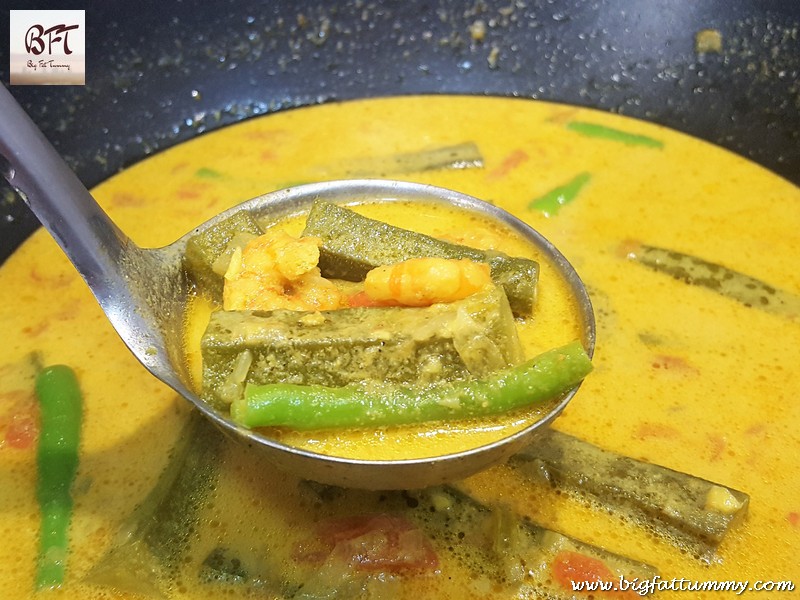 Note:
Reconstitute the coconut milk powder according to the instructions on the packet to make 200 ml thick coconut milk and 400 ml thin coconut milk.