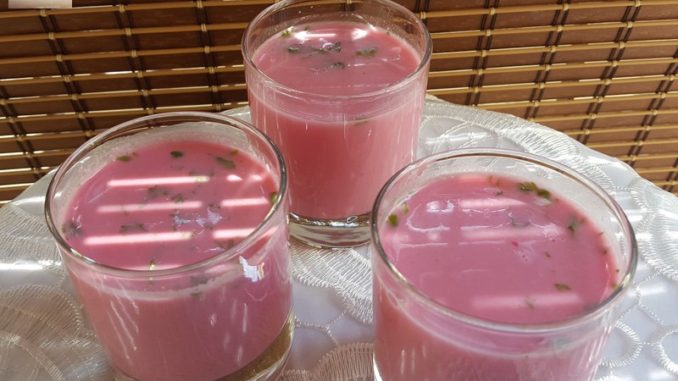 Solkadi / Sol Kadi / Kadhi is a refreshing lightly spiced, sweet and tangy no-cook coconut milk drink. It's the famous drink of the Konkan region in India. Considered a digestive, it is drunk after meals or even poured over rice and eaten. It is quite refreshing otherwise too and will do you more good than drinking aerated beverages.
Serves: 4 to 6 Persons
Prep. Time: 20 Mins.
Ingredients:
[ Standard Measure : 1 cup = 250 ml ]
Coconut (fresh, grated) – 1 ½ cups
Kokum Agal [Kokum Extract] – 50 ml OR

Kokum Petals (alternative / wet) – 8 to 10 (see note below)

Cumin Seeds – 1 tsp.
Garlic – 4 to 6 cloves
Ginger (peeled & chopped) – ½ inch
Light Green Chillies (stemmed, broken) – 2 to 3
Green Corriander (finely chopped) – 1 tbsp.
Salt (alternative / see note)
Step 1: Take the grated coconut, cumin, ginger, garlic and green chillies in a blender jar. Add 1 ½ cups clean drinking water and grind for 2 to 3 minutes. Strain using a fine sieve. Keep aside.
Step 2: Put the strained leftover of the coconut back into the blender with another 1 ½ cups of drinking water and repeat Step 1 and strain (use a fine sieve) into the same bowl as the first time.
Step 3: Take the kokum agal in another bowl. Sieve the spiced coconut milk using a coffee strainer or a muslin cloth ( to remove any tiny coconut particles, if they irritate your throat) and add to the kokum agal. Mix well. Garnish with corriander and served chilled.
Notes:
If using kokum petals, soak them in ½ cup warm water for 15 to 20 minutes and then strain it to get the kokum extract.
Kokum agal is not the same as kokum syrup. Kokum syrup has sugar in it, whereas kokum agal has salt. Kokum agal is also used for marinating fish.
Kokum agal had added salt. So you do not need to add any salt to the solkadi. But if you're using fresh kokum, use salt to taste.
Prefer to use the agal because it is less hassle and gives the drink a nice colour.
You can add more agal or water at the end to adjust the taste as per your liking.