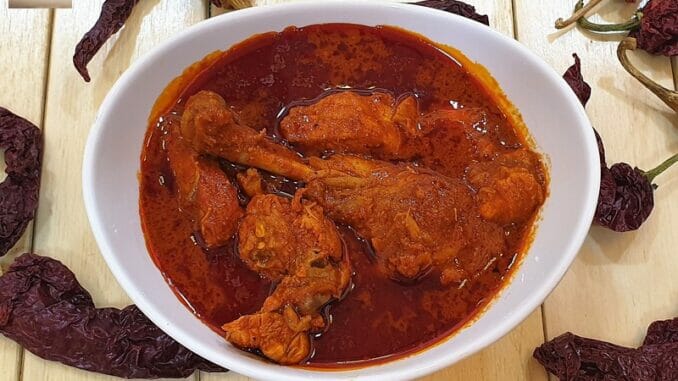 Vindaloo / Vindalho is a popular dish in Goan, Mangalorean and East Indian cooking. The dish is usually made with pork. But for the benefit of those who do not eat pork, here is a recipe for Chicken Vindaloo / Vindalho. It is pretty simple to make and is very tasty. You can serve it with rice or pao (you can check the Bake Index here, for different types of pao recipes which you can bake at home) or neer dosa (click here) or sannas (click here)
Serves: 8 Persons
Prep. Time: 15 Mins.
Cooking Time: 40 to 45 Mins.
Ingredients:
Chicken (on the bone, medium pieces) – 1 kg.
Cinnamon (broken) – 2 inch
For the Masala Paste:

Onion (peeled, quartered) – 1 big
Ginger (peeled, chopped) – 3 inch
Garlic – 10 cloves
Kashmiri Red Chillies – 12 to 14
Corriander Seeds – 1 tsp.
Cumin Seeds – 2 tsp.
Black Pepper Corns – 10 to 12
Cloves – 6
Turmeric Powder – ¼ tsp.
Vinegar (White Synthetic) – 150 ml

Sugar – ½ tsp.
Oil – 100 ml
Salt – 1 tbsp.
Step 1: Wash and drain the chicken well. Apply the 1 tbsp. of salt and leave aside.
Step 2: Grind all the ingredients listed under Masala Paste into a fine paste without using any water.
Step 3: Apply the masala paste to the to the chicken and leave to marinate for an hour.
Step 4: Later, heat the oil in a vessel. Add the pieces of cinnamon and sauté for a few seconds. Then add the marinated chicken and sauté for 8 to 10 minutes on medium high heat till oil oozes.
Step 5: Add 2 cups (500 ml) hot water, the sugar and cook covered on low heat for 30 minutes till the chicken is cooked and an oil layer is formed on top. Check for salt and sourness and adjust as needed. Cook for another 5 minutes if added.
Note:
Extra oil is deliberately added to enhance and match the taste of the Vindaloo / Vindalho.
Do not garnish with corriander.